Last fact-checked: 30 March 2020
Get your Hollywood smile with dental veneers in Bangkok! Save around 60% and book your appointment online with Dental Departures.
Bangkok in Brief
The capital city of Thailand and its largest urban area, dental patients from around the world travel to Bangkok to have their smile makeovers done with veneers. This sprawling metropolis is home to almost 12 million people. Bangkok is important not just as a political, social and economic hub in Thailand, but alongside Singapore and Kuala Lumpur, is one of the leading medical destination Southeast Asia.
Vibrant, lively and chaotic, Bangkok is both exciting and charming. It is a city of contrasts on every level – from swanky shopping malls to eclectic night markets; from high-end dining to street food stalls; from five-star hotels to backpacker hostels; from temples to go-go bars – it's all here with everything in-between.
Recently, numbers of medical and dental tourists have been rising, as international travelers have sought out alternatives to prohibitively costly treatment in their own countries. Thailand is now the world's most-visited medical travel destination, with more than one and a half million patients treated each year. All types of dental work are also undertaken here, from fillings to dental implants to complex reconstructive and cosmetic dentistry. Thai dentists and technicians have the latest equipment and are highly skilled in creating and fitting dentures, crowns and veneers.
Why Have Dental Veneers in Bangkok?
Dental veneers in Bangkok are overwhelmingly cheaper than at home – often around a third of the cost. Affordable prices do not mean a compromise on the quality or standards of care or materials. Dentists in Thailand are highly experienced: many have trained in the US, Australia and the UK. Language is not usually a barrier, as most dental clinic staff speak English fluently, particularly in those clinics catering to the international patient.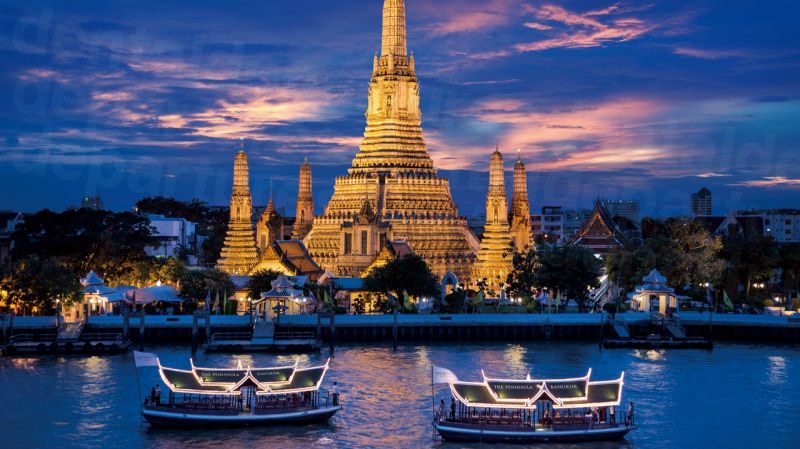 Is the Quality as Good as Back Home?
Absolutely. Bangkok dentists and specialists are highly trained and must achieve the rigorous standards set by the Thai Ministry of Public Health. All the best brands of veneers and Lumineers are available in Bangkok, including IPS eMax veneers, and Empress Esthetics porcelain veneers.
Bangkok is a fascinating city geared up for tourism. Choices in flights and lodging are plentiful for every budget; bars and restaurants cater to every taste. Away from the hustle and bustle of the city are plenty of places to relax: parks, museums, spas, temples and even a butterfly garden.
How Long do Dental Veneer Treatments Take in Bangkok?
Dental veneers are wafer-thin laminates made from porcelain, ceramic or composite bonding that is bonded to the front of your teeth. They are one of the easiest ways to transform damaged, crooked and stained teeth into a gleaming, white smile. The procedure usually takes two visits at the beginning and end of a week. Treatment times vary from clinic-to-clinic.
If your dentist has agreed that dental veneers are suitable for you, your teeth will be prepared by shaving a thin layer from the front of your teeth for the veneers to sit on top. Impressions of your teeth will be sent to the lab in order for the veneers to be custom-fit. Your dentist will fit temporary veneers until your permanent veneers are ready. This usually takes a few days to complete, although clinics with the latest CAD/CAM technology can significantly shorten the waiting time.
On your second visit, your dentist will remove the temporary veneers. The new veneers will be bonded to your teeth using a light-activated adhesive. After the bonding, your teeth will be thoroughly cleaned, and your dental veneer treatment is complete.
How Much Can I Save on Dental Veneers in Bangkok Compared to Australia or New Zealand?
Porcelain dental veneers can last between ten and fifteen years. In Australia, costs are around $1,600 AUD per tooth. Composite dental veneers last between five and seven years, costing around $570 AUD per tooth.
In comparison, dental veneers in Bangkok start at about $280 AUD per tooth for porcelain and $125 AUD per tooth for composite veneers.
Thantakit International Dental Center and Ivory Dental Center rank among our most popular Bangkok clinics for veneers.
What's Next?
Find a dentist and book your appointment for dental veneers in Bangkok with Dental Departures. Compare our prices, check-out reviews, view clinic photos and uncover exclusive discounts – all for free online. If you prefer to talk to us, get in touch via our online chat, free phone number or e-mail – we're always happy to help.
Compare prices for veneers in Bangkok here!
(Image by Evoflash)
Sources:
Eden, Caroline. The Rise of Medical Tourism in Bangkok. BBC. 4 September 2012. http://www.bbc.com/travel/story/20120828-the-rise-of-medical-tourism-in-bangkok" target="_blank
Finch, Stephen. Thailand: Top Destination for Medical Tourists. Canadian Medical Association Journal. 7 January 2014. https://www.ncbi.nlm.nih.gov/pmc/articles/PMC3883860/" target="_blank
Mitchel, Jennifer. Dental Veneers Pros and Cons. Colgate Oral Health Center. https://www.colgate.com/en-us/oral-health/cosmetic-dentistry/veneers/dental-veneers-pros-and-cons-0515" target="_blank
National Health Service (UK) https://www.nhs.uk/common-health-questions/dental-health/what-are-dentures-bridges-veneers-and-dental-implants-made-of/#veneers" target="_blank
Healthline. https://www.healthline.com/health/dental-and-oral-health" target="_blank