Are you looking for a teeth whitening treatment in Thailand that is affordable? Teeth whitening costs, Thailand clinics profiles, and details about the treatment are posted by Dental Departures to provide international patients an overview about the quality of care in this country. Check this out.
Teeth Whitening Treatment
In-office, or Laser Teeth Whitening Treatment, removes discoloration caused by overexposure to dark-colored food/drinks, teeth grinding, and other factors. Although you can whiten your teeth with the use of over-the-counter products, teeth whitening performed in dental clinics is safe and effective.
Laser teeth whitening treatment is safe because the dentist performing the procedure is trained in this area. The dentist will check your teeth and gums before the treatment. Your dental and medical condition will be reviewed also. Upon confirmation, the dentist will start the process and cover your soft tissues to protect them from the effects of bleaching. You won't get this extra protection if you just buy Over-The-Counter whitening products without consulting the dentist.
Laser teeth whitening is extremely effective and you can see the improvement immediately afterwards. After the procedure, you might want to get a take-home kit whitening to keep your teeth white. Remember that some stains caused by trauma, aging, and exposure to some minerals are not easily removed.
Laser teeth whitening is not recommended in children below 16 years old, pregnant, lactating woman, people with gum disease, and individuals with sensitive teeth. In order to know if laser teeth whitening treatment is best for you, consult a dentist during your vacation in Thailand. The dentist will assess your suitability for the treatment.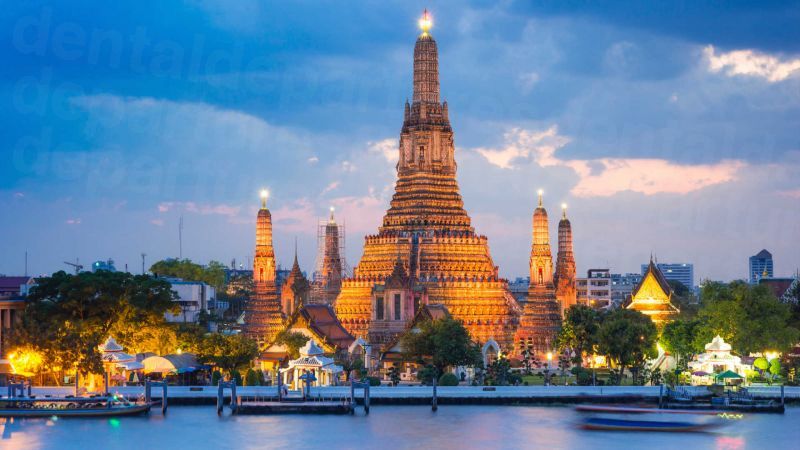 Quality of Care in Thailand
When it comes to the quality of oral care, the dental clinics are on par with their western counterparts because they have ultramodern facilities and dental specialists providing exceptional dental services:
They offer General Dentistry to specialized procedures such as Restorative Treatments, Cosmetic Dentistry, Orthodontics, Root Canal Treatment, and Oral Surgery. The dentists handling the procedures are highly skilled in restoring patients' teeth with whitening and other treatments. They specialize in Cosmetic Dentistry, Endodontics (root canals), Orthodontics, Cosmetic Dentistry, and Oral Surgery with certification from institutions like the American Academy of Cosmetic Dentistry (AACD). The top clinics mentioned above are accredited by the International Organization for Standardization (ISO) and the Joint Commission International (JCI).
Teeth Whitening : Cost in Thailand
The cost of laser teeth whitening in Thailand is affordable compared to countries like Australia, New Zealand, and US. You'll make big savings on your dental expenses when you get treatment from a clinic in Thailand rather than at home. Here's a table showing the price comparison of teeth whitening:
Estimated Price of Laser Teeth Whitening
| | | | | | |
| --- | --- | --- | --- | --- | --- |
| | AUD | NZD | USA | CAD | GBP |
| Cost in Thailand | AUD $270 | NZD $290 | USD $204 | CAD $275 | GBP 159 |
| International | AUD $657 | NZD $705 | USD $496 | CAD $669 | GBP 387 |
Brighten your teeth with affordable whitening in the Land of Smiles. Our Customer Service Team will help you book an appointment with a clinic in Thailand.