Looking to replace missing teeth? Want to combine a memorable vacation with top-notch discount All on Four dental care? You can save more than 50% across a number of different dental tourism hotspots with Dental Departures.
Put a smile back on your face, whilst relaxing and recovering in style, pre- and post-treatment at one of our quality-checked All-on-4 clinics—and save a fortune in the process.
From sun-kissed beaches to dynamic cityscapes, you are never far from one of our background-checked, cheap All-on-4 specialists at a fraction of the price compared to home.
Thanks to the burgeoning dental tourism sector, many countries provide you excellent options for high-quality, affordable All-on-4 clinics and implantologists, delivering superior dental care with easy access to numerous travel distractions around the world.
What Is an All-on-4?
Firstly, your specialist will carry out tests and a dental health check-up to identify if All-on-4 treatment is suitable. If you have missing teeth, a dental implant strategy is a preferred solution over dentures. Instead of one implant, All-on-4 treatment usually involves fitting four implants into each jaw to create a full "arch" of teeth. The preceding step features a complete bridge of false teeth (crowns) attached, thus avoiding the need for bone graft surgery.
It is essential to maintain a daily brushing routine to keep your new implants in tip-top condition, including brushing and flossing. All-on-4 patients should also arrange regularly to visit your home town specialist or hygienist to ensure proper health of your teeth.
What Is the All-on-4 Process?
All our background-checked clinics provide a relaxing, comfortable environment for All-on-4 patients and offer sedation dentistry as part of the process. Lasting less than three hours per jaw, any required tooth extractions are performed just prior, saving considerable time.
The extractions sites are cleaned meticulously to remove the risk of infection, with implants positioned into the jaw—two at the front and two at the back. The final stage involves the insertion of a temporary arch that will give your mouth the chance to heal efficiently.
How Long Is Recovery Time?
For patients who already have dentures, All-on-4's are fitted hassle-free within 24 hours, without the fuss or expense of a return visit, not to mention shaving significant costs and time.
However, All-on-4 patients who require extractions may suffer discomfort, particularly 48 hours post-treatment. You will want to build some time into your trip to recover in relaxing surroundings and pamper yourself a bit before returning home.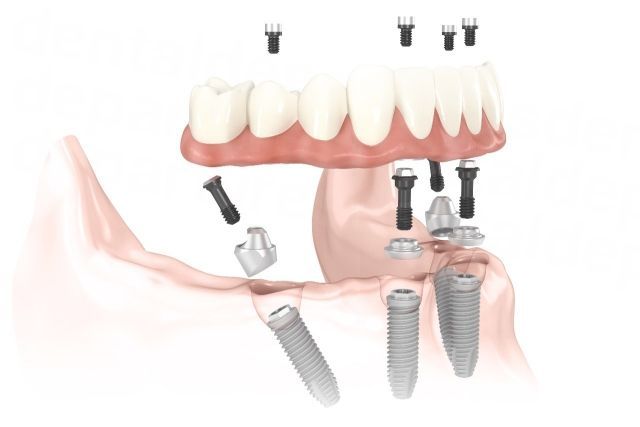 Why Choose an All-on-4 Procedure?
Say goodbye to ill-fitting dentures and hello to a brand new natural smile with All-on-4 care. Nicknamed "same-day smiles," All-on-4 treatment can be undertaken in just a single session at one of our quality-assured, affordable clinics. On the other hand, patients requiring extractions must arrange a follow-up visit to see a practitioner within six months of the previous appointment, allowing enough time for the bone and soft tissue to heal.
You can enjoy a host of advantages and feel confident with All-on-4 treatment. Benefit from an improved smile and consume food and drink fuss-free. Aside from saving time, undertaking All-on-4 treatment is made hassle-free with Dental Departures. Boasting ultra-modern facilities with state-of-the-art equipment, brand name materials, English-speaking staff and modern interiors, you can choose from an array of All-on-4 specialist clinics worldwide.
We meticulously vet for hygiene, dental memberships, qualifications and more, ensuring a safe patient, comfortable experience. In addition, we conduct rigorous on-site visits, verifying All-on-4 dentists for specialist training and memberships of overseas professional organisations such as the International Congress of Oral Implantologists .
Search for a high-quality, inexpensive, All-on-4 dentist and save hundreds if not thousands on treatment thanks to our best price guarantee .
Easy access via a plethora of major international airports and low-cost carriers makes inexpensive All-on-4 care extremely appealing saving thousands off a unique dental tourism trip.
Will I Receive the Same Level of Dental Care Abroad?
Adhering to our high standards, Dental Departures only feature the very best All-on-4 clinics on our site. If a facility does not pass our quality standards and care, it does not make the cut.
We have served hundreds of satisfied All-on-4 overseas patients with excellent outcomes around the world; they have utilised the resources on our site to find, book and choose their ideal All-on-4 practitioner.
World-class dental clinics are just a click away and are available in a wide variety of international destinations, offering first-rate All-on-4 treatment at fiercely-competitive prices, performed in a sophisticated and relaxing environment.
Check out virtual clinic tours, view maps, high-res photos and verified patient testimonials with incredible results.
How Much Can I Save on an All-on-4 Procedure?
All-on-4 patients can save up to 80% on treatment, depending upon your destination, instrumentation, materials, choice of crowns and other considerations. Once you book your appointment, you will want to consult with your implantogolist on the best choice for you.
· In the United States, All-on-4's cost, on average, $25,000 (CAN $33,000; UK £20,000; EUR €23,000; AUS $32,000; NZ $35,500)
At a Mexico dentist , they cost US $10,000 (CAN $13,600; UK £7,600; EUR €8,900; AUS $13,400; NZ $13,400)
At a Thailand dentist, they cost US $11,000 (CAN $15,000; UK £8,400; EUR €9,800; AUS $14,800; NZ $15,800)
At a Bali dentist, they cost US $4,200 (CAN $5,700; UK £3,200; EUR €3,700; AUS $5,600; NZ $6,000)
How Do I Book All-on-4 Treatment ?
Search our site to find the best, quality-assured All-on-4 dentists in your chosen global region or resort setting. Unlock exclusive discounts and let us get your dental health back on track. Ready to book? See below for ways to get in touch or call our toll-free number or speak to our dedicated Customer Care Team today for superior All-on-4 care at unbeatable prices!