Save thousands of dollars on dental treatment in Los Algodones with Dental Departures. Find and book an appointment with one of our fully-approved, high-quality clinics and enjoy low-cost dental care. With savings of up to 70%, isn't it time we put a smile back on your face!
Why Is Los Algodones an Ideal Choice for Dental Treatment?
Considered to be the dental capital of North America, Los Algodones offers more than 300 clinics and 900 fully-trained dentists. Known as "Molar City," patients from across the United States and Canada visit this Mexican town to enjoy highly-affordable dental treatment—saving thousands of dollars.
Due to its accessibility and breadth of choice, tens of thousands of North American patients seek out Los Algodones every year. Search our site and you'll find a large collection of quality-checked dental clinics within close proximity of the US-Mexico border. Thanks to the dental care explosion in Mexico, Dental Departures is now proud to work with a range of the very best dental clinics in Los Algodones , providing high standards of service and top-notch care.
Many of our best dentists in Los Algodones have received training in the US: board-certified with memberships to reliable organizations such the American Dental Association. Contemporary clinics, cutting-edge equipment and English-speaking staff ensure a rewarding clinical outcome and customer service experience.
From simple cavity fillings to dental implants to full mouth restorations, Los Algodones is an excellent destination to relax and recover while benefiting from affordable dental care.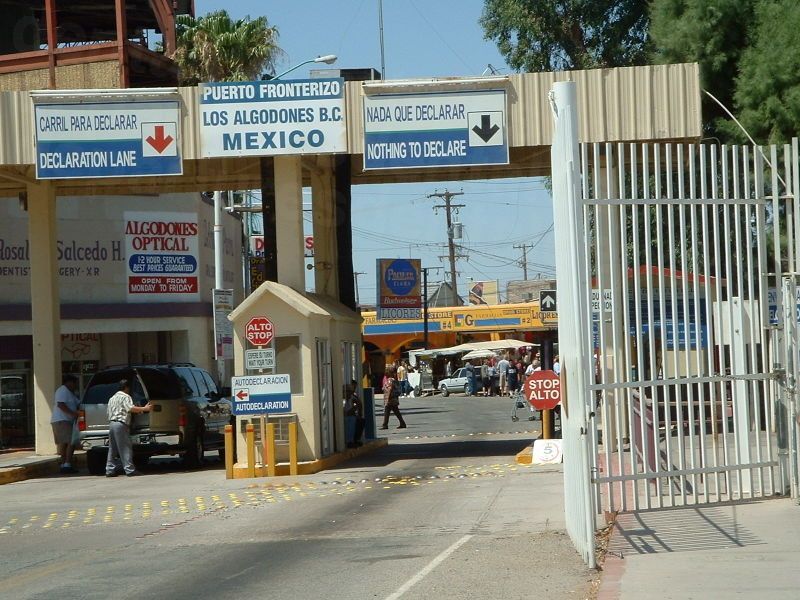 Clinics in Los Algodones - Overview
Our state-of-the-art clinics ensure patients receive first-rate treatment at the best prices—guaranteed. Dental Departures pre-screens every dentist with whom we work in Los Algodones, resulting in the best possible dental experience. Check out our dental implants reviews, virtual clinic tours and images before you book. Notable clinics include Supreme Dental Group , Sani Dental Group Platinum , Simply Dental , and Ciro Dental .
What Is the Price of Dental Treatment Compared to Home?
Expect savings of up to 70% compared to North America and Canada. Prices can be found below:
Dental implants in the US: $3,913

Dental implants in Canada: $5,026 CAD

Average price of Dental Implants in Los Algodones: $1,250
Why Choose Los Algodones?
Situated less than seven miles from the Arizona border, and a few hours' drive from Southern California, Los Algodones is within easy reach by car for many patients from Phoenix, Tucson, San Diego, Orange County and Los Angeles.
With a plethora of dentists all within a five-mile radius, it is no wonder this town has been dubbed "Molar City." Savour its burgeoning restaurant scene or enjoy a little retail therapy thanks to inexpensive shopping stands and stores all over the city. As with most Mexican towns, you'll find no shortage of fiestas taking place throughout the year.
Perhaps most important, affordable medical services (such as low-priced vision clinics if you're seeking a new pair of glasses or an eye exam) and reliable discount pharmacies make Algodones the ideal destination for dental tourism.
Where to Stay in Los Algodones
The Hacienda is the only hotel in Los Algodones. However, Dental Departures can assist with complimentary or discounted stays at numerous hotels within close proximity to Yuma, less than a half hour away. The better clinics offer shuttles to and from your Yuma hotel, or directly from the nearby international airport.
How to Book?
When you are ready to book your dental care in Los Algodones, contact our dedicated
Customer Care Team. They are on hand 24/7, to assist with any queries via our online chat facility, by
e-ma il or on our toll-free number.