Hungary continues to grow in popularity and reliability as a dental tourism destination. As prices in dental clinics get higher in the United Kingdom and Ireland, the prices get lower in Hungary. This can make a massive difference if you are seeking high-end treatments such as full mouth restoration procedures or other expensive treatments. Here are five Hungarian dental clinics where patients have given trusted reviews of the All-on-4® treatment concept by Nobel Biocare.
Access Smile Dental Clinic
If you are online researching patient reviews of full mouth restorations in Hungary, the Access Smile Dental Clinic is always ranked very high. Located in the heart of the capital city of Budapest, Access Smile has prices that are generally 50% cheaper than those in the UK. When you realize that the standards are exactly the same as back home, it's no wonder that Access Smile is ranked so high with international patients.
Flydent Fogaszati Kft
Flydent Fogaszati Kft is easily one of the most reliable and respected dental treatment centers in Hungary. Located in Budapest and founded in 2003 by Dr. Alexander Schreiner, who has more than 35 years in the industry, this is one of the most trusted in the city. Because of the experience and expertise of Dr. Alexander, this clinic really does attract lots of patients from Great Britain and Ireland. If you are looking for a dead cert, this is a quality clinic.
TriDent Budapest Cosmetic & Family Dentistry
Also located in the heart of Budapest, the TriDent Budapest Cosmetic & Family Dentistry has been around since 1995 and is a true family business. Friendly, professional and always cutting-edge, when you seek a modern and impressive dental treatment center, not many can match this place. They specialize in reconstructive dentistry and always rank highly in authenticated reviews, making them a popular choice with international patients.
Batorfi Dental Clinic
First established in 1992, the Batorfi Dental Clinic is one of the oldest and most experienced in Hungary. This clinic has been making a name for itself with an international clientele for decades and is famous for the way it deals with people from the United Kingdom for full-mouth restoration, , dental implantology and more, this is a quality clinic.
Fedasz Dental Clinic
The Fedasz Dental Clinic is the only clinic on the list not to be located in Budapest. You will find this world-class clinic in János Str., Pilisvörösvár, which is a beautiful place for visitors to stay. The high standards of this clinic and how they appeal to international clients is why they are on this list. Speaking English and having lots of highly-trained staff that are friendly and courteous, this clinic is a great choice.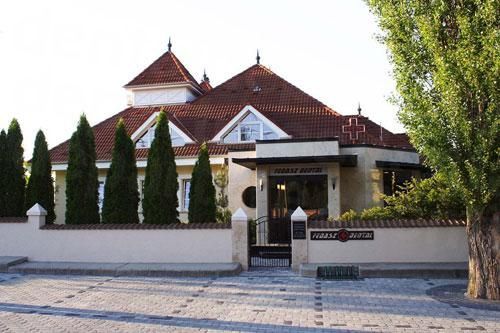 Once you have taken your time to view our verified patient reviews, you will see we have five highly-recommended dental clinics for you to consider. Just a short plane ride from the United Kingdom, Hungary is now perched to be the next big thing on the European dental tourism scene. To find about more about dental treatments in Hungary, feel free to ask our Customer Care Team.