Cabo San Lucas has been rated as one of Mexico's top tourist destinations, situated on the peninsula between the Sea of Cortez and the Pacific Ocean, with miles of unspoilt beaches and shimmering blue water. And, dental care is most affordable in Cabo San Lucas. You can combine a holiday in this beautiful place and get your complete mouth makeover done at the same time.
San Lucas enjoys 360 days of sunny weather, it is a short flight from the United States or Canada, and is one of the safest destinations in Mexico. Every year thousands of tourists visit Cabo San Lucas and the Baja Peninsula to enjoy both its natural beauty and its great offering of sun, surf, activities and nightlife. Whatever you prefer: fishing, golfing, diving, kayaking, shopping or just lying on a lovely white-sanded beach, it's all there in Cabo San Lucas!
Nowadays, dental tourists also come to Cabo San Lucas for top dental work such as a complete mouth makeover. Cabo San Lucas offers such attractive cost savings that having the work done there, even including travel, the costs will be much lower than just the treatment alone in your home country.
For these reasons, Cabo San Lucas has become one of the premier destinations for US dental tourists, with costs being far cheaper than in their home country, more than 60% less, and with the savings leaving plenty over for recuperation in an exotic resort.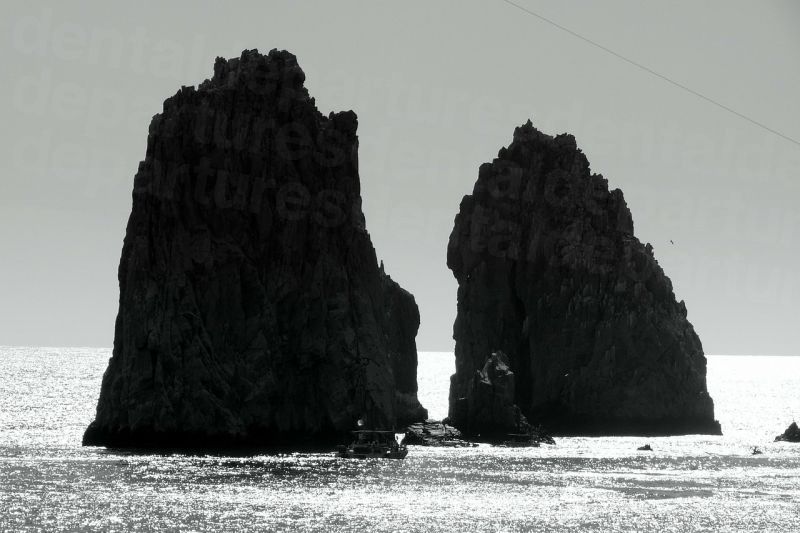 Standard of Dental Care in Cabo San Lucas
Dental clinics in Cabo San Lucas are state-of-the-art, comparable to those in the USA and Canada. They have been quality-checked by Dental Departures to determine that their standards and dentists meet our requirements, and that they provide all of the top dental treatment options.
Our quality-checked dentists offer a range of treatments for full smile makeovers, as well as mouth reconstructions using multiple implants to replace missing or broken teeth.
How Much Can I Save?
We recently undertook a complete mouth makeover review Cabo San Lucas and found that Cabo dentistry procedures offer significant savings compared to costs in the USA and Canada, the price of a complete mouth makeover being just a fraction of what you would spend at home:
Price Comparison of Dental Implants
| | | | |
| --- | --- | --- | --- |
| | USD | CAD | GBP |
| Price in Cabo San Lucas | USD $1,250 | CAD $1,590 | GBP 935 |
| Other countries | USD $3,900 | CAD $5,264 | GBP 3,045 |
Price Comparison of Mouth Restoration with 4 Implants
| | | | |
| --- | --- | --- | --- |
| | USD | CAD | GBP |
| Price in Cabo San Lucas | USD $10,000 | CAD $12,720 | GBP 7,485 |
| Other countries | USD $26,000 | CAD $33,000 | GBP 19,500 |
[Please note that these are estimated prices at the time of writing. See our individual clinic listings for latest prices.]
How Do I Get Started?
Check out our web pages featuring a complete mouth makeover Cabo San Lucas to know more about the treatment, browse before and after photos and read real patient reviews.
If you have any further questions about getting a complete mouth makeover on holiday and giving your smile a Complete Mouth Makeover in Cabo San Lucas, please contact our Customer Care Team who will be happy to provide more information. They can also provide you with a personalized quote today, free of charge.
Sources:
Mancuso, Antonio, DDS, MAGD. Treatment Planning: The Full Mouth Reconstruction. Oral Health Group. 23 November 2016. https://www.oralhealthgroup.com/features/treatment-planning-full-mouth-reconstruction/
Cabo San Lucas. Lonely Planet. Website accessed: 17 May 2021. https://www.lonelyplanet.com/mexico/baja-california/cabo-san-lucas