For superior teeth cleaning, Nuevo Progreso have a number of outstanding facilities that offer a complete range of general dental care for a fraction of the prices being charged by the dentists in your home country.
Nuevo Progreso is a Mexican town in the Río Bravo Municipality, in the state of Tamaulipas, and is ideally situated on the US-Mexican border. The town is easily accessible from the border crossing at Progreso/Donna in Texas, being just a short walk across the Progreso International Bridge.
It is the perfect location to visit one of the many top quality dentists in Mexico who can help you to slash your annual dental bill by more than half!
Finding the Best Dental Facilities in Nuevo Progreso
Dental tourism is big business in Mexico, so finding the best clinics might seem a little like finding a needle in a haystack. However, this is where Dental Departures can make your life a whole lot easier. We have used all our experience in the dental tourism industry to undertake an impartial and thorough teeth cleaning review. Nuevo Progreso has many facilities that have passed our range of stringent background checks, verifying the legitimacy of all qualifications and professional memberships and ensuring that the treatment you receive will be every bit as good as anything you would get back home.
Amongst the most highly recommended teeth cleaning clinics and hospitals in Nuevo Progreso are:
Dr Garcia's dental clinic offers a comprehensive range dental services, from teeth cleaning and fillings, through to root canals, implants and gum disease treatments, as well as dental prosthetics including dentures, veneers and crowns.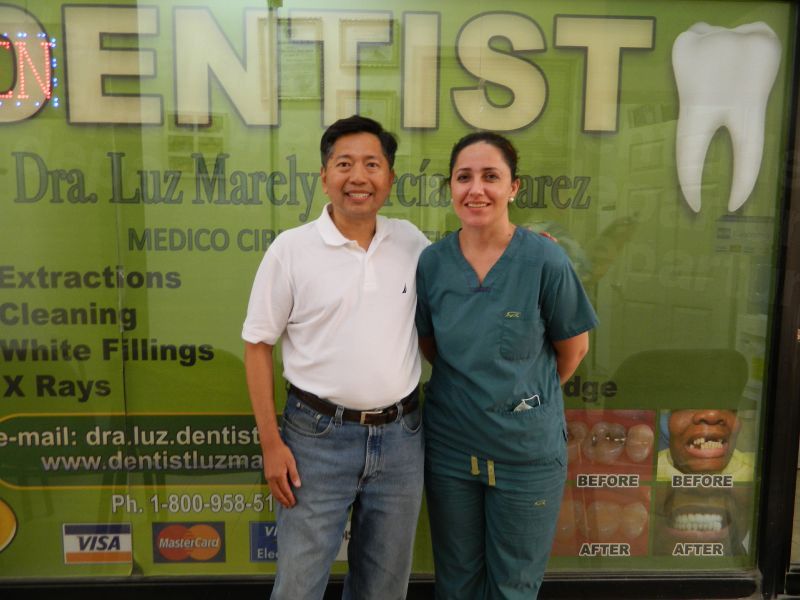 This state-of-the-art facility is equipped with the latest cutting-edge dental technologies and delivers outstanding dental care in a clean and modern environment.
Border Dental Solutions
The services available here include general and specialist dental care for the whole family, such as fillings and teeth cleaning. There are preventative dental services, including deep cleaning, scaling and polishing to help with gum disease; prosthodontics (false teeth) to replace missing teeth and cosmetic dentistry services to return your smile to its best.
How Much can I Save by Getting my Dental Care in Nuevo Progreso?
It's difficult to put an exact figure on how much you can save but, as general rule of thumb, you can expect to get your dental treatment in Nuevo Progreso for around 70% less than in your home country. Here are some examples of average prices for some common procedures:
Teeth Cleaning
Domestic Cost: USD $126; CAD $161; AUD $166; NZD $184; GBP £96; EUR €108
Nuevo Progreso: USD $30; CAD $38; AUD $39; NZD $44; GBP £22; EUR €25
Overall Saving: 76%
Dental Fillings
Domestic Cost: USD $130; CAD $166; AUD $172; NZD $190; GBP £98; EUR €110
Nuevo Progreso: USD $40; CAD $51; AUD $53; NZD $58; GBP £30; EUR €34
Overall Saving: 69%
Extractions
Domestic Cost: USD $175; CAD $223; AUD $231; NZD $257; GBP £132; EUR €149
Nuevo Progreso: USD $40; CAD $51; AUD $53; NZD $58; GBP £30; EUR €34
Overall Saving: 77%
Teeth Whitening
Domestic Cost: USD $496; CAD $634; AUD $657; NZD $728; GBP £374; EUR €422
Nuevo Progreso: USD $140; CAD $179; AUD $185; NZD $205; GBP £105; EUR €119
Overall Saving: 71%
As you can see, for affordable dental care, including teeth cleaning, Nuevo Progreso is hard to beat. To find out more, contact our Customer Care Team today.