Based in Tijuana, Mexico, Harmony Dental Studio is a fully licensed family dental clinic offering a complete range of dental treatments to patients of all ages and nationalities.
With experienced, fully trained, English-speaking professionals throughout its modern center, Harmony has earned a reputation for delivering impressive results for up to 75% less than dentists in the US.
Read on to discover just how much you can save when booking with Dental Departures.
Harmony Dental Studio: Background
Harmony Dental Studio was founded and is owned by Dr. Victor M. Martinez. A graduate and well-respected alumni of the Universidad Autonoma Nacional de Mexico (UNAM), Dr. Victor is one of the pioneers of dental tourism in Mexico - having provided dental care to local and international patients for over 30 years now.
Dr. Victor has honed his dental skills in Mexico and the United States and is a member of the American Dental Association (ADA).
Initially trained in the fields of both general and cosmetic dentistry, he also possesses several specialist qualifications in orthodontics, periodontics, dental implants and crowns – making him a particularly sought-after and respected Tijuana dentist.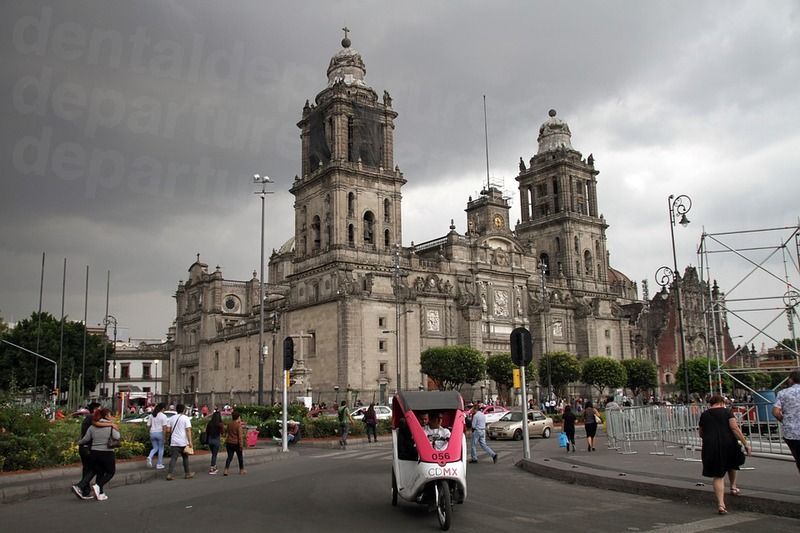 Treatments Available at Harmony Dental Studio
There is a wide range of dental procedures available at Harmony, with the clinic proving particularly popular for patients looking to replace single or multiple teeth with dental implants.
They also perform other specialist treatments such as root canals, dentures, crowns, orthodontics, periodontics, ZOOM! whitening and cosmetic dentistry. Dr. Victor is also a certified and authorized Invisalign* provider.
Their full list of treatments include:
Check-ups and cleaning

Teeth whitening

Dental implants

Orthodontics, with Damon Clear™ and Invisalign™ braces available

Bone grafts

Periodontics

Root Canal Therapy

Crowns and bridges

TMJ/headache treatment

Dentures

Full mouth restorations

Sleep apnea and snoring treatment

Sinus lifts

Minimal-prep porcelain veneers
How Much Can I Save at Harmony Dental Studio?
On average, treatments cost between 60%-70% less at Harmony compared to standard domestic prices in the United States or Canada. See below for some typical examples:
Harmony savings compared to dentists in the US:
Dental implants (US $): $1,200 vs. $3,913 = 69%
Root canals (US $): $330 vs. $1,275 = 74%
Dental fillings (US $): $60 vs. $155 = 61%
Harmony savings compared to dentists in Canada:
Dental implants (CAD): $1,610 vs. $5,026 = 67%
Root canals (CAD): $443 vs. $1,636 = 72%
Dental fillings (CAD): $81 vs. $199 = 59%
Harmony savings compared to dentists in Australia:
Dental implants (AUD): $1,600 vs. $5,098 = 68%
Root canals (AUD): $440 vs. $1,660 = 73%
Dental fillings (AUD): $80 vs. $202 = 60%
Harmony savings compared to dentists in the UK:
Dental implants (UK £): £935 vs. £2,928 = 68%
Root canals (UK £): £257 vs. £954 = 73%
Dental fillings (UK £): £47 vs. £116 = 59%
How Do I Book an Appointment?
Contact the Dental Departures Customer Care Team now and start the ball rolling.
By booking through us, you can take advantage of our best price guarantee pledge, meaning that you will always pay the lowest price possible. We can also provide preferential rates on additional medical insurance through a number of reputable, independent insurance companies, saving you even more.
Sources:
American Dental Association. Website accessed: 8 January 2021. https://www.ada.org/en
Newman, Elizabeth. Worth the Trip? A Look at Dental Tourism. Academy of General Dentistry. 20 January 2020. https://www.agd.org/publications-and-news/this-week-at-agd/this-week-at-agd-detail/2021/01/20/worth-the-trip-a-look-at-dental-tourism
Dental implant surgery. Mayo Clinic. 29 January 2019. https://www.mayoclinic.org/tests-procedures/dental-implant-surgery/about/pac-20384622