The price of dental treatment sometimes hinders you from restoring your teeth. In the resort area of Hua Hin in Thailand, you can get dental restorations like the All-on-4® treatment concept at far a lower price.
The lovely beach in Hua Hin is great for sunbathing, swimming, and snorkeling. You can also enjoy other activities while waiting for dental work.
The dental clinics in Hua Hin can restore your teeth with affordable work. Keep reading to know more about the All-on-4® treatment concept in Hua Hin.
All-on-4® treatment concept: Prices in Hua Hin
This dental procedure replaces all of the upper or lower teeth with just four implants.
The treatment is a solution for people who lost their teeth due to gum problems or injury. This may possibly be used for individuals with insufficient bone.
Consult a dentist if you want to know if this treatment is good for you. A complete examination will be taken to assess your suitability for the treatment.
Upon confirmation, a customized treatment plan will be created using hi-tech equipment. The dentist will surgically place the implants into your jawbone with the temporary teeth attached on top.
After about six months of healing time, the temporary teeth will be replaced with permanent ones.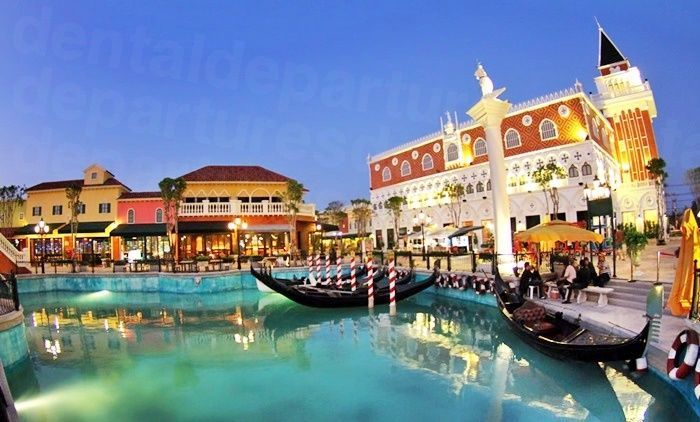 All-on-4® treatment concept Price List
Prices in Hua Hin are far lower compared to countries like Australia, New Zealand, and the UK. The price varies depending on the type of material and other factors. Feel free to talk to your dentist. A personalized treatment plan can be prepared to suit your needs and budget. Here's a price comparison:
Price in

Hua Hin

Price in

Australia

Price in

New Zealand

Price in the

US

Price in Canada

Price in the UK

USD $6,466

AUD $33,910

NZD $34,841

USD $26,000

CAD $33,431

£19,382
[Please note that these are estimates at the time of writing.]
How Do I Book?
For more information, get in touch with our Customer Care Team via the toll-free number provided, or leave us your details and we'll call you back at a time that works for you.