The best thing about travelling to Phuket is that you can relax in the island at the same time get a complete mouth makeover.
Prices in Phuket are affordable compared to your home country. The affordability of treatment is not because of inferior quality, but due to the low cost of living and operating expenses. In fact, the clinics verified by Dental Departures offer high-quality treatment that is comparable back home.
Check out the dental clinics in Phuket that offer complete mouth restorations and smile makeovers at lower prices:
DDS Dental Clinic was established in 1987 offering outstanding service at a reasonable price. The clinic added 3D Imaging Center into its line of business. It has a group of specialists in Prosthodontics (teeth replacement) and Dental Implants that helps patients achieve beautiful smiles. This clinic is equipped with the latest technology in dentistry such as 3D Imaging Device, Implant Software, and hi-tech surgical instruments that produce accurate results.
Pearl Dental Clinic is located on Montri Road near hotels and beaches in Phuket. It has well-trained dentists specializing in Prosthodontics, Dental Implants, Periodontics (gums), and Endodontics (Root Canal Treatment). They include specialist who is certified by the International Congress of Oral Implantologists (ICOI).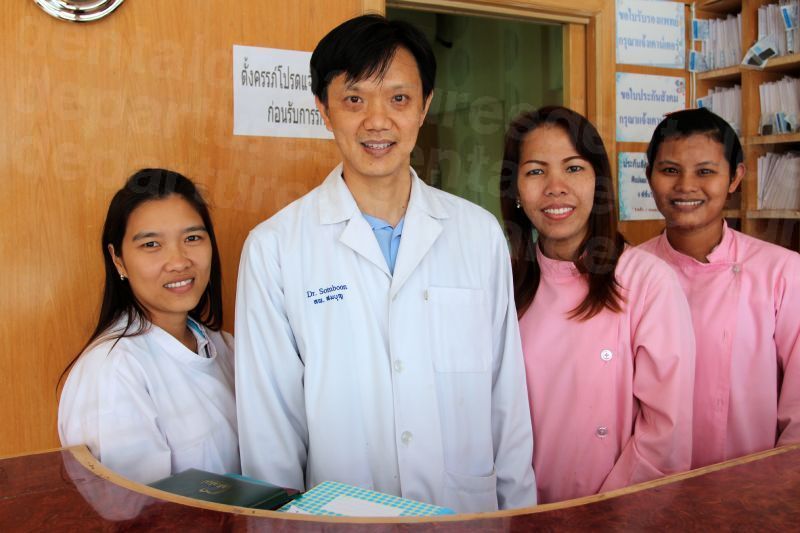 Clinics in Phuket offer dental tourism assisting patients from overseas with treatment as well as with travel. They provide solutions to different oral conditions such as gum disease, discoloration, cracks, and missing teeth. The dentists in Phuket recommend treatments such as:
Tooth-shaped "caps" used to cover damaged teeth. They can improve the appearance and function of the teeth. Crowns restore broken teeth, hold a bridge, cover dental implants, and solve other dental conditions.
Dentures are detachable replacement for missing teeth. The dentists use complete and partial dentures in restoring your teeth. Complete dentures are used to restore the entire upper and lower teeth. Partial dentures are used when they are existing natural teeth.
Replace missing teeth with substitute tooth roots capped with crowns or bridge. Implants are stable and natural looking great for patients looking better dental solution.
Laser Teeth Whitening Treatment
The dentists in Phuket perform in-office whitening treatment that is safe and effective. Take-home kit whitening treatment is usually recommended after in-office whitening session.
Wafer-thin shells that are used to cover the front area of your pearly whites. The thin shells are bonded to your teeth and restore their appearance.
Here's the price comparison of treatments in Phuket. As you can see, the cost in Phuket is lower compared to Australia, New Zealand, and UK.
| | | | | |
| --- | --- | --- | --- | --- |
| | Phuket | Australia | New Zealand | UK |
| All-on-4® treatment concept | AUD $18,720 | AUD $33,910 | NZD $34,841 | GBP19,382 |
| Dental Crowns | AUD $599 | AUD $1,505 | NZD $1,545 | GBP 863 |
| Dental Fillings | AUD $37 | AUD $202 | NZD $207 | GBP 116 |
| Dental Implants | AUD $2,247 | AUD $5,098 | NZD $5,238 | GBP 2,928 |
| Dental Veneers | AUD $449 | AUD $1,623 | NZD $1667 | GBP 932 |
| Dentures | AUD $374 | AUD $2,378 | NZD $2443 | GBP 1,366 |
| Root Canals | AUD $187 | AUD $1,660 | NZD $1,706 | GBP 954 |
| Teeth Whitening | AUD $374 | AUD $870 | NZD $894 | GBP 500 |
[Note: These figures are estimates at the time of writing; please check our clinic listings for up-to-date prices.]
Getting Started
Find a clinic in Phuket that offers complete mouth makeovers. Prices in Phuket are just a fraction of the price you'd pay at home.
Contact our Customer Care Team today to book an appointment.