Did you know that dental clinics in Vietnam offer a complete mouth makeover? Prices in Vietnam are affordable compared to countries like Australia, New Zealand, and the UK. Find out more about treatments and the clinics offering low-priced smile makeovers in Vietnam.
Top Clinics in Vietnam
Tourists in Vietnam can get a smile makeover from clinics in Vietnam while on a holiday. The dental clinics in Vietnam verified by Dental Departures are located in Ho Chi Minh City and Hanoi. They include the following:
Rose Dental Clinic is accredited by Global Clinic Rating (GCR), which means that it complies with international standards. It has skilled specialists who improve smiles using advanced technology.


Serenity International Dental Clinic has a group of internationally trained specialists that uses modern technology like digital x-rays, OPG, Cone Beam Computed-Tomography, and Ultrasonic Surgery. The clinic follows the procedures recommended by US Occupational Safety and Health (OSHA) and the Centers for Disease Control and Prevention (CDC). There are two branches – one in Hanoi, and the other in Ho Chi Minh City.


Elite Dental Vietnam is also a GCR-certified clinic that has a team of highly trained specialists providing exceptional service. It has ultramodern equipment like 3D Cone Beam Computed-Tomography (CBCT) and Computer-aided design/computer-aided manufacturing technology (CAD/CAM) that produces accurate results.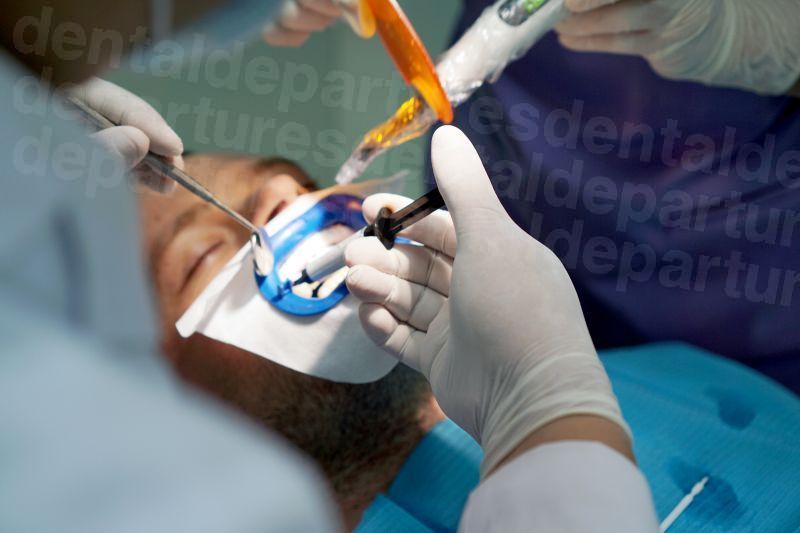 Worldwide Beauty and Dental Hospital is a 5-star dental center that is headed by a US-trained specialist in Cosmetic Dentistry and Dental Implants. He works with experts in Prosthodontics (teeth replacement), Gum Treatment, Oral Surgery, Orthodontics, other fields in providing the best dental service. It is also recognized by the Global Clinic Rating (GCR) as one of the top dental clinics in Vietnam. The clinic has ultramodern facilities complete with an in-house laboratory that processes well-fitting crowns, bridges, and veneers. It follows the sterilization process and infection control protocol set by the Food and Drug Administration (FDA).


Australian Dental Clinic provides a comfortable environment with caring, skilled specialists in various fields like Cosmetic Dentistry, Orthodontics, Root Canal Treatment, and Dental Implants. The dentists are certified by the International Congress of Oral Implantologists (ICOI) and the World Federation of Orthodontists (WFO).
What Kinds of Treatments Are Available in Vietnam?
These clinics offer specialized treatments such as Gum Treatment, Cosmetic Dentistry, Dental Implants, Oral Surgery, and Root Canal Treatment. They help patients improve teeth by using a variety of treatments that include the following:
Laser Teeth Whitening
Dental Crowns
Bridges
Fillings
Dentures
Veneers
How Much Can I Save?
As mentioned earlier, prices of complete mouth restorations in Vietnam are far more affordable compared to other countries. To give you an idea, here's a table showing the price comparison of treatments in Vietnam.
Price in Vietnam

Price in Australia

Price in

New Zealand

Price in the UK

Restoration with 4 Implants

USD $ 4,000

AUD $33,910

NZD $34,841

GBP19,382

Dental Crowns

USD $ 59

AUD $1,505

NZD $1,545

GBP 863

Dental Fillings

USD $ 5

AUD $202

NZD $207

GBP 116

Dental Implants

USD $ 500

AUD $5,098

NZD $5,238

GBP 2,928

Dental Veneers

USD $ 230

AUD $1,623

NZD $1667

GBP 932

Dentures

USD $ 120

AUD $2378

NZD $2,443

GBP 1366

Root Canals

USD $ 15

AUD $1,660

NZD $1,706

GBP 954

Teeth Whitening

USD $ 50

AUD $870

NZD $894

GBP 500
Note: Prices vary depending on how many teeth are being treated, as well as the chosen method for each patient's particular circumstances.
How Do I Book?
To book your free appointment with one of our verified dentists in Vietnam, contact our Customer Care Team today.