We live in an information age, the likes of which we have never experienced before. You can literally sit in the comfort of your own home and read information from dental crowns reviews in Playa del Carmen to learn about the best and worst clinics in Mexico for dental treatments. Using verified online reviews from former patients of dentists in Playa del Carmen is important if you want impartial advice to make the best decision concerning your dental care abroad.
Sifting Through Online Reviews
Everywhere you look online, someone is trying to sell something to you. With so much marketing and sales spiel, it is no wonder that many consumers have trouble believing what they read online. This why reading online reviews from former patients is helpful.
The Dental Departures website provides you the best of both worlds, because we are experts in dental tourism, but also recommend you top-notch clinic choices with reviews that come directly from former patients that we have authenticated. We have found that Mexican dental tourism locations such as Playa del Carmen, a perpetual holiday destination in its own right, are some of the best value-for-money places in the world for dental crowns.
Online reviews from former patients mean more than marketing hype and that is why we use these testimonials alongside our other information, so that visitors to our site can obtain a full and rounded view, enabling them to make their own choices. We have listed five of the most highly-recommended and ranked clinics by using authentic dental crowns reviews in Playa Del Carmen to get the real story:
Sani Dental Group Cancun Riviera
Dental Crowns Prices in Mexico
Dental tourism in Mexico really is something special for Americans and Canadians seeking affordable treatment not available in their home countries. You can visit destinations just over the American border in Tijuana, or large metropolises such as Mexico City, or take the most popular option to visit sundrenched holiday locations such as Cancun or Playa del Carmen. Prices for dental crowns in Mexico are 57% cheaper on average than in the USA, Canada or Europe, making it a viable destination for your treatments.
As an example of the dental crowns costs in Mexico: US $500 (CAN $630; UK £387; Euro €424; Aus $629; NZ $682), compared to the prices in the US $ 1,164 (CAN $1483; UK £863; Euro €1026; Aus $1505; NZ $1545).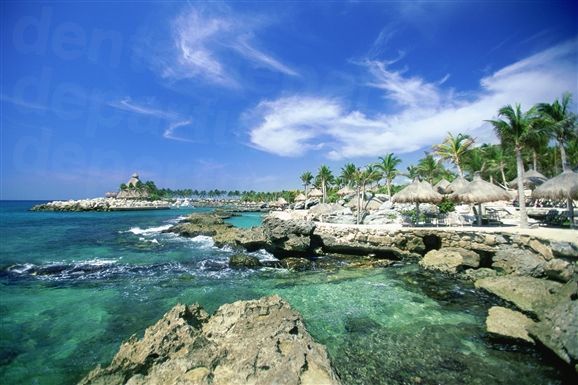 Take your time to study the Dental Departures website to find authentic dental crowns reviews in Playa Del Carmen, so you can gain a true reflection of the quality of each individual clinic. With the average price for treatments so low, you can have a stunning holiday in Playa del Carmen while improving your smile and regaining your self-confidence.
How Do I Get Started?
If you'd like to know more about getting dental crowns or other treatments in Playa del Carmen, please feel free to contact our Customer Care Team; we are happy to help. Or if you are ready to book your appointment, you can do so right here any time of the day or night, at no charge to you.
Sources:
Playa del Carmen. Secretaría de Turismo del Gobierno de México. Website accessed 11 April 2021 https://www.visitmexico.com/en/quintana-roo/playa-del-carmen

Playa Del Carmen Travel Guide. Travel + Leisure. Website accessed 11 April 2021 https://www.travelandleisure.com/travel-guide/playa-del-carmen