Harmony Dental Studio is located in Tijuana's Zone Rio area – the popular part of the city that offers a host of good shopping, restaurants and hotel amenities, so it's a favorite part of town for visitors.
A fully-licensed family dental office, Harmony Dental offers comprehensive services to local and international patients. Providing the highest degree of care, the clinic's staff go all-out to deliver an anxiety-free, comfortable experience to its patients, from the youngest in the family to the oldest.
Finding good-quality dental care abroad may prove challenging to someone from another country, but Harmony's dentists are all fully licensed, trained and committed to delivering the best quality dental care. They also believe that the least expensive dentistry is dentistry that is done right the first time, which is something they strive to achieve.
About Harmony Dental Studio
Harmony Dental Studio is in the contemporary, state-of-the-art Molding Clinic Plastic Surgery building – just across the road from Costco. The clinic staff like to make life as easy and stress-free as possible for patients, so they have a private parking lot and can provide you with a Medical Lane pass for getting over the border quickly. If you prefer not to drive into Mexico, they can also make arrangements to have you picked from the border, brought to the clinic, and dropped off again after your appointment. It really couldn't be easier.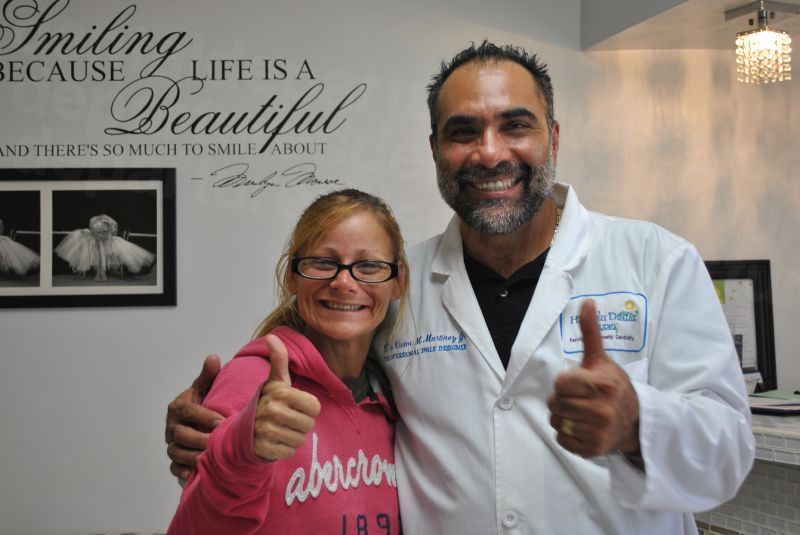 The clinic was established in 1987 by Dr Victor Martinez. It is his goal to ensure patients receive the best care for teeth and gum health, and he is a firm believer that this starts by establishing a good doctor-patient relationship. Harmony Dental Studio will earn your trust with every visit you make with them and they look forward to you joining in with the Harmony experience. Dental care is not everybody's idea of fun but Dr Victor and his team try to make it as enjoyable as possible.
The clinic is adept with helping dental tourists – they have been treating international patients for a long time and are highly-experienced in delivering the kind of services international patients want and expect.
It goes without saying that the prices offered by dentists in Tijuana are much lower than north of the US-Mexico border, but Harmony Dental also helps with other aspects of your trip, including insurance claim assistance, local pharmacy delivery, oral sedation and they can arrange for you to stay overnight in a secure, local hotel.
Dental Procedures Available at Advanced Smiles Dentistry
Harmony Dental offers individual care for individual smiles – tailor-made treatments to suit you and your budget - proudly offering services with the due care and expertise that makes them a cut-above the rest.
Their extensive services include everyday dentistry, including checkups and cleanings to remove stains, tartar and plaque – which not keeps your teeth looking nice, but ensure their health is maintained. Preventive care, such as fillings, should be part of your routine maintenance to stop decay in its tracks and preserve the health of your teeth, gums and bones.
Gum disease treatments are offered at the clinic, which can be treated by a general dentist, but periodontitis, the advanced stage of gum disease, is also treatable by the periodontic specialists at Harmony.
Crooked teeth can be fixed by the dentists at Harmony with orthodontic treatments – either with metal braces or Invisalign ™ the clear aligners that are virtually undetectable.
The clinics other services include, crowns, veneers, dentures and other prosthodontic services, root canal therapies and cosmetic dentistry services, such as laser teeth whitening. They also offer dental implants and related treatments, including bone grafts.
Dentist recommendations at Harmony Dental Studio
Dr Victor Martinez has more than 25 years' experience as a licensed dentist. A member of the American Dental Association, he also has qualifications and certifications in a number of specialist dental areas, including periodontics and dental implants. Dr Victor is also an authorized Invisalign ™ provider. His qualifications include:
Diploma in Orthodontics

Specialty in Endo-Periodontics

Diploma in Advanced Implantology

Diploma in Cosmetic Dentistry
Dr Victor is a keen advocate of keeping abreast of new techniques and regularly attends further training, symposiums and other educational programs to ensure he is always up-to-date with his knowledge.
Former and current patients of Dr Victor and his team have the following recommendations about Harmony Dental Studio:
From Berenice in California:
"I was really lucky to meet Dr Victor and his staff. It is the best dental experience I have had in my life."
From Adeline in Denver:
"My Implants look perfect. I could not be more pleased. The office is clean and the prices are very reasonable. I would highly recommend Dr Victor Martinez and Harmony Dental for any dental needs."
What are the prices at Harmony Dental Studio?
Save upwards of 50% at Harmony Dental Studio in Tijuana. Dental implants , particularly, offer good savings of a few thousand dollars and are well worth the trip over the Border.
Fillings cost in the United States $150 (CAD $200);
Dental Fillings cost at Harmony Dental Studio $60 (CAD $80)
Veneers cost in the United States $1,100 (CAD $1,450);
Veneers cost at Harmony Dental Studio $530 (CAD $700)
Implants cost in the United States $3,900 (CAD $5,100);
Implants cost at Harmony Dental Studio $1,900 (CAD $2,500)
Why else should I consider dental care at Harmony Dental Studio?
Harmony Dental Studio has been at the vanguard of dental tourism in Tijuana for the last few decades. Their attention to detail and the sunny disposition of Dr Victor and all his team make it one of the number one choices in the area for North American patients.
Despite some media scare stories, Tijuana remains a popular and attractive location for visitors and thousands make the journey over every day uneventfully. Zona Rio, where Harmony Dental is located, is a middle-class, upmarket area where most people will feel right at home. There are certainly decent shopping facilities and restaurants to while away a good few hours before or after your dental care.