The tropical paradise of Bali is surrounded by dental clinics offering a wide array of treatments ranging from preventive care to specialized treatments such as cosmetic dentistry. Learn more about the clinics that offer affordable smile makeovers in Bali.
What is a smile makeover?
A smile makeover improves the appearance of the teeth using various treatments. The treatments solve different kinds of issues such as discoloration, cracks, gaps, and misalignment. The type of treatment depends on your particular need. Fillings, dental bonding, and inlay/onlays repair minor cracks. Incorrect bite is improved by means of orthodontic devices like clear aligners, brackets, and retainers. Laser teeth whitening removes discoloration. Crowns, bridges, dentures, and dental implants restore damaged teeth. Consult a dentist if you want to restore your smile.
A comprehensive examination will be taken to determine the type of treatment that suits your needs. The assessment involves diagnostic tests and a review of your oral health as well as your medical status. Clinics in Bali utilize modern technology such as digital x-rays, Cone Beam Computed Tomography (CBCT) and other equipment in creating a treatment plan. Your dentist will explain the results and discuss the options to help you make an informed decision.
The procedure is carried out by specialists in Cosmetic Dentistry, Oral Surgery, Dental Implants, Orthodontics and other fields. Dentists in Bali are highly experienced in various procedures. They completed their studies in Indonesia, the USA, and other well-known institutions abroad.
How much is the cost of treatment?
The cost of a smile makeover in Bali is affordable compared to countries like Australia, New Zealand, and the UK. Below is a price comparison of dental treatments in Bali.
| | | | | |
| --- | --- | --- | --- | --- |
| Treatment | Bali | Australia | Bali | New Zealand |
| All-on-4® treatment concept | AUD $8,753 | AUD $16,304 | NZD $ 9,390 | NZD $17,492 |
| Dental Crowns | AUD $509 | AUD $1,292 | NZD $546 | NZD $1,387 |
| Dental Fillings | AUD $60 | AUD $235 | NZD $ 64 | NZD $252 |
| Dental Implants | AUD $1,691 | AUD $5,170 | NZD $1,815 | NZD $5,546 |
| Dental Veneers | AUD $459 | AUD $2,810 | NZD $492 | NZD $3,015 |
| Dentures | AUD $99 | AUD $1,856 | NZD $107 | NZD $1,991 |
| Root Canals | AUD $199 | AUD $1,060 | NZD $ 213 | NZD $1,138 |
| Teeth Whitening | AUD $448 | AUD $657 | NZD $481 | NZD $705 |
What are the top clinics in Bali that offer cheap smile makeover?
The top clinics in Bali that offer smile makeovers are Bali 911 Dental Clinic - Kuta Branch, Bali 911 Dental Clinic - Denpasar, Drg. Syamsiar Adam Kuta Dental Clinic and Rejuvie Dental Clinic . These clinics are verified by Dental Departures. The facilities, dentists, and dental services are screened to help patients achieve optimum oral health.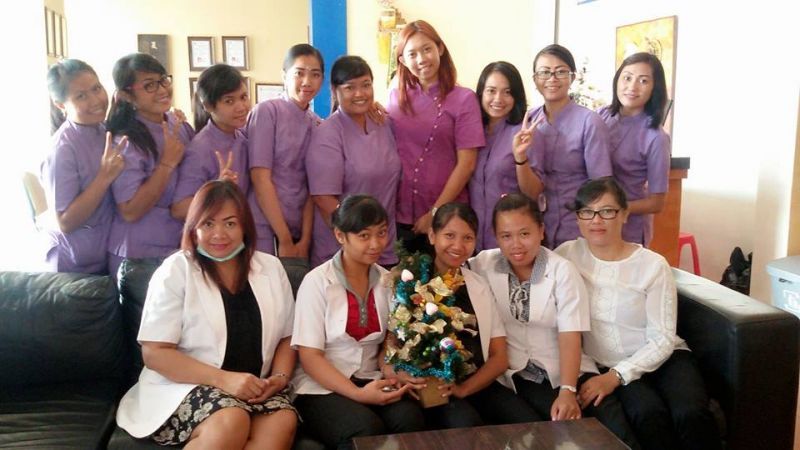 Clinics in Bali are equipped with the latest technology in dentistry such as lasers and digital x-rays. Some built their own laboratory to deliver fast and efficient service. They use high-quality materials in improving patients' smiles.
Get a cheap smile makeover in Bali while on a holiday. Find a good dental clinic in Bali with the help of Dental Departures. Call, email, or chat with our customer service.