As dental implants become more routine – and less painful! – many patients are opting for implants instead of dentures and other less attractive options. Below are some answers to typical questions our dentists and Customer Care team receive from patients considering traveling for this procedure
What is a Dental Implant?
A dental implant is an artificial tooth root made of titanium that is placed into the jawbone to support a replacement tooth. A replacement tooth, called a crown, is then fitted onto the implant in order to replace a missing or broken tooth. Dental implants can be used to support one crown or a fixed bridge.
What Are the Advantages of Implants Over Dentures?
Dental implants are a more permanent solution to missing teeth, and do not require additional daily maintenance, as do dentures. Implants are much more natural looking than dentures and do not require the support of adjoining teeth, as is the case with a traditional bridge.
Implants are very strong, reliable, and can look just like your own teeth, allowing you to smile with confidence. Also, they can improve any chewing difficulties caused by missing teeth or dentures. Most important, improved oral health promotes better general health. If you can find a way to afford implants over dentures, you might want to discuss options with your local or international dentist.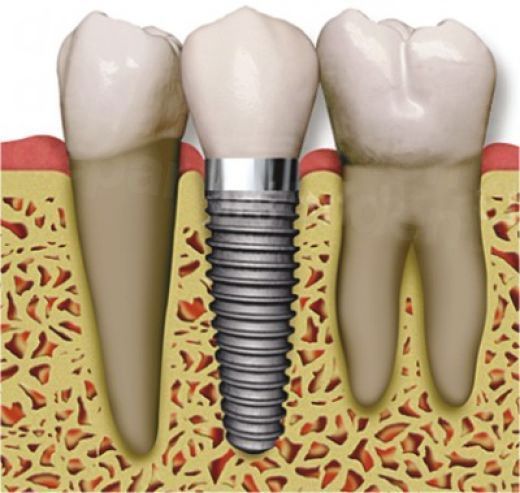 How Much do Implants Cost?
In the United States, dental implants can cost between $3000-$4500 for the implant, surgery, and crown, particularly if bone grafting, sinus lift, or anesthesia is required. At a specialty clinic abroad, the cost of an implant can be as low at $1200.
When comparing prices, be sure to obtain quotes for the total cost of your procedure, including consultation, x-rays, surgery, implant, and crown. Some clinics advertise implants for an attractively low price, then charge separately for necessary parts of the treatment. Other clinics offer straightforward all-inclusive pricing.
Why Are Implants so Much Less Expensive in Some Other Countries?
Pay for implantologists in the United States average $198,000. Overhead costs, including office space, malpractice and other types of insurance, continue to rise. Thus, as with other medical specialists, costs are passed down to patients, particularly for elective treatment not covered by private health plans, Medicare or Medicaid.
Dentists abroad do not generally command such high salaries and tend to work longer hours. The costs of staff, leases and malpractice insurance is much less expensive abroad.
Whether in Mexico or Hungary or Thailand, our best dentists use the same materials for crowns and the same brands of implants as dentists in the United States and the EU.
How Many Trips to the Dentist Will I Need to Make?
The number of different implant procedures will have a bearing on the duration of your stay, as well as your body's own proclivity to heal.
Most patients require conventional dental implants, which necessitate two trips over a three-to-six month period. Any required tooth extractions or bone graft(s) will be performed on your first trip. After your gums/bone have been allowed to heal – around three to six months – you will return to have the abutment fitted and crown placed. Each trip requires three to five days.
What are "Immediate Loading" Implants?
Immediate loading of implants (or "instant implants") is a relatively new procedure where the implant and crown are placed in just one visit and no second visit is required. Some conditions may not be suitable for instant implants. On your first visit your dentist will consider variables such as your bone density, amount of bone in your jaw and "bone stability." Success rates are comparable to the two-stage approach. Ask your dentist if conditions are favorable for an immediate load implant. If so, you're in luck and may not need to make a return trip!
Are Implant Procedures Painful?
Generally, you will feel some soreness in the jaw for several days following the surgery that can usually be offset by over-the-counter pain medication. If you would prefer full sedation during surgery, make sure you find a dentist who offers that option. Our Customer Care team will be happy to help locate a dentist that offers full sedation.
What is a Bone Graft? Will I Need One?
If you do not have sufficient bone material in the jaw to support the placement of an implant, a bone graft will likely be necessary. This involves a procedure in which a special bone grafting material is placed at the site of the implant in order to supplement the bone density.
The only way to determine whether you may need a bone graft is for your dentist to take a three dimensional x-ray of your mouth, called a CT scan (a traditional or panoramic x-ray can only determine the depth of the bone, not the width).This 3D image will allow your dentist to see if there is enough depth and width of bone to place the implant.
How Long Will my Implants Last?
When properly placed and maintained, dental implants can last up to 25 years. You will need to care for your new teeth in the same way as your old, with proper brushing, flossing and regular dentist visits for cleaning.
Where Can I Find Information About Getting Implants Abroad?
Dental Departures is a great source where learn more about implants, dentures, bridges and other options. Compare prices, read verified patient reviews, get an instant quote, contact the clinic, chat with our agents, and book an appointment all in one location.