Hua Hin is a popular tourist destination not just for tourists, but dental tourists as well. This beautiful resort city is home to one of the finest dental clinics in Thailand. Thousands of people from Australia and New Zealand head to this part of the world to enjoy the low cost, high quality dental procedures they can't find back home. If you're looking for the best crowns, dentists in Hua Hin are the ones to look out for. And what happens when you find the best dentists in Hua Hin? Let's find out.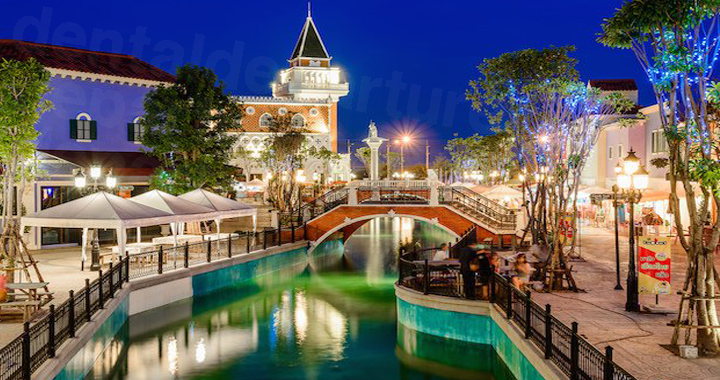 You Pay 70% Less
Saving money, lots of it, is the biggest reason people become dental tourists. No one wants to pay the high dental prices that plague countries like Australia and New Zealand. This is why a growing number of people are actively looking for a cheaper alternative. The good news is that many of them find just what they're looking for. Here's the dental crowns price list:
Dental Crowns Cost in Australia: AUD $ 1,506
Dental Crowns Cost in New Zealand: NZD $ 1,545
Dental Crowns Cost in Hua Hin: AUD $447 and NZD $470 respectively
This means you'll save 71% on your dental crowns by flying out to Thailand. The only "catch" is to find a really good dental hospital, like the Bangkok Hospital Hua Hin (Dental Center). Because let's face it, the cost savings will only be worth it if you get quality dental services in return. You don't have to accept low quality crowns just to save money.
You Get High Quality Dental Crowns
Don't let the low prices fool you. Just because you're only paying around 30% of the cost that you would have to pay back home Down Under doesn't mean you're trading your health for money. On the contrary, dental clinics in Hui Hin are on par with top clinics in Australia and New Zealand. Many dentists in Thailand have got their education and training in countries like Australia, US and UK. The brilliant Hua Hin dentists are able to offer such low prices since the cost of running their dental practice is much lower in their city than say in Australia or New Zealand.
You Get to Visit an Amazing Seaside Resort
Don't forget the tourism in dental tourism. While saving money is the main driving force behind dental tourism, the actual tourism is also a great motivator. Hua Hin used to be a low-key fishing village over a century ago. It started to become a fashionable escape for Bangkok residents after the Thai royals built summer palaces here in the 1920s today, Hua Hin is a popular seaside resort, offering a host of amazing activities like water sports and kitesurfing while boasting world-class hotels and amazing seafood shacks. It's the perfect place to spend some time to rest and recuperate after getting your dental crowns.
Dental tourism is a large, rapidly expanding industry, and Thailand is a leading destination for dental tourists. If you want to get the best crowns, dentists in Hua Hin won't let you down.