Thailand is the most visited country in Southeast Asia, a tourism mecca for people from all walks of life. Tourists from all over the world travel there for the lush tropical climate, beautiful beaches, amazing food, and great, affordable massages.
Dental tourism is also extremely popular in Thailand. The country has some of the world's best medical facilities, which remain very affordable. You will also find general and specialty dental services for extremely low prices: savings range from 40% to 80% compared to your costs back home. Thailand's vast tourism appeal makes this land particularly attractive to travelers who want to combine the savings enjoyed on dental treatment with enjoying an unforgettable holiday.
The most popular places to experience Dental Tourism in Thailand are Bangkok and Phuket:
Bangkok
Bangkok is a vibrant and enchanting city, home to some of the world's greatest shopping and nightlife. It has modern public transport, prestigious universities, and world-class healthcare. People from all over the world flock to the city for travel, work, study – and medical care!
The city has a stunningly modern international airport with multiple flights daily from numerous countries. A cheap taxi ride gets you into the city center in less than 30 minutes. The metropolis has a magnitude of affordable accommodation options for every visitor. Taxis, tuk-tuks, and the easily-accessible "Sky Train" make for convenient transportation.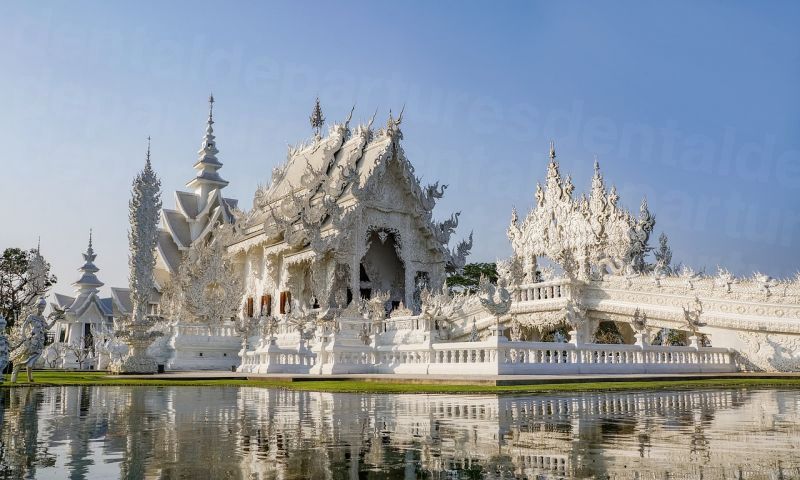 Phuket
Phuket is Thailand's largest island. It is located around 800 kilometers south of Bangkok. The island's natural beauty has made it a tourism hotspot of Thailand, and one of the most popular destinations in all of Asia. It is a brief 90-minute flight from Bangkok; many countries offer direct flights to Phuket.
Phuket has many adventure activities available such as parasailing, jet-skiing, and diving. Island hopping tours are also extremely popular. The beaches are beautiful and peaceful, for those who just wish to relax.
The Sea Smile Dental Phuket Clinic is also part of the prestigious Bangkok Smile Dental Group. Located in Phuket's lively Patong Beach area, the elite team specializes in tooth replacement, cosmetic dentistry, orthodontics, and fixing breathing problems. They are also masters at complex and reconstructive dentistry, offering expertise for any required treatment.
Planning Your Trip
Thailand offers a year-round tropical climate. The cooler months are November to February; the rainy season is July to October. This is often just a short afternoon downpour, instead of continuous drizzle. The weather varies depending on the region, although you can count on it being hot year round in Bangok and the beaches, cooler in the hills to the north, in Chiang Mai and Chiang Rai.
Visas are not required from 40 different countries, New Zealand, Australia, the US, and the UK. Flights and accommodation can be arranged online or through an agent.
How Do I Get Started?
After you've decided which Thai city you wish to visit for your treatment, search our more than 200 clinics listed in Bangkok, Phuket, Chiang Mai, Pattaya, Chiang Rai, Koh Samui, and many other popular Thai destinations. Know before you go: read our verified patient reviews, view clinic photos and take virtual tours of our clinics. Then call our toll-free number or book with us online for great care at the best available prices!