Many good value dental clinics operate in this beautiful coastal city, with highly-trained dentists from all over the country choosing to live and work here. Dental treatment prices in Antalya are some of the least expensive in Europe, so it really is no surprise that the number of international patients seeking affordable dental care here just keeps on rising.
Visiting Antalya for Low-Cost Dental Implants
If you are considering replacing missing teeth with dental implants , or even having a complete mouth restoration with an All-on-4, the savings you can make in Antalya are significant. Patients from Britain often save in the region of 70% off what they would pay at home for implants. With the usual UK price for an All-on-4 coming to roughly £16,000, you could save over £10,000 by travelling to Antalya for treatment. In fact, at one of Antalya's leading dental clinics an All-on-4 costs just £4,000, a full £12,000 cheaper than you would expect to pay a UK dentist.
Choosing a Dentist in Antalya
It really is worth doing your research ahead of choosing a dentist in Antalya; as with everywhere in the world, some dentists are better than others. With the help of Dental Departures, you can quickly find a selection of dental clinics in the city, along with an array of information about the dentists who work there and the prices they charge.
To gain a better understanding of what it is like to visit a dental clinic in Antalya, read some of the reviews left by past patients here at Dental Departures. These will reveal what people just like you thought of the treatment they received and should help you make a decision! To get you started, here are two of the best dental clinics in Antalya, Turkey.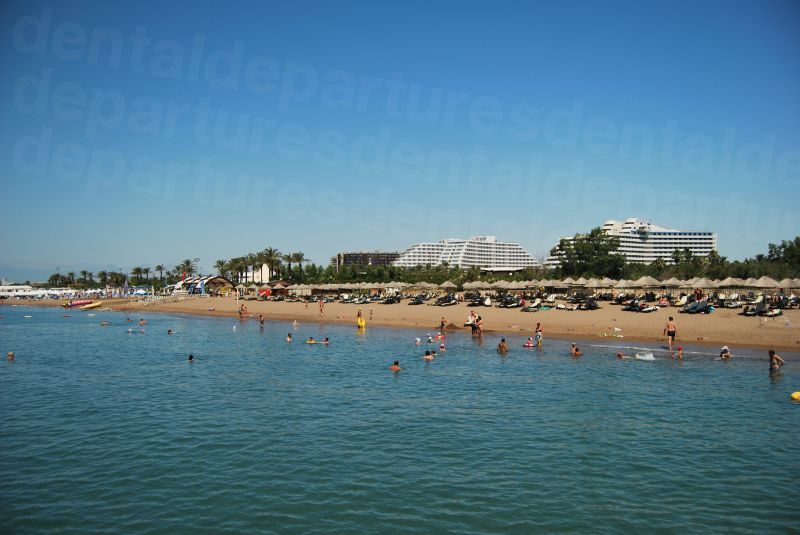 Our Recommended Antalya Dental Clinic
A top option for expert care is the Alanya Dental Center , run by two experienced Turkish dentists who are both members of the Turkish Dental Association. Dr. Sabahattin Ülger has been a practising dentist for over 40 years, ever since he graduated with a Master's degree in Dentistry from Ege University in Izmir, one of Turkey's oldest universities. His partner is Dr. Samer Sabbah, who has over 15 years of experience transforming the smiles of his patients with dental implants and crowns .
Book Your Antalya Dentist Appointment Online Now
To book an appointment at these highly-rated Antalya dental clinics , just use the Dental Departures online appointment scheduler. You can use it at any time, day or night, and the whole process takes just a minute or two. Simply pick a time and date that is good for you, fill in your contact details, and submit your request. We will get back to you shortly to confirm your appointment, and you are free to cancel your appointment up to 24 hours before your scheduled time. You will also be covered by the Dental Departures Best Price Guarantee !
Sources:
Woodman, Josef. How Much Can I Save Getting Dental Care Abroad? Trip Savvy. 17 May 2017. https://www.tripsavvy.com/how-much-can-dental-tourism-save-2318533" target="_blank
Mungo, Alex. Dental implants and how crucial replacing teeth really is. Oral Health Foundation. 8 June 2017. https://www.dentalhealth.org/Blog/dental-implants-and-how-crucial-replacing-teeth-really-is
Auger, Steve. Different Types of Dental Crowns. Colgate Oral Care Center. https://www.colgate.com/en-us/oral-health/cosmetic-dentistry/bridges-and-crowns/different-types-of-dental-crowns-0215