Last fact-checked: 27 January 2021
Book an appointment with Dental Departures and save over £10,000 on the All-on-4® treatment concept in Zadar, Croatia.
Provided by Nobel Biocare®, this mouth graftless mouth restoration technique replaces a whole arch of teeth on just four uniquely positioned implants. First pioneered by Dr Paulo Malo, a renowned implantologist from Portugal, his treatment protocol has a high success rate and is now taught and performed by skilled dentists throughout the world, including Zadar.
Dental Departures can help you find a quality-checked specialist for your dental care while you take advantage of a well-earned break in one of Croatia's most picturesque cities overlooking the Adriatic Sea.
Am I Suitable for the All-on-4® Treatment Concept?
The procedure is suitable for many patients, and it is your health and lifestyle factors that are determining factors rather than your age.
Factors that may be detrimental to you being a viable candidate for treatment include:
Bone Loss in the Jaw:
Even if you have bone loss, the procedure may still be suitable for you without the need for a bone graft to your jaw; this is due to the nature of the implants as well as the acute angle in which they are inserted. The implants are positioned with two in the front of the jaw and two in the rear. The rear two implants are longer than traditional implants and they are placed at a 45-degree, rather than a 90-degree angle. Not only does this create a larger surface area for bone-to-implant-contact but it also provides greater stability.
Of course, you will still need enough viable bone, which your dentist will be able to determine from up-to-date CT scans (that can be sent over to Croatia via email beforehand).
Smoking:
Cigarette smoking reduces blood flow, which decreases the number of nutrients and oxygen your body's cells can absorb. This is particularly problematic when fighting infection and for the healing process—the very things that your body will need to support the successful integration of your dental implants, both after their initial placement and thereafter.
Health Conditions:
Diabetes, heart disease, cancer and other uncontrolled health conditions may diminish the chances of successful integration of dental implants. An evaluation is generally needed in order to ensure your suitability, which, again, is something a local dentist can do for a nominal fee before you fly.
Any infection in the mouth will also need to be cleared with antibiotics before the implant surgery can take place.
Why Choose Zadar for Mouth Restoration Treatment?
Croatia has an overall high standard of dental care, with knowledgeable, highly-skilled dentists who are able to deliver services on a par with any you'd receive at home.
The dental providers in Zadar that Dental Departures has partnered with have high standards. Clinics are modern and equipped with the latest diagnostic and therapeutic technologies, including 3D/CT scanning, CAD/CAM (computer-aided design/computer-aided manufacture) and digital x-rays to ensure accurate diagnoses and predictable treatment outcomes.
As a holiday destination, Zadar has plenty to enjoy from medieval architecture to modern art installations, as well as a myriad of dining and shopping options. You can also take a ferry to one of the nearby islands, or head out into the surrounding countryside and take in the scenery at the national parks.
Of course, the main reason to head overseas for dental treatment is almost always the lower price, and so it comes as no surprise that you can save thousands on a mouth restoration at our partner clinics in Zadar, as highlighted in the next section.
How Much Does the All-on-4® Treatment Concept Cost in Zadar?
See below for treatment prices in Zadar compared to at home:
| | | | | | |
| --- | --- | --- | --- | --- | --- |
| | UK £ | EUR € | US $ | CAN $ | AUS $ |
| Treatment starting price at home | 16,000 | 19,000 | 20,000 | 27,000 | 27,000 |
| Treatment starting price in Zadar | 5,600 | 6,700 | 6,900 | 9,100 | 10,000 |
Please note that these are approximate prices at the time of writing.
Is this a Suitable Treatment to Have as a Dental Tourist in Zadar?
While the surgical stage of this treatment is considered a major procedure, it is normally carried out in only a few hours, typically under local anaesthetic with conscious sedation. Following the procedure, the downtime may include bruising and swelling but many patients report very little discomfort after surgery and are able to enjoy low-key activities a day-or-two afterward.
If you are aiming to enjoy the sites of Zadar, there is no reason why you can't enjoy all its sites and activities prior to your treatment day. The likelihood is that after your surgery you will be able to enjoy gentle walks and going out for dinner... but perhaps save watersports or high-octane adventure activities for a separate trip!
What Is the Process for the All-on-4® Treatment Concept?
Although the actual surgery is carried out in just one day, the planning stage is key to the overall success. Your dentist will provide further information as to how long you will need to stay in Zadar; this way, you schedule your pre and post-op appointments with your dentist beforehand.
The treatment process can be summarised as:
1: Initial Consultation & Assessment:
Digital x-rays or CT scans should be sent through to your dentist in Zadar for a preliminary assessment of your suitability before your appointment in Croatia is booked. Once it is confirmed the procedure is possible, your dentist in Zadar will want to carry out their own examination and tests, including 3D/CT scans. The scans will not only show the dentist all of the structures in your mouth and jaw, but will also enable them to pinpoint the exact places in your jaw to insert the implants.
Your dentist will also need to take impressions of your mouth, which are sent to a laboratory where your new teeth are made-to-measure. These will need to be available on the day you have your surgery.
2: Day of Surgery:
The surgery takes approximately two hours per jaw.
If you have any remaining teeth to be removed, the dentist will remove them after you the anesthesia takes effect and you are comfortable.
Next, the dental implants will be inserted into the jaw at the points previously indicated by the CT scans. Once the implants are in place, the new, temporary arch of teeth is attached using specialized abutments and coping cylinders.
3. Healing Phase:
While patients can travel home almost immediately, a diet of semi-solid and soft foods must be adhered to for the next three to four months while the implants fuse with the jawbone. This is a process known as osseointegration.
Do remember to follow other advice from the dentist so as to protect the gums and fixed bridge, such as only using mouthwash for the first two weeks.
4: Permanent Restoration:
Around six months later, you'll return to the same clinic in Zadar for the permanent arch of teeth to be attached.
This can be done by simply unscrewing the lighter fixed bridge, although additional tests and impressions may be required before the final restoration can be fitted, thus completing the treatment.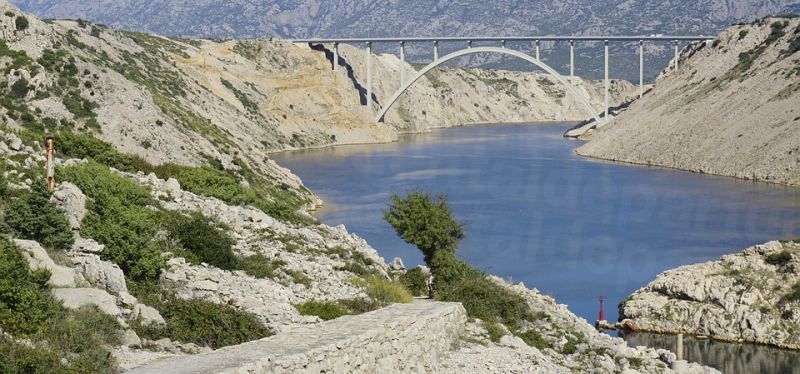 How Can Dental Departures Help?
Dental Departures carries out our own background checks on all the facilities listed on our website. This includes onsite visits and searching legal/criminal records. We publish patient reviews, confirm dentist qualifications and verify professional memberships, which you can see under each individual listing on our site.
You can also peruse prices, location maps and clinic photos—all to help you come to your own conclusion about the best dentist to book your free appointment with us.
Take a look at some of the options in Zadar below for latest figures, as well as photos, patient testimonials, dentist profiles and more:
Further Information About the All-on-4® Treatment Concept in Croatia:
Dental Departures' Customer Care Team are available 24/7 to provide more information about undergoing dental treatment in Zadar.
Get in touch for further information, including Dental Departures' financing options and insurance coverage for global dental care. You can also find other online booking options by scrolling down the page.
Sources:
Nobel Biocare. Website accessed: 27 January 2021. https://www.nobelbiocare.com/en-uk
Major Bone Grafting (Using Bone from Outside the Mouth) and Dental Implants. Guys & St Thomas' NHS Foundation Trust. Leaflet Number: 2847/VER3. November 2016. https://www.guysandstthomas.nhs.uk/resources/patient-information/dental/major-bone-grafting.pdf
Temporary Abutments and Copings. Nobel Biocare. Website accessed: 27 January 2021. https://store.nobelbiocare.com/us/en/media/eifu/IFU1093_EN_GB_00.pdf
Villines, Zawn. Dental bridge: Everything you need to know. Medical News Today. 4 December 2019. https://www.medicalnewstoday.com/articles/327182
Murphy, Caleb. Smoking And Tooth Implants: How it Affects the Success Rate. Authority Dental. 8 April 2019. https://www.authoritydental.org/smoking-tooth-implants
Watson, Shawn. How a Dental Impression Is Made. Very Well Health. 10 December 2019. https://www.verywellhealth.com/understanding-dental-impressions-1059424
Dental Implants. WebMD. Website accessed: 27 January 2021. https://www.webmd.com/oral-health/guide/dental-implants#2
About Prof Paulo Malo. Nobel Biocare. Website accessed: 27 January 2021. https://www.nobelbiocare.com/internatioanl/en/education/our-speakers/m-o/paulo-malo.html
Malo, P et al. A Longitudinal Study of the Survival of All-on-4 Implants in the Mandible with Up to 10 Years of Follow-up. Journal of the American Dental Association. March 2011. https://www.ncbi.nlm.nih.gov/pubmed/21357865