Last fact-checked: 29 January 2021
Use Dental Departures to find All-on-4® Treatment Concept specialists in Budapest, Hungary, and save up to 70% compared to prices back home.
Provided by Nobel Biocare®, this mouth rehabilitation technique replaces an entire arch of teeth in just one session of surgery using four uniquely positioned dental implants.
What Is the All-on-4® Treatment Concept?
This treatment replaces a complete arch of teeth with just four dental implants (per jaw).
While planning and preparation are necessary prior to your procedure, patients only have to endure one session of surgery, after which they can return home with their temporary (provisional) set of teeth.
The technique was pioneered by Dr. Paulo Malo from Lisbon, Portugal in 1988 and has since become commonplace throughout the world with over 150,000 patients successfully treated.
How Is the All-on-4® Treatment Concept Different from Traditional Dental Implants?
Traditional dental implants are used to replace single teeth, whereas the All-on-4® treatment concept replaces all the teeth in either your upper or lower jaw.
The posterior dental implants are longer than traditional implants, and placed at a 45-degree angle in the jaw, rather than the 90-degree angle that traditional implants are placed. This often negates the need for a bone graft for patients who have suffered bone loss.
Teeth extraction, placement of the implants and attachment of an immediate loading denture can all be carried out on the same day, unlike traditional implants where several months are often required for the implant to integrate with the jaw bone before the false teeth (crowns) are attached and the procedure completed.
What Are the Treatment Steps?
The success of this treatment requires careful planning. Thus, the procedure can be summarised as the initial consultation and assessment; the day of the treatment and the permanent restoration.
1: Initial Consultation & Assessment:
Although many more people are suitable for the All-on-4® treatment concept than traditional implants, you will still need a viable amount of bone in your jaw in order to hold the implants.
Your implantologist (a dentist specialising in implants) will conduct a thorough examination, as well as take appropriate diagnostic tests and digital scans. If the dentist deems you to be a suitable candidate, then you will need to have any remaining teeth removed and impressions made of your mouth to send to the laboratory where your new teeth will be milled.
Before you travel to Budapest, you can obtain a preliminary assessment and price quote from your chosen dentist through Dental Departures by sending through up-to-date scans and digital x-rays.
2: Treatment Day:
Surgery is normally carried out under local anaesthetic with conscious sedation, as it can take around five hours (depending on whether multiple extractions are required).
After any remaining teeth have been removed, the four implants are inserted into the jaw following precise measurements and meticulous digital plans created beforehand by the dentist.
Using specialized abutments and coping cylinders, the immediate loading denture can finally be screwed on before being trimmed down (into a fixed bridge) for comfort.
Note: After surgery, the implants will take around four to six months to fuse with the jawbone (osseointegration), while the gums and fixed prosthesis should also be protected. Thus, patients are advised to follow a diet of semi-solid/soft food during this time.
3: Permanent Restoration:
After approximately six months, patients are invited to return to the same dentist in Hungary to complete the final restoration step.
This essentially involves the temporary bridge being replaced by a permanent one. While this can be done non-invasively, the process may take a few days as impressions and other evaluations will need to be taken.
What Is the Cost of the All-on-4® Treatment Concept in Budapest?
Prices in Budapest are only around a third of the price you'd pay at home, which means you can literally save thousands, if not over £10,000, by having the work carried out in Hungary:
| | | | | | | |
| --- | --- | --- | --- | --- | --- | --- |
| | UK £ | EUR € | US $ | CAN $ | AUS $ | NZ $ |
| Price–at home | 16,000 | 19,000 | 20,000 | 27,000 | 27,000 | 29,000 |
| Price–Budapest | 5,300 | 6,000 | 6,900 | 9,000 | 9,600 | 10,500 |
[Note: these are estimated prices calculated at the time of writing. Please see our clinic listings for up-to-date prices.]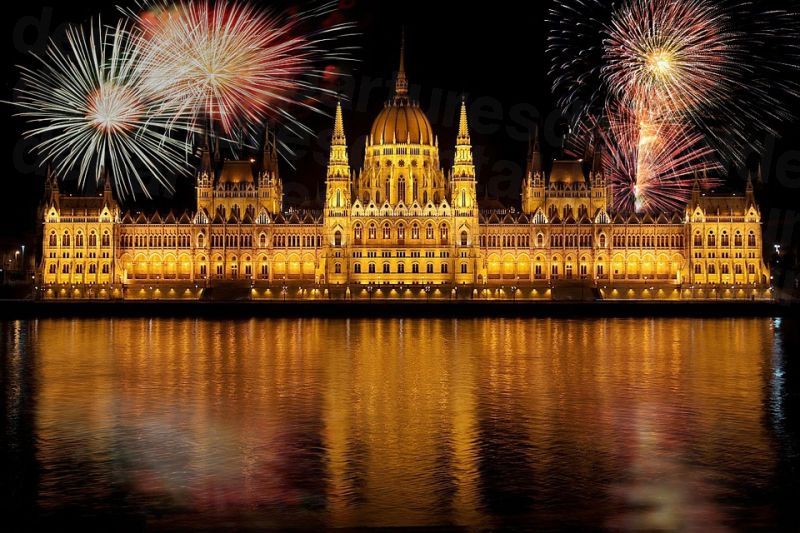 Why Should I Consider Having Treatment in Budapest?
Savings:
The opportunity to save big money is the most common reason people embark on dental tourism—and with discounts like those found in Budapest, it's not hard to see why. Plus, it's always nice to visit a new country, relax and enjoy a holiday—as well as giving your new smile a test run!
Easily Accessible: Ferenc Liszt International Airport in Budapest receives flights from around the world.
Europeans can take advantage of the low-cost airlines that operate across Europe while most major airports in the UK book daily flights to Hungary for less than £100, depending on when you book.
Quality of Care
Medical training in Hungary is among the best in the world: in order to practice, dentists must be registered with the Hungarian Ministry of Health and the Hungarian Medical chamber.
Hungary is a member of the European Union and must follow Europe-wide regulations pertaining to health and safety.
Hungary has an established medical tourism industry and the dentists in Hungary offer exceptionally high quality care at clinics that are among the most modern you will ever see. New techniques and state-of-the-art technologies, such as CAD/CAM, panoramic x-ray and 3D/CT scanning are par for the course at many clinics treating international patients.
Check out some of our most popular facilities in Budapest, including MDental Hungary, Evergreen Dental and Batorfi Dental Implant.
Is the All-on-4® Treatment Concept a Good Option as a Dental Tourist?
Yes. In fact, many dental procedures are suitable for dental tourists, but as the surgery required for the All-on-4® treatment concept can be carried out in a day, you'll have time to explore Budapest during the rest of your stay, just as long as you take things easy and avoid hard food.
You will be pleased to hear that the downtime following the treatment is minimal, and so should not interfere too much with enjoying the sights and activities Budapest has to offer. Or, if you prefer, consider taking some time off prior to treatment, with a couple of days on the back end to rest and recover before flying home.
What to Do in Budapest?
Budapest is often referred to as 'the Paris of the East.' It is certainly chic and well-preserved, and Andrassy Avenue is a wide boulevard akin to the Champs Elysees. However, Budapest has a charm and identity all its own with Buda, the hilly side of the Danube, and Pest, the flatter side also having their own unique charms.
Some things to see and do while in Budapest:
Explore Buda Castle and the winding streets of Castle Hill
Take a cruise down the Danube
Experience one of Budapest's dozens of ancient, restorative thermal baths
Walk to Pest over the Chain Bridge
Amble down Andrassy Avenue
Check out the cave systems in Buda's hills
Spend time at Margaret Island, the scenic park on the Danube where you can visit a zoo, swimming pools an open-air theatre or enjoy a picnic
Visit a Ruin Bar in District VII
Find bargains at the Ecseri flea market
Get one of the best views of the city on Gellert Hill
Further Information
If you want to know more about the All-on-4® treatment concept in Budapest, search our website where you can find clinics, book an appointment online or request a free quote.
Our Customer Care Team is available to talk via our freephone number or online chat if you have any questions or concerns.
Sources:
Nobel Biocare. Website accessed: 29 January 2021. https://www.nobelbiocare.com/en-uk
About Prof Paulo Malo. Nobel Biocare. Website accessed: 29 January 2021. https://www.nobelbiocare.com/international/en/education/our-speakers/m-o/paulo-malo.html
Boulos, Paul. (2010). Immediate loading of implants and fixed complete dentures: A simplified prosthetic procedure. General dentistry. 58. 406-9. https://www.researchgate.net/publication/46191254_Immediate_loading_of_implants_and_fixed_complete_dentures_A_simplified_prosthetic_procedure
Digital Dental Radiography: Zooming in on the Future of Dental Imaging. Consumer Guide to Dentistry. Website accessed: 29 January 2021. https://www.yourdentistryguide.com/digital-radiography/
Hungary. Lonely Planet. Website accessed: 29 January 2021. https://www.lonelyplanet.com/hungary
Travel Guide Hungary. Rough Guides. Website accessed: 29 January 2021. https://www.roughguides.com/hungary/
Dental Implant Surgery. WebMD. Website accessed: 29 January 2021. https://www.webmd.com/oms/dental-implant-surgery