Last fact-checked: 2 February 2021
Save thousands on the All-on-4® treatment concept in Barcelona and say goodbye to the inconvenience of dentures for good.
Provided by Nobel Biocare®, this specialty implant procedure gives you a brand new, secure set of teeth that won't slip, move or fall out, giving you the confidence to do everything you may be struggling to do wearing dentures.
What Is the All-on-4® Treatment Concept?
The procedure was developed by implantologist Dr. Paulo Malo, a world-renowned specialist from Lisbon. His technique is so successful that it is taught to professional implantologists throughout the world, and is now offered at many top-rated dental clinics in Spain.
The procedure is for those who wear dentures due to complete or partial tooth loss, as well as people with failing teeth (any remaining teeth will, however, have to be removed to make space).
A complete arch of replacement teeth is attached to just four implants (hence the name), creating a permanent and secure row of teeth that look good and act very much like the originals.
As you would imagine, a procedure like this does not come cheap—particularly in the UK and Eire, but it is considerably less expensive in Spain where you can save over 50% at many of our leading partner clinics.
How Much Does the All-on-4® Treatment Concept Cost in Barcelona?
Compare the prices in Barcelona compared to home in the table below:
| | | | | | |
| --- | --- | --- | --- | --- | --- |
| | UK £ | EUR € | US $ | CAN $ | AUS $ |
| Prices at home | 16,000 | 19,000 | 20,000 | 27,000 | 27,000 |
| Prices in Barcelona | 7,000 | 8,100 | 9,200 | 12,400 | 13,000 |
[Note: these are estimated prices calculated at the time of writing. Please see our clinic listings for up-to-date prices.]
How Does the Procedure Differ from Traditional Implants?
If you've been told in the past you are not suitable for dental implants due to bone loss in your jaw, then don't despair. The All-on-4® treatment concept is suitable for many patients with bone loss, although it does depend on where in the jaw the loss has occurred, and to what extent.
In fact, there is even evidence that dental implants can be beneficial to patients with bone loss because they stimulate the bone which maintains density and form. As a result, these dental implants may help to keep your jaw bone healthy.
The procedure differs in a number of ways from traditional implants in that:
The treatment is a replacement for all the teeth in one jaw, rather than traditional implants which tend to replace one tooth (although it is possible to replace more if the implants are used as part of a bridge).

It is sometimes referred to as 'same day teeth' because the procedure can sometimes be completed in just one day (this includes any remaining teeth extractions, implant insertion and attachment of new teeth). Do bear in mind that several visits to the dentist are required, and the initial prosthesis is only temporary (immediate loading denture), which allows the implants to properly fuse with the gum.

The implants at the rear are placed at a 45-degree angle, rather than a straight 90-degree angle like traditional implants. This, together with their longer length, provides greater implant-to-bone contact (and more stability).

In many cases, the All-on-4® treatment concept is suitable for patients who have a degree of bone loss without having to undergo a bone graft.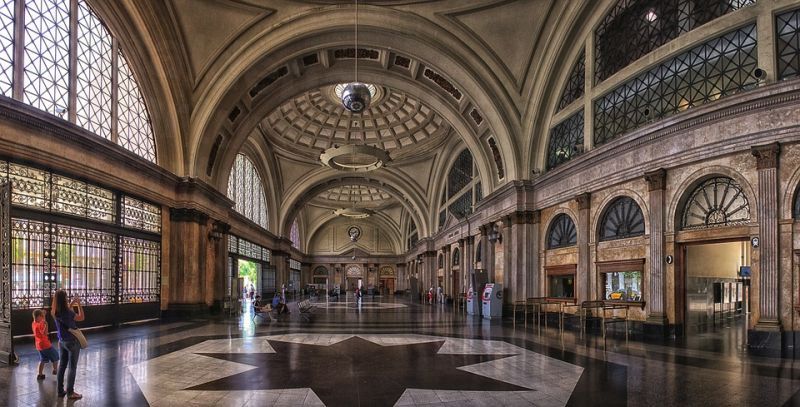 What Does the All-on-4® Treatment Concept Entail?
After your initial consultation, the procedure takes about two hours to complete for each jaw, but the magic in this procedure is all about the planning. The implants must be placed at exact points to achieve the desired result, which is why the use of advanced technologies like 3D/CT scanning is particularly important in these cases.
The treatment can be summarised as:
1: Initial Consultation & Assessment:
You can initiate an assessment by emailing up-to-date scans or digital x-rays to your chosen dentist in Barcelona. This will allow them to determine your suitability for the procedure.
Once you get the green light and travel to your dentist in Barcelona, they will conduct a thorough examination and take their own scans. During the consultation, they will discuss the results and walk you through each remaining step of the process. The dentist will take impressions of your mouth to send to the laboratory. Here, your new teeth are made and sent back to your dentist to be fitted during your next appointment.
Unless the clinic has its own in-house laboratory, this usually takes a few days, which is a great opportunity to squeeze in a bit of sightseeing in the city.
2: Treatment Day:
You will be administered local anaesthetic or put under conscious sedation prior to the treatment beginning. The dentist will then begin by removing any remaining teeth. The areas will be cleaned and stitched, if necessary, with dissolvable stitches. After that, the dentist will make incisions in the gum line at the pre-determined points indicated by the 3D/CT scans. At each incision point, the dentist will access the jaw and make a small hole into which the implant is placed.
Once all the implants are in position, the temporary new arch of teeth is attached to complete the procedure.
A point worth noting is that following any extractions, your mouth tissues need time to heal. Any prosthodontics fitted within three months from the date of your extractions are temporary and made of a lighter material to allow the healing to take place.
3. Final Restoration:
You will need to return to the dentist in Barcelona to have your permanent fixed bridge attached after four to six months. This can be done without opening up the gums, although you will need to stay in the city for a few days as new impressions will need to be made.
Can I Trust the Quality of Care in Barcelona?
There is no need to be unduly worried about the quality of dental care in Spain—at the best clinics, it is generally very good. Dentists at Barcelona's best clinics are well trained, facilities are top-notch and the world-renowned branded materials are just as much in use in Spain as they are at home.
However, we always recommend doing research so that you can be confident when choosing a facility.
With Dental Departures, you get that peace-of-mind because all of the dental providers listed on our site have all been pre-screened. We check legal/malpractice records, dentist qualifications, professional memberships and verified patient reviews. If we're not satisfied with anything, we simply do not partner with that provider. Our listings also include prices, clinic photos and location maps.
Some of the clinics where you can book in for dental restorations in Barcelona include:
What's Next?
Book directly online through Dental Departures or contact our Customer Care Team if you've any questions about dental treatment in Barcelona.
You can ask for a free quote or enquire about financing options, hotel deals or medical complications insurance.
Sources:
Nobel Biocare. Website accessed: 2 February 2021. https://www.nobelbiocare.com/en-uk
About Prof Paulo Malo. Nobel Biocare. Website accessed: 2 February 2021. https://www.nobelbiocare.com/international/en/education/our-speakers/m-o/paulo-malo.html
Misch, Carl E. How Dental Implants Stop Gradual Bone Loss and Replace Teeth. Dear Doctor. 8 January 2011. https://www.deardoctor.com/articles/hidden-consequences-of-losing-teeth/
Krans, Brian. Bone Graft. Healthline. 6 November 2018. https://www.healthline.com/health/bone-graft
Two options for replacing lost teeth. Harvard Medical School. Website accessed: 2 February 2021. https://www.health.harvard.edu/oral-health/two-options-for-replacing-lost-teeth
Babbush CA, Kanawati A, Kotsakis GA, Hinrichs JE. Patient-related and financial outcomes analysis of conventional full-arch rehabilitation versus the All-on-4 concept: a cohort study. Implant Dent. 2014 Apr;23(2):218-24. doi: 10.1097/ID.0000000000000034. PMID: 24394342. https://pubmed.ncbi.nlm.nih.gov/24394342/