Last fact-checked: 2 February 2021
Fly to Mallorca, the ever-popular Spanish Balearic island, and save over 50% on the All-on-4® treatment concept in Palma.
If you're looking for a secure, natural-looking teeth replacement solution, this dental implant procedure (provided by Nobel Biocare®) could be just what you're looking for—and you can save thousands at one of our quality-checked dentists in Palma.
What Is the All-on-4® Treatment Concept?
This full-arch restoration treatment is suitable for patients with missing or failing teeth looking to completely transform their smile, without resorting to dentures.
The technique was the brainchild of Dr Paulo Malo, a Portuguese specialist in implantology who developed the procedure in the 1980s.
A complete arch of replacement teeth is attached using just four dental implants—and even better, the whole procedure can be carried out in just one session, including extractions and the placement of an immediate loading denture.
The rear implants are longer than traditional implants and inserted into the jaw bone at a 45-degree rather than 90-degree angle. This provides a larger surface area for the bone to integrate, thus providing greater stability.
Even if you have bone loss which precludes you from having traditional implants, you may still be a suitable candidate for the All-on-4® treatment concept.
What Does the All-on-4® Treatment Concept Entail?
Although the treatment is often carried out on one day, a degree of planning is required, so depending on the condition of your teeth, you may need to factor in several appointments on your trip to Palma, Mallorca.
1: Initial Consultation & Assessment:
Before you visit a dentist in Palma, you can send digital x-ray scans via email for your dentist to provide an online assessment. If your x-rays do not show too much bone loss then it's likely you will be suitable for the treatment.
When you get to Palma, you will have an initial consultation and assessment with your dentist. Further scans and x-rays will be taken, partly to confirm your suitability, but also because the dentist will need to make a detailed plan of your jaw for the optimum placement of the implants into your jaw, and the scans are a necessary part of this process.
The next stage, if everything is fine to go ahead, is to get impressions made of your mouth so that the arch of teeth can be made and available for fitting on the day of your surgery.
2: Treatment Day:
The surgery is carried out under a local anaesthetic, normally with conscious sedation.
If you have teeth to remove, these will be taken out first. Then, the dentist will begin to insert the implants at predetermined positions based on their detailed treatment plan. The gum will be slit where each implant is to be inserted so that the jawbone is accessible. A small hole is made in the bone, and the implant inserted.
Once all the implants are in place, the immediate loading denture is fixed attached using specialized abutments and copings. It's then trimmed down into a fixed bridge for comfort.
The process takes around two to three hours per jaw.
3: Permanent Restoration:
You'll return to the dentist in Mallorca after approximately six months. Further tests and impressions will need to be taken of your mouth for the final fixed bridge to be manufactured, which is screwed on in place of the temporary one.
Note: After surgery, the implants will take around three to four months to fuse with the jawbone (osseointegration), while the gums and fixed prosthesis should also be protected. Thus, patients are advised to follow a diet of semi-solid/soft food during this time.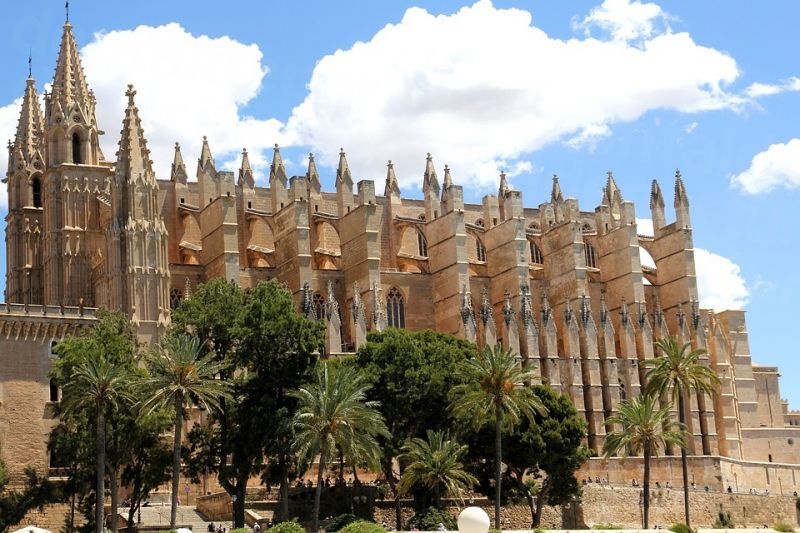 Why Should I Consider Dental Treatment in Palma, Mallorca?
Easily Accessible. Palma is around 2.5 hours flight time from the UK and from many other EU cities. It's incredibly easy to get to with plenty of airlines, such as British Airways, Aer Lingus, and Iberia all providing routes from a number of cities around the British Isles, as well as the low-cost carriers like RyanAir and Easyjet.
Expertise: Mallorca is a Spanish Island and subject to the same European Union regulations on health and safety as with all members of the Union. Dental training and educational standards in Spain are high, and many dentists elect to do specialist training abroad after they have qualified as a general dentist. Thus, it's likely that dentists who specialise in implantology also have memberships of international professional organizations, such as the International Congress of Oral Implantologists (ICOI ). In order to practice in Spain, all dentists must be registered with the General Council of Colleges of Dentistry.

Dental care in Spain is provided on a private basis. Thus, dentists must compete with each other for patients, which generally means they deliver high-quality; otherwise, patients will opt to go elsewhere. This also means prices are competitive too.
Modern Clinics: Most of the dental clinics in Palma are contemporary and equipped with the latest technologies. Digital x-rays, 3D/CT scanning and CAD/CAM (computer-aided design/computer-aided manufacture) are just some of the state-of-the-art features you will find in Palma's dental clinics.
Save money: One of the main reasons for the popularity of dental tourism is the prices. For expensive procedures like full mouth restorations, the savings run into the thousands in Palma—and so the trip is well worth the effort.
See for yourself with the following selection of some of our top-rated clinics in Palma for full mouth dental restorations:
How Much Can I Save on the All-on-4® Treatment Concept in Palma?
Compare prices in Palma with dentists in your home country:
| | | | | | |
| --- | --- | --- | --- | --- | --- |
| | UK £ | EUR € | US $ | CAN $ | AUS $ |
| Prices – at home | 16,000 | 19,000 | 20,000 | 27,000 | 27,000 |
| Prices – Palma | 7,000 | 6,000 | 6,400 | 8,000 | 8,000 |
[Note: these are estimated prices calculated at the time of writing. Please see our clinic listings for up-to-date prices.]
Is this a Good Procedure to Have in Palma as a Dental Tourist?
The city is easy to explore on foot and as it's reasonably compact you can cover a lot of ground just aimlessly wandering and pottering about.
You can't miss the stunning cathedral—it looms large over the entire city—but for just a few euros and you can go inside and marvel at its grandness. Around the cathedral, the Old Town's narrow, cobbled streets and alleys are a treasure-trove of shops, cafes and bars while trendy neighbourhoods like the old fishing barrio of Santa Catalina attract a bohemian mix with its leafy streets, vintage shops and brightly painted cottages.
Mallorca is easy to explore via taxi or rental car, with dozens of stunning beach towns and resorts across the island.
How Do I Arrange a Trip to Palma for Treatment?
Compare prices, read patient reviews and book your free appointment using our online scheduler, with no upfront costs.
For more information, get in touch with our Customer Care Team via the toll-free number provided, or leave us your details and we'll call you back at a time that works for you.
Sources:
All-on-4® treatment concept. Nobel Biocare. Website accessed: 2 February 2021. https://www.nobelbiocare.com/en-us/all-on-4-treatment-concept
Nobel Biocare. Website accessed: 2 February 2021. https://www.nobelbiocare.com/en-uk
About Prof Paulo Malo. Nobel Biocare. Website accessed: February 2021. https://www.nobelbiocare.com/international/en/education/our-speakers/m-o/paulo-malo.html
International Congress of Oral Implantologists. Website accessed: 2 February 2021. https://www.icoi.org/
Raghavendra S. Jayesh and V. Dhinakarsamy. Osseointegration. J Pharm Bioallied Sci. 7 January 2015. https://www.ncbi.nlm.nih.gov/pmc/articles/PMC4439679/
David Soto-Penaloza. The All-on-Four Treatment Concept: a Systematic Review. Journal of Clinical and Experimental Dentistry, 2017. Website accessed: 2 February 2021. https://www.ncbi.nlm.nih.gov/pmc/articles/PMC5347302/