Last fact-checked: 31 March 2020
If you're heading off to Colombia on vacation, you can easily take advantage of low-cost dental crowns in Medellin, or elsewhere in the country, for a fraction of the price you'd pay at home. It's possible to save ten thousand dollars on major procedures when booking with Dental Departures, while the thousand or so bucks you'll save on your crowns should be enough to pay for an entire trip to South America to experience the much-improved Colombia.
Why Do I Need a Dental Crown?
A crown is essentially a replacement tooth. If the structure of your tooth has weakened due to the strains of previous dental work or other damage, then your dentist may recommend a crown to strengthen it. It's sometimes referred to as a 'cap' because it fits over the existing tooth, like a cap. Crowns may also be used to replace a missing tooth, either as part of a dental bridge, or dental implant.
Why Get a Dental Crown in Medellin?
Medellin certainly ticks many of the boxes for those looking for an exciting vacation somewhere a little different. The city has enjoyed a major transformation over recent years, cultivating a safe, hip and trendy image— a far cry from its past association with Pablo Escobar and his drug cartel.
Culturally, Medellin has a lot to offer with museums, art galleries and parks to enjoy. Discover the artworks of Medellin's famous artist and sculptor, Fernando Botero at the Antioquia Museum, the varied flora at the Botanical Gardens and let your hair down at the Parque Lleras—where all the best restaurants, bars, clubs and nightspots are within walking distance. Santa Fe Shopping Center is the place to go for your fashion fix while affordable paragliding in the mountains offers an adrenalin-filled way of seeing Colombia's countryside from above.
The city is easy to navigate using the underground metro and the cable cars that criss-cross town offer great views of the city and surrounding mountains and valleys—so there's no excuse not to visit some of Medellin's exciting neighborhoods.
As far as dental care is concerned, the standards at the best clinics in Medellin are good, and even better if you choose one that has been thoroughly vetted by Dental Departures. Dentists are skilled and many of the clinics are contemporary and modern.
If you are on the lookout for a dental crown where you can get the procedure carried out as quickly as possible, then look out for clinics that offer CAD/CAM (computer-aided manufacture/computer-aided design) technology. Rather than having to send your mouth impressions to an outside lab (and wait for your crown to be made, then sent back), CAD/CAM uses a computer to make impressions of your mouth using digital x-rays. The size and shape of your crown is then designed on the computer to fit. Once you and your dentist are happy, the images are sent to an onsite lab where a milling machine makes the crown while you wait.
What Does the Procedure for Crowns Entail?
First things first. you'll need a thorough consultation with the dentist who will examine your mouth and take x-rays as needed. If it's confirmed that you need a crown, the next stage is to prepare the tooth to receive the crown and get the ball rolling with getting it manufactured.
The tooth will need to be pared down so that the crown sits comfortably over the tooth. The dentist can do this on your first visit. You will be given local anesthetic to numb the area around the tooth first and a drill is used to grind down the tooth. Impressions are then taken of your mouth—either digitally, as explained above for CAD/CAM, or by obtaining molds of your mouth by using alginate. This substance is non-toxic and hardens in a couple of minutes, after which it can be removed and used to create your custom-fit crown. If your crown is being made by an outside lab, the dentist will fit a temporary crown which will be replaced by the permanent one when you return in a few days.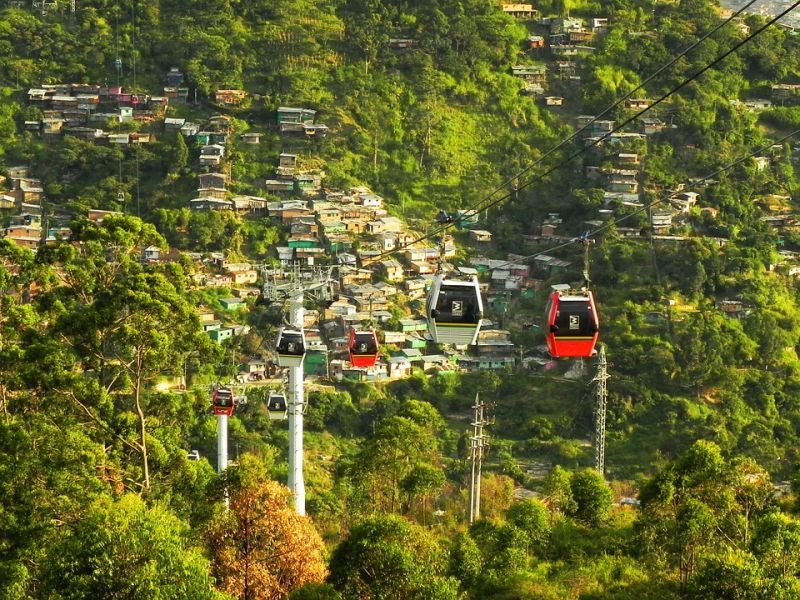 Is Getting a Dental Crown as a Dental Tourist a Good Option?
Most dental procedures can easily be undertaken as a dental tourist and crowns are no exception. Here are five reasons why a trip to the dentist in Colombia for crowns makes sense:
1: A dental crown is a relatively straightforward procedure. It should only take a couple of visits to the dentist—the first to prepare your tooth and take impressions, and the second to have the crown fitted. Both visits shouldn't take up more than a couple of hours in total.
2: If CAD/CAM technology is available, which it is at a number of our Colombian clinics, the whole treatment can be completed in one day.
3: There's very little downtime—only waiting for the numbing after-effects of the local anesthetic to wear off—so it won't impact too much on your vacation.
4: You'll find good-quality care if you choose a reliable dental facility. By booking with Dental Departures, you can rest assured that the dental clinics on our site have all been checked for quality. Dental Departures runs its own independent checks, including legal/criminal records and onsite visits. We also confirm dentist qualifications and their professional memberships, as well as collect real patient reviews which are published on our site alongside clinic photos, maps and prices. Here are three examples:
5: You'll make big savings—as you can see for yourself below!
How Much Do Dental Crowns Cost in Medellin?
Compare the dental crown prices in Colombia with your home country in the table below:
| | | | | | |
| --- | --- | --- | --- | --- | --- |
| | US $ | CAN $ | UK £ | EUR € | AUS $ |
| Dental Crown Costs at home | 1,300 | 1,700 | 1,000 | 1,100 | 1,800 |
| Dental Crown Costs in Medellin | 314 | 418 | 242 | 276 | 440 |
Getting Started with Crowns in Colombia
Contact our Customer Care Team if you'd like to discuss having dental crowns in Medellin; our team can also assist if you'd like to book an appointment or get a free quote. We can also help out with other aspects of your dental tourism trip, including medical complications insurance, hotel booking, finance packages and more.
Sources:
Shepard, Katelynne. Your Dental Crowns Procedure: What to Expect. Colgate. Website accessed 3 January 2019.
https://www.colgate.com/en-us/oral-health/cosmetic-dentistry/bridges-and-crowns/your-dental-crown-procedure-what-to-expect-0113" target="_blank
Wyss, Jim. From murder capital to retirement haven, how Medellin has outgrown 'Narcos'. Miami Herald. 26 March 2018. https://www.miamiherald.com/news/nation-world/world/americas/colombia/article203230594.html" target="_blank
Lee, David. The Ultimate List of Things to Do in Medellin. Nomadic Matt. 29 November 2018.
https://www.nomadicmatt.com/travel-blogs/ultimate-list-medellin/" target="_blank
Leadbeater, Chris & Haines, Gavin. 21 Reasons Why Colombia Should Be Your Next Holiday Destination. The Telegraph. 20 July 2018. https://www.telegraph.co.uk/travel/destinations/south-america/colombia/articles/21-reasons-why-colombia-should-be-your-next-holiday-destination/" target="_blank