Last fact-checked: 20 February 2020
Why not combine your dental care with a vacation and book in for a dental crown in Cartagena de Indias, Colombia? This gorgeous city on Colombia's Caribbean coast is perfect for getting away from it all and enjoying laid-back days and mellow evenings in a setting steeped in history and beauty.
And the best part? You can save at least 65% on the cost of your crown compared to prices back home.
Why Would I Need a Dental Crown?
Dental crowns are versatile as they have a variety of uses in dentistry. If you have a missing tooth, a crown can replace it—either as part of a dental bridge or as part of a dental implant. They are also used to strengthen teeth that have been damaged (i.e. cracked or chipped) as well as to strengthen teeth that have had a lot of the structure removed during a filling or root canal procedure.
How Much Do Dental Crowns Cost in Cartagena?
Check out how much you can save on crowns prices in Cartagena:
| | | | | | |
| --- | --- | --- | --- | --- | --- |
| | US $ | CAN $ | UK £ | EUR € | AUS $ |
| Dental Crown Costs at home | 1,300 | 1,700 | 1,000 | 1,100 | 1,800 |
| Dental Crown Costs in Cartagena | 400 | 540 | 312 | 373 | 530 |
Why Get A Dental Crown in Cartagena?
The overwhelming reason why most people look to traveling abroad for their dental work is to save money. At one time, it was mainly patients who required extensive dental work who would cross borders to get a 'big ticket' procedure that they just couldn't afford at home. These days, even basic dental care is expensive, and more people are opting to receive general dental care abroad. By combining it with a vacation they aren't paying additional flight or accommodation costs, and a few hours out of their visit is worth it to keep their dental health in check. It may not be worth just booking a specific dental vacation for a crown, but if you can squeeze it into your vacation, you'll save money.
The dental care in Cartagena, particularly at those clinics that treat international patients, is of a high standard. Dentists are English-speaking, skilled and well-trained, adhering internationally recognized standards on hygiene and safety. Clinics are equipped with state-of-the-art facilities, including technologies, such as 3D/CT scanning, digital x-rays and CAD/CAM (computer-aided design/computer-aided manufacture) which allows for onsite while-you-wait prosthodontics, like crowns and veneers.
Getting a crown won't take up too much of your vacation time. Generally, you will need two appointments at the dentist—the first for an examination and impressions to be made (which will be sent to the laboratory where your crown will be made); and the second to have the crown fitted. However, if your dentist has CAD/CAM equipment, you may be able to get the crown in just one visit.
Booking through Dental Departures ensures that you will be seen to by a fully background-checked dentist. We do onsite visits, confirm dentist qualifications, verify professional memberships and do legal/criminal records checks. We gather patient reviews and publish these on our site, alongside prices, location maps and clinic photos, ensuring you have all the information you need to make an informed choice.
Obviously, the price: you'll realize big savings of over 65%. A couple of our listed clinics in Cartagena where you can find these prices are:
● Centro de Implantes de la Costa by Julio Oliver
What's Involved in the Procedure for Crowns?
A number of different materials can be used for your crown, including porcelain, porcelain-fused-to-metal (PFM), zirconia and even gold. Your dentist will discuss with you the pros and cons of each material and what is suitable for you.
The crown procedure is straightforward. Your dentist will first numb the area around the tooth with local anesthetic. Next, the tooth will be prepared to receive the crown. This involves filing the tooth down so that the crown fits comfortably over the tooth. Impressions are made of your mouth and sent to the lab and the dentist will put a temporary crown in place. After a few days, your dentist will have received your crown from the lab and you can go back to have it fitted. The dentist will place the crown over your tooth, making any minor adjustments to the fit; once they are satisfied, the crown is bonded to your tooth with a light-activated adhesive.
Is Cartagena a Good Location for Dental Tourists?
Cartagena is an exceptionally pretty port city located on Colombia's Caribbean Coast. It has been described as an " open-air museum " with the walled UNESCO World Heritage Site a treasure trove of history with monuments and colonial architecture in which you can easily lose yourself as you drink in its beauty. There's a wealth of restaurants, bars and cafes to while away the hours, as well as artisan shopping for souvenirs.
While the Old Town is a sight for sore eyes, it is still a city at the end of the day. So, if you want some Caribbean beach action (which, being so close, is always going to be tempting), a 45-minute boat ride is all it takes to arrive at some of the coastal regions' stunning white-sanded paradise islands.
This is just the tip of the iceberg. Cartagena is there to be discovered and is a fantastic location for your dental tourism trip.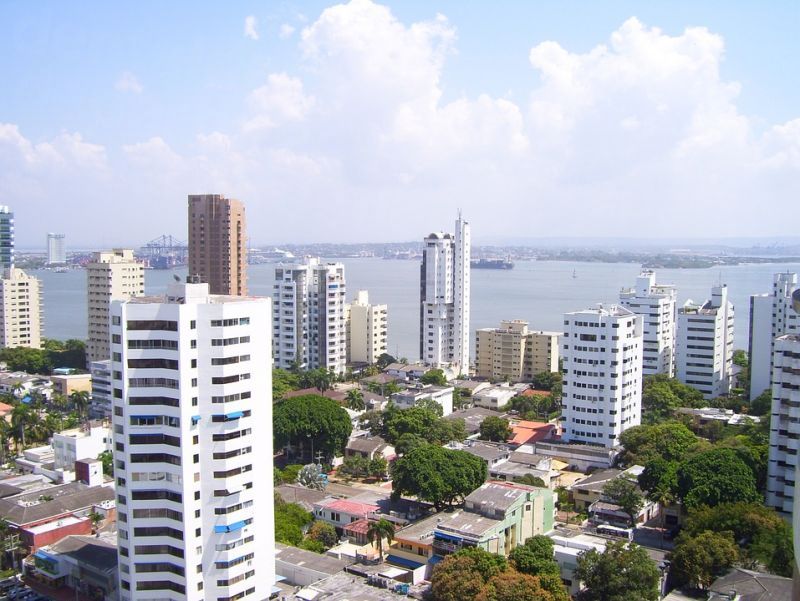 Getting Started with a Dental Tourism Trip to Cartagena
Book an appointment for your dental crowns in Cartagena with Dental Departures— we guarantee our prices are the best available. You can book online or connect with our Customer Care Team who can provide further information or a free quote.
Sources :
About ISO. International Organization for Standardization. Website accessed 31 January 2019.
https://www.iso.org/about-us.html" target="_blank
Fasbinder, Dennis J. 25 Years of Chairside CAD/CAM Dentistry. Journal of the American Dental Association. 1 June 2010.
https://jada.ada.org/article/S0002-8177(14)63733-8/abstract" target="_blank
Your Dental Crown Procedure: What to Expect. Colgate. Website accessed 31 January 2019.
https://www.colgate.com/en-us/oral-health/cosmetic-dentistry/bridges-and-crowns/your-dental-crown-procedure-what-to-expect-0113" target="_blank
Moseley-Williams, Sorrel. 10 Things to do in Cartagena de Indias. The Independent. 8 September 2017.
https://www.independent.co.uk/travel/americas/cartagena-de-indias-things-to-do-what-see-attractions-colombia-caribbean-coast-las-murallas-salsa-a7934891.html" target="_blank
Port, Fortresses and Group of Monuments, Cartagena. UNESCO. Website accessed 30 January 2019.