Last fact-checked: 4 April 2020
Fix your teeth and your smile with affordable dental crowns in Split, Croatia. Costing a fraction of the price you'd pay at home, why not incorporate important dental care into a holiday while making the most of a trip to this lively city on the Dalmatian coast?
Do I Need a Dental Crown?
Dental crowns are a versatile treatment used to correct a number of problems with your teeth. Sometimes referred to as 'caps' because they fit over the existing tooth, a crown can also be used to replace a missing tooth as part of a dental implant procedure. Each dental crown is customised to fit and can be shaped and colour-matched so it blends in with your existing teeth.
Crowns may be used to:
● Protect a weak tooth
● Restore a broken, cracked or chipped tooth
● Add strength to a tooth that has had a large filling or root canal
● Disguise a misshapen or discoloured tooth
● Replace a missing tooth as part of an implant
● Replace one or several missing teeth as part of a dental bridge
Why Should I Go to Split for a Dental Crown Procedure?
● Split's dental clinics provide high-quality services on a par with what you would receive at home. Facilities that treat international patients are state-of-the-art and equipped with the latest technologies, such as digital x-rays, 3D/CT scanning and CAD/CAM (computer-aided design/computer-aided manufacture).
● Split is also a wonderful location for spending some leisure time while you're waiting for your appointment or recovering post-treatment. The Old City, contained within a UNESCO-listed Roman palace, is a treasure trove of labyrinthine streets revealing boutique shops selling everything from chocolate to shoes, quirky bars, chi-chi restaurants, galleries and more. It's a great place to lose hours or days of your time—and still find things you've never seen before.
As it's on the Dalmatian Coast, overlooking the Adriatic, the pretty seafront is a perfect spot for watching the boats coming in and out of the harbour while sipping a cold drink under the shade of a palm tree. You can also take a ferry or catamaran from Split and check out some of the nearby islands along the coast. Whether a holidaymaker or dental tourist or both, you'll find Split to be a relaxing, vibrant city.
● And last but certainly not least, dental crowns prices in Split are a fraction of the prices at home.
How Much Do Dental Crowns Cost in Split?
Check out the prices for crowns in Split, compared to home:
| | | | | | |
| --- | --- | --- | --- | --- | --- |
| | UK £ | EUR € | US $ | AUS $ | NZ $ |
| Dental Crown Price at home | 1,200 | 1,339 | 1,500 | 2,150 | 2,268 |
| Dental Crown Price in Split | 180 | 200 | 2225 | 323 | 340 |
Note: the prices above are approximate. Please check our current prices for your selected clinic for estimated costs of treatment.
What Is the Procedure for Dental Crowns?
You will normally need two visits to the dentist for your dental crown procedure. On your first visit, the dentist will examine your mouth and the tooth in question to confirm you need a crown. If so, your tooth will need to be prepared to receive the crown, and impressions made of our mouth to send to the laboratory where your crown will be made.
The tooth is prepared by paring it down so that when the dentist places your new crown, it will fit comfortably over the tooth. A temporary crown is fitted until you can return to get the new crown placed.
When you return, your dentist will remove the temporary crown and place the new crown over the tooth to check it for fit. Any minor adjustments are made by your dentist to ensure the perfect fit. Once you are happy with how it looks and feels, the crown will be cemented to your tooth with a light-activated adhesive.
In total both visits shouldn't take up more than a couple of hours, and the lab should generally return your crown to your dentist within a couple of days. However, if time is of the essence, seek out a dental clinic offering CAD/CAM. This technology allows the dentist to design your crown on a computer screen in front of you. Shape, size and colour can be adjusted until you are both satisfied with it—and then the images are sent to an onsite lab where a milling machine makes your crown while you wait.
What Are Dental Crowns Made From? Do I Have a Choice of Material?
Various materials are used to make crowns —all of which have their pros and cons. Your dentist will talk you through the options, and while you may have a preference on the choice of material, it may be dictated by the position of your tooth; the amount of force exerted on the bite will be a deciding factor on what material to use.
Briefly, the choices include:
● Porcelain – mimics your own teeth well, but not as durable as PFM.
● Porcelain-fused-to-metal (PFM) – hard-wearing but prone to chips. Sometimes metal casts a grey shadow underneath the porcelain.
● Zirconia – a biocompatible hard-wearing material that has similar colour qualities to natural teeth. Is more expensive than other materials.
● Metal (including precious metals, such as gold) – very strong material but its main drawback for most people is the colour.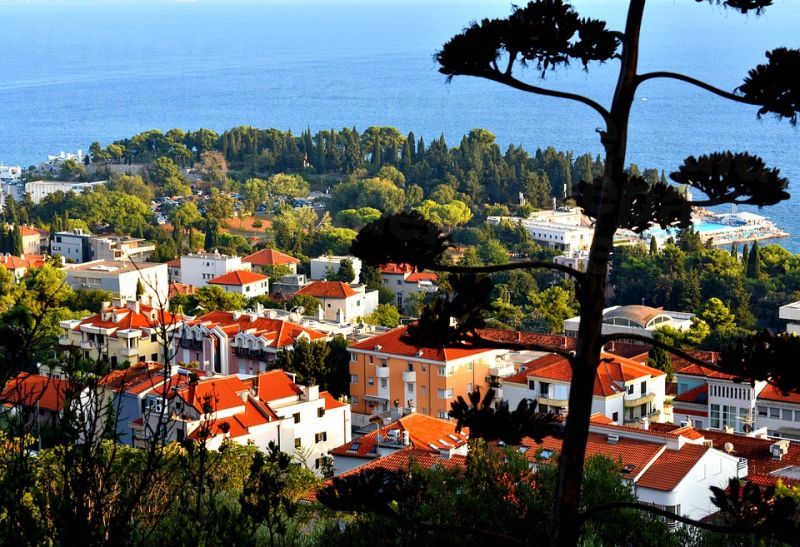 What About The Quality of Dental Crowns Treatments in Split?
While dental clinics in Split generally offer good quality services, it's always worth having the reassurance that you've booked in with a dentist and clinic who have been pre-screened. At Dental Departures, we carry out checks on all of our facilities to verify dentist qualifications and confirm professional memberships. We conduct onsite visits, collect patient reviews and publish clinic photos, prices and location maps on our clinic listings.
Take a look at three of our most popular clinics for dental crowns in Split:
● Dentech Dental Centar Radovic
● Implant Dental Center Ruzevic
How Can I Book an Appointment?
To get started, you can get in touch with Dental Departures' Customer Care Team to book an appointment for your dental crowns in Split, or to help with other services, such as hotel bookings. It's easy and convenient to book directly online, too, with a range of convenient options displayed below.
Sources:
Sandilands, Tracey. CAD/CAM Dentistry: What is it? Colgate. Website accessed: 17 June 2019. https://www.colgate.com/en-us/oral-health/basics/dental-visits/cad-cam-dentistry--what-is-it-" target="_blank
Historical Complex of Split with the Palace of Diocletian. UNESCO. Website accessed 17 June 2019 https://whc.unesco.org/en/list/97" target="_blank
Shepard, Katelynne. Your Dental Crowns Procedure: What to Expect. Colgate. Website accessed 17 June 2019. https://www.colgate.com/en-us/oral-health/cosmetic-dentistry/bridges-and-crowns/your-dental-crown-procedure-what-to-expect-0113" target="_blank
What are NHS Fillings and Crowns Made Of? National Health Service. Website accessed 17 June 2019. https://www.nhs.uk/common-health-questions/dental-health/what-are-nhs-fillings-and-crowns-made-of/" target="_blank