Last fact-checked: 15 February 2020
Save over 70% on Dental Crowns in Georgia with Dental Departures. Our quality-checked dentists provide top-quality care in this exciting, up-and-coming dental tourism destination.
How Much Do Dental Crowns Cost in Georgia?
Compare dental crowns prices in Georgia compared with your home country in the table below:
| | | | | | |
| --- | --- | --- | --- | --- | --- |
| | UK £ | EUR € | US $ | AUS $ | NZ $ |
| Dental Crown Price at home | 1,015 | 1,200 | 1,300 | 1,700 | 1,775 |
| Dental Crown Price in Georgia | 330 | 390 | 426 | 638 | 667 |
( Note: the prices above are approximate. Please check our current prices for your selected clinic for estimated costs of treatment).
What is a Dental Crown?
Sometimes referred to as a 'cap', a dental crown fits over your tooth; common uses of this versatile treatment include:
● To strengthen or protect a weakened tooth that has been damaged
● To restore the structural integrity of a broken or worn down tooth
● To improve a smile by replacing a missing tooth as part of a dental bridge or a dental implant
● For other cosmetic modifications
What Are Dental Crowns Made From?
Dental crowns can be made from several different materials —all of which have their advantages and disadvantages. You will have a choice of material, but your dentist will discuss the options with regard to your specific circumstances and what material will be the most hard-wearing, as well as what the best cosmetic results will be.
Materials for crowns include:
● Metal: The least expensive option, this is extremely hard-wearing but doesn't offer a very good cosmetic result.
● Porcelain Fused to Metal (PFM): This material has a metal base but is covered in porcelain. It does give a good cosmetic result and is hard-wearing, but the porcelain can chip, revealing the metal underneath. Sometimes, the porcelain has a grey cast as the underlying metal shows through.
● Porcelain: This is a good cosmetic choice, but prone to wearing down.
● Zirconia: Extremely natural-looking, but the most expensive option.
What Is the Procedure for Dental Crowns?
You will typically require two visits to your dentist in Georgia to complete your dental crowns treatment .
After your dentist confirms a crown is needed, your tooth will need to be prepared. As the crown fits over your existing tooth, your tooth will need to be filed down so the crown fits comfortably on top. The dentist will give you a local anaesthetic before starting the work, and once completed will fit a temporary crown. Impressions of your mouth are also taken and sent to a laboratory where your new crown is made-to-measure.
A day or two later (during which time you can fit in a little sightseeing in Georgia), you'll return to your dentist to have your new crown fitted. The dentist will remove the temporary crown, and place the new crown over your tooth to check for fit and colour. Any minor adjustments are made by the dentist before the crown is affixed securely in place using a light-activated adhesive.
CAD/CAM Same-Day Dentistry
CAD/CAM dentistry is becoming more commonplace—particularly so at dental clinics treating international patients who are often short on time. CAD/CAM uses computers to design and manufacture prosthodontics, such as dental crowns, onsite at your dentist's clinic. This means that you may be able to get your crown with just one visit to the dentist, while you wait.
Why Should I Choose to Book Dental Crowns in Georgia with Dental Departures?
1: You'll get the best prices available online thanks to Dental Departures' Best Price Guarantee .
2: All the clinics that Dental Departures partners with have been pre-screened. Our checks include:
● Affirming dentist qualifications
● Authenticating professional memberships
● Collating real patient reviews
● Reviewing legal/criminal records
● Carrying out onsite visits
3: Dental Departures has over a decade of experience in the field of dental tourism, having helped hundreds and thousands of patients find great quality care at a dentist overseas.
4: Useful information, such as prices, clinic photos and location maps are included on our website so you can pinpoint the right dentist for your needs. Some of our top-rated facilities you might want to consider for crowns in Georgia include:
● Confident Dental Clinic Tbilisi
● Clinic Elite Dentistry and Aesthetics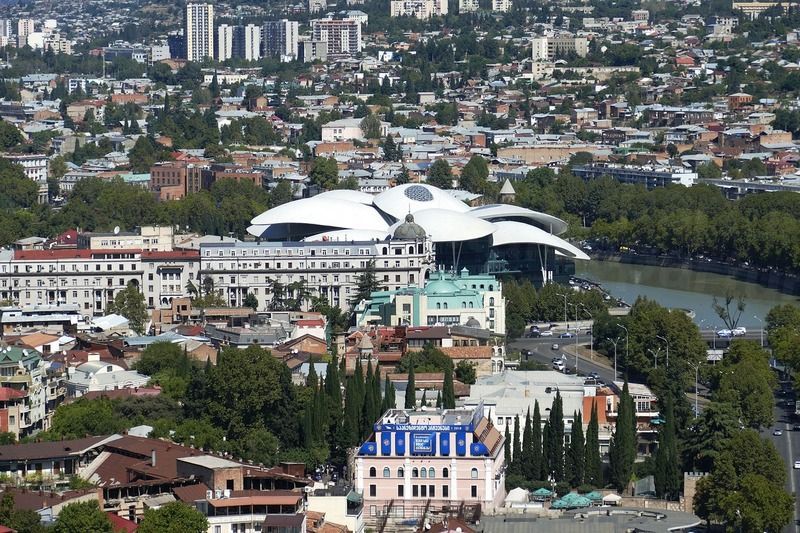 Further Information About Dental Crowns in Georgia:
Book your appointment online for dental crowns in Georgia with Dental Departures and look forward to savings of up to 70% in this alluring country. You can also speak to our Customer Care Team for free.
Sources:
Frothingham, Scott. Dental Bridge. Healthline. 13 June 2018.
https://www.healthline.com/health/dental-bridge" target="_blank
What are NHS Fillings and Crowns Made Of? National Health Service. Website accessed 30 January 2020.
https://www.nhs.uk/common-health-questions/dental-health/what-are-nhs-fillings-and-crowns-made-of/" target="_blank
Burhenne, Mark. Dental Crowns: What are they? Painful? Safe? Expensive? + 11 More FAQs. Ask the Dentist. 30 August 2019.
https://askthedentist.com/dental-crown/" target="_blank
Sandilands, Tracey. CAD/CAM Dentistry: What is it? Colgate. Website accessed: 30 January 2020.
https://www.colgate.com/en-us/oral-health/basics/dental-visits/cad-cam-dentistry--what-is-it-" target="_blank
Explore Georgia. Website accessed 30 January 2020.
https://www.exploregeorgia.org/" target="_blank