Save two-thirds on dental crowns in Budapest , Hungary with Dental Departures. Reliable, quality-checked dentists are just a click away, so take advantage of the low prices and spend some time getting to know this memorable city.
Do I Need a Dental Crown?
A dental crown is a coloured 'cap' that fits over your tooth to protect the nerve underneath and to enhance your looks. They are often used to provide strength to a tooth after other dental procedures. For example, after a root canal or filling where a large part of the tooth is removed because of decay, a crown will strengthen the tooth structure. They can also be used to strengthen damaged teeth, for example with cracks or chips. As part of a dental implant, or dental bridge, crowns can be used to replace missing teeth.
Why Have Dental Crowns in Budapest?
The primary reason many people go abroad for dental work is to save money—whether for general dental care or specialist procedures. While a dental crown is a general procedure and reasonably inexpensive in comparison to other procedures, the price will still run into four figures for most people. So, a Brit can save around £600 by getting the treatment carried out by a dentist in Hungary . If you are arranging a specific trip for your crown, you will likely save money even when including the cost of flights and accommodation However, if you were already planning a trip to Budapest, then you'll save even more!
The procedure for dental crowns won't take up too much precious holiday time. You'll need to factor in one appointment at the dentist for your initial consultation and tooth preparation, and another appointment (typically a few days later) to have the crown fitted. However, if you really want speedy service, search for dental clinics that offer CAD/CAM (computer-aided design/computer-aided manufacture) as these clinics can create your crown in an onsite lab while you wait.
Budapest is a great location for a city break, regardless whether you travel in summer or winter. Summer is more crowded, but if the outdoor café society appeals to you then there's nothing better than taking in the views of the city and Danube from the top of the Castle Hill district.
Another Budapest draw is its thermal baths and one of the most popular, Szechenyi, has a massive outdoor pool. Open all year round, it's an attraction in both summer and winter—as well as at night for its pool parties.
If you head to Budapest in winter, a sprinkling of snow only adds to the attraction. If you're traveling later in the year, look out for the Christmas Markets. And the Ruin Bars on the Pest side of town offer cosy hideaways when it's chilly outside.
The city and its dentists are open for business all year round, and you'll always have plenty of options for things to see and do, no matter what time of year you visit.
What Happens During the Crowns Procedure? How Long Does it Take?
During your consultation with the dentist, the options regarding material will be discussed. The material you choose come be down to price as much as to the suitability of the material for that particular tooth. All materials have pros and cons, which your dentist will be able to point out. For example, zirconia is very hard-wearing, but expensive; porcelain-fused-to-metal (PFM) is also strong, but the metal begins to show through with age, casting a grey appearance. Porcelain is also quite durable, but prone to fracture.
Once you reach a decision on the material, your dentist will prepare your tooth to receive the crown. This involves paring down the tooth so the crown can fit snugly on top. Impressions are made of your tooth and sent to the lab where your crown will be made and a temporary crown is fitted until your new crown is ready. You will then return to have it cemented in place, or if CAD/CAM is available, you will have a short wait for the crown to be created.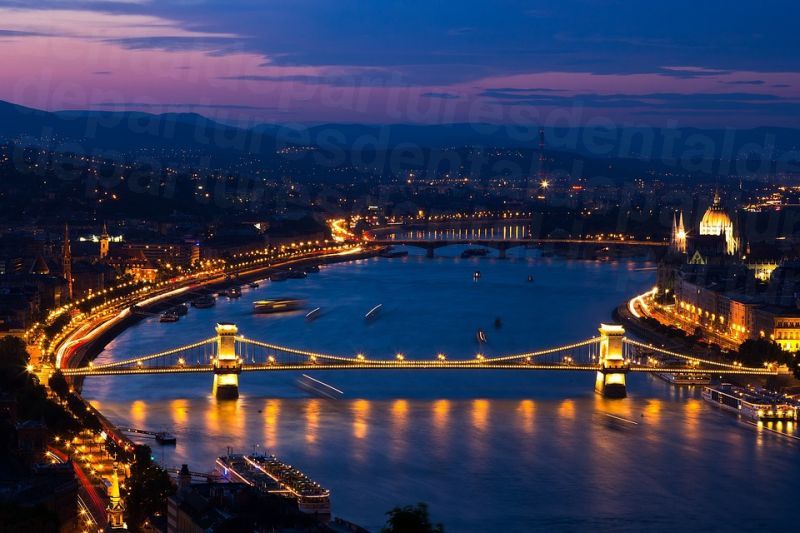 How Much Does a Dental Crown Cost in Budapest?
The table below shows the pricing of crowns in Budapest, compared to average costs in your home country:
| | | | | | | |
| --- | --- | --- | --- | --- | --- | --- |
| | UK £ | EUR € | US $ | CAN $ | AUS $ | NZ $ |
| Dental Crown Costs at home | 1,015 | 1,200 | 1,300 | 1,700 | 1,700 | 1,800 |
| Dental Crown Costs in Budapest | 335 | 400 | 429 | 579 | 569 | 610 |
What About the Quality of Dental Care in Budapest? Can I Trust it?
Yes. The quality of dental care in Budapest is excellent. Dentists are trained to a high standard, offering every conceivable procedure and technique available. Because dental tourism has been popular here for some time, Budapest offers many well-established clinics with good reputations among international clientele. Our best clinics treating international patients are ultra-modern with state-of-the-art technologies available, such as CAD/CAM, panoramic x-rays and 3D/CT scanning.
These clinics all offer CAD/CAM technology, which is useful if you are short on time as you can get your new dental crown in one day:
There is no need to be apprehensive about the quality of the materials your dentist will use, as they are in no way inferior to those used by your dentist at home. Plus, the same options—including porcelain, composite and metal fillings—are all available.
Dentists listed with Dental Departures should give you no worries concerning the standards of care they deliver. All of our verified dentists have been background-checked for quality. We use a number of different criteria for our checks, including onsite visits, confirming qualifications, substantiating professional memberships and compiling real patient reviews. Much of this information you can see for yourself under each clinic listing, as well as maps, prices and much more—all there to help you make your own informed decision about choosing the right dentist.
Further Information
Arranging to get a dental crown in Budapest is easier than you think with Dental Departures. Get a free quote, book your appointment online or speak to our Customer Care Team if you'd like to find out more