Last fact-checked: 5 April 2020
Dental implants in Split, Croatia can cost less than a third of the price a dentist at home charges. If you're looking to make savings and enjoy a memorable holiday in this stunning part of the world, then why not combine the two and get the best of both worlds?
Most specialists would agree that the best way to replace a missing tooth is with a dental implant. However, the high prices charged at home are off-putting. But there is another way: dental tourism provides the opportunity to take advantage of low-cost care in a choice of attractive locations. Split offers an excellent opportunity.
Croatia is currently a hot-spot for holidaymakers and is also on the way to establishing itself as one of Europe's leading dental tourist destinations. It has everything going for it: good quality dental care, value-for-money prices and idyllic locations, like Split, that provide sun, sea and relaxation.
Why Choose Split for Dental Implants?
● Split is Croatia's second-largest city. It is a unique location—the only " city within a city " in the world. The Old City is within the walls of Diocletian's Palace, a mass of well-preserved Roman architecture and meandering streets filled with boutique shops, bars and restaurants. But it doesn't end there. Overlooking the shimmering Adriatic Sea, the alluring waterfront is right on your doorstep—with the modern Riva promenade offering plenty of shady palm trees and stop-offs for refreshment if you fancy a walk along the seafront. It's a wonderful place to spend some time either as a holidaymaker or dental tourist.
● Split is accessible, and particularly so for Europeans. British and Irish travellers can take advantage of low-cost nonstop flights from a variety of carriers across the British Isles that fly direct to Split.
● You can save over two-thirds on the cost of a dental implant in Split compared to home.
What Do Dental Implants Cost in Split?
Check out dental implants prices in Split compared to your home country in the table below:
| | | | | | |
| --- | --- | --- | --- | --- | --- |
| | UK £ | EUR € | US $ | CAN $ | AUS $ |
| Dental Implant Price – at home | 3,000 | 3,600 | 3,900 | 5,200 | 5,100 |
| Dental Implant Price – Split | 875 | 976 | 1,096 | 1,433 | 1,570 |
Note: the prices above are approximate. Please check our current prices for your selected clinic for estimated costs of treatment.
If you're after the best deals, Dental Departures' Best Price Guarantee ensures you'll never pay more when booking through us.
What About the Quality of Dental Implants in Split?
● If you are travelling to Split for dental care, you can expect to receive excellent quality services. Dentists are well-trained and highly-skilled, possessing the necessary expertise to carry out both general and specialist dental procedures. Furthermore, clinics that treat international patients tend to be modern establishments, kitted out with the latest technologies and conforming to internationally-recognised standards on hygiene and safety.
● As a member of the European Union, Croatia is subject to Europe-wide standards across many areas, including health, safety and hygiene.
● Dental Departures' carries out background checks on all the dental providers listed on our website. The facilities you see listed are all subject to our criteria, including legal/criminal checks, dentist qualification verification, professional membership confirmation and onsite visits. Our listings also contain clinic photos, prices, patient reviews, location map and more to make choosing your dentist easy.
Take a look at our popular clinics in Split for dental implants:
● Dentech, Dental Centar Radovic
Am I a Suitable Candidate for Dental Implants?
Dental implants are recommended for adults who are in good general health. However, there are some instances when your dentist may decline to place dental implants. If you are a smoker or heavy drinker, these can cause problems with the immediate healing of the bone and gums after implant placement, as well as in the long-term.
If you have lost a tooth due to periodontal disease (advanced gum disease), you may not have enough viable bone in your jaw to place the implant. In this case, all is not lost, as it may be possible to place the implant. You will have to undergo a bone graft procedure first, but this will entail further surgery (and additional expense), and a long wait of six-12 months to allow the bone to regenerate enough for the implant to be inserted.
What Is Involved with a Dental Implant Procedure? How Long Does it Take?
There are two stages involved in the dental implant procedure. The first involves the placement of the implant and the second is when the replacement tooth is attached. There are usually at least three months between each stage. You will need to factor in two trips to complete your dental implant procedure, with the first requiring you stay in Split for around 10 days and the second requiring about a week's stay.
Implant Placement: The implant procedure is carried out under local anaesthetic or conscious sedation. First, the dentist will make a small incision in the gum line where the implant is to be placed. A small hole is then made in the jaw bone, and the implant inserted. The gum is stitched back up (usually with dissolving sutures). Once the stitches have dissolved you will see no evidence of any surgery as the implant is hidden below the gumline. Your dentist will check on how your mouth is healing before you go home, and then it will simply be a case of waiting for the bone and implant to fuse together (a process called osseointegration), which provides a strong base for your tooth to be attached.
Attachment of Tooth: Your next visit to Split will see your new tooth attached to the implant. It is a simple procedure and can be carried out under local anaesthetic. The dentist will open up the gum to expose the implant. The tooth is then attached to the implant with an abutment and the gum stitched back in place. Finally, you and your new tooth are ready to go!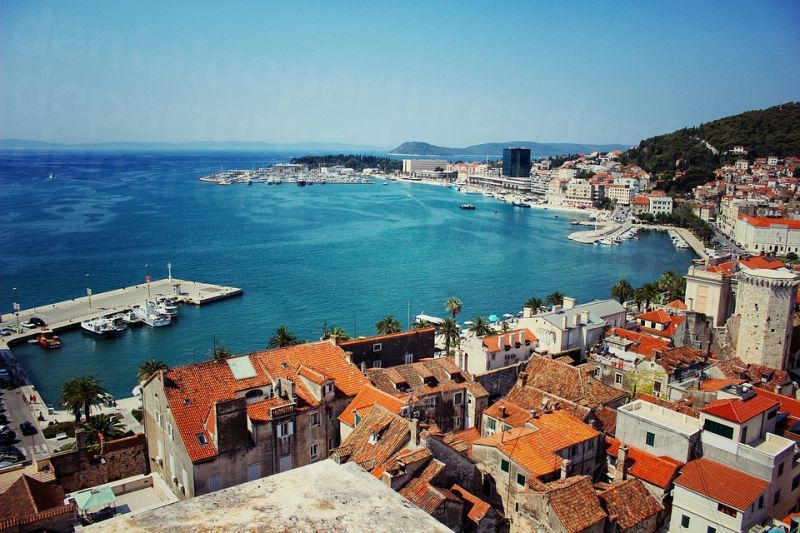 Further Information about Dental Implants in Split:
Dental Departure's Customer Care Team is on hand 24 hours a day, so get in touch to find out more about dental implants in Split or help with finance, insurance or hotel bookings. They can also obtain a free, no-obligation quote to get you started on your plans for a dental tourism trip to Croatia. We also have a variety of online booking options below.
Sources:
Holt, Laura. Split, Croatia: Diocletian's Palace, Fine Streetside Restaurants, and Other Reasons to Linger. The Independent. 26 May 2015. https://www.independent.co.uk/travel/europe/split-croatia-diocletians-palace-fine-streetside-restaurants-and-other-reasons-to-linger-10276043.html" target="_blank
Chouman, Sarah. Gum Disease: Stages, Prevention and Treatment. Ask the Dentist. 14 June 2019. https://askthedentist.com/gum-disease-stages-prevention-treatment/" target="_blank
Krans, Brian. Bone Graft. Healthline. 6 November 2018. https://www.healthline.com/health/bone-graft" target="_blank
Burhenne, Mark. Your First Dental Implant Procedure: What to Expect. Ask the Dentist. 17 June 2019. https://askthedentist.com/dental-implants/" target="_blank