Last fact-checked: 5 April 2020
Dental implants in Zadar, Croatia cost less than a third of the price charged most other developed countries, including the UK. If you're thinking about heading abroad for your treatment, Dental Departures is here to help you find a quality clinic, allowing you to take advantage of the lower prices and high standards of dental care that Croatia now offers.
Why Choose Zadar for Dental Implants?
● Zadar is a major port city on Croatia's Dalmatian Coast. Its Old Town comprises a mix of architectural styles and includes Roman ruins, medieval Venetian fortifications and 21st-century glass-fronted cafes and restaurants creating an eclectic, cosmopolitan atmosphere. Coupled with extensive views over the Adriatic Sea, it is a city that you can enjoy to the full either as a regular or dental tourist. It's also a great location for a holiday—and with the wider countryside and nearby islands you can easily take a ferry to, there is even more going for it.
● Zadar is a convenient location for most travellers from Europe. Flight times, even from the British Isles are around two-and-a-half hours or less. Plus, regional airports across the UK and Eire have direct flights to the city with low-cost carriers.
● The standard of dental care in Croatia is generally excellent and so you shouldn't experience inferior quality care in Zadar if you choose a reliable facility. Dentists are well-trained and clinics tend to be contemporary and modern, equipped with the latest technologies, such as CAD/CAM (computer-aided design/computer-aided manufacture), 3D/CT scanning and digital x-rays to enable accurate diagnosis and good treatment outcomes.
● Dental implant prices in Zadar are considerably lower than at home (as shown below!)
How Much Do Dental Implants Cost in Zadar?
Check out the table below to compare dental implants prices in Zadar compared to at home:
| | | | | | |
| --- | --- | --- | --- | --- | --- |
| | UK £ | EUR € | US $ | CAN $ | AUS $ |
| Dental Implant Price – at home | 3,000 | 3,600 | 3,900 | 5,200 | 5,100 |
| Dental Implant Price – Zadar | 900 | 1,000 | 1,100 | 1,460 | 1,600 |
Please note that these figures are averages calculated at the time of writing.
It's also worth remembering that Dental Departures has exclusive online discounts and offers our Best Price Guarantee, so you will always get the best deals available if you book with us. Browse through our listings or contact our Customer Care Team to receive a free, no-obligation quote for treatment at your chosen clinic.
Can I Rely on the Quality of Dental Implants in Zadar?
One of the keys to ensuring a successful implant procedure is to ensure you visit a dentist that is trustworthy. It's not so easy to figure that out if you are going overseas for your treatment, which is why booking with Dental Departures is to your advantage.
All the facilities we partner with have all been pre-screened by us. Our checks include onsite visits, verification of dentist qualifications and confirmation of professional memberships. We collate real patient reviews that are published on our website, along with clinic photos, location maps and prices.
You can check these out to make your own informed decision as to where is the best facility for your dental implants in Zadar, such as the highly-recommended Zara Dental Centar in the city.
Am I a Suitable Candidate for Dental Implants?
It is generally accepted that dental implants are the best way of replacing missing teeth. They are permanent, and feel, act and look like your own, and providing you have a good dental hygiene routine should last a lifetime.
However, there are some situations where you may not be considered a good candidate for dental implants.
Firstly, if you suffer from bone loss (usually as a result of advanced periodontal disease ) then you will not have enough viable bone for successful implant placement. This is not necessarily the end of the line for the implant procedure, as it may be possible to augment the bone with a bone graft procedure. This is an additional treatment and will need to be carried out 6-12 months' before the implant procedure.
Secondly, if you are a smoker, many dentists will not consider you for a dental implant procedure. This is because smoking affects the healing capabilities of your body, which compromises the success of your dental implant treatment.
Finally, a number of other health issues could be problematic for dental implants, such as uncontrolled heart disease, diabetes or cancer, which is why it is important you are straight-up with your dentist, advising them about your medical history and any medication you are taking.
How Long Does the Dental Implants Procedure Take?
The dental implant procedure is carried out in two stages, so you will require two trips to the dentist in Zadar. During the first trip, the dental implant is inserted into the jawbone. This typically takes place under local anaesthetic, and involves the dentist making a small flap in the gum above the jaw where the implant is being inserted. A small hole is made in the jaw bone and the implant put into place. The gum flap is stitched back over, usually with dissolvable stitches, so that after a few days there is no evidence of you having had a procedure as the implant is below the gumline. This is left in place for several months to give the implant time to fuse with your jaw bone in a process called osseointegration.
After a few months, it will be time to return to the dentist in Zadar to have the final part of the implant procedure. This is when the false tooth (crown) is attached. The dentist will give you a local anaesthetic to numb the gum and open it above the implant. An abutment is attached, which enables the attachment of the crown to the implant. Once the crown is placed, the procedure is complete.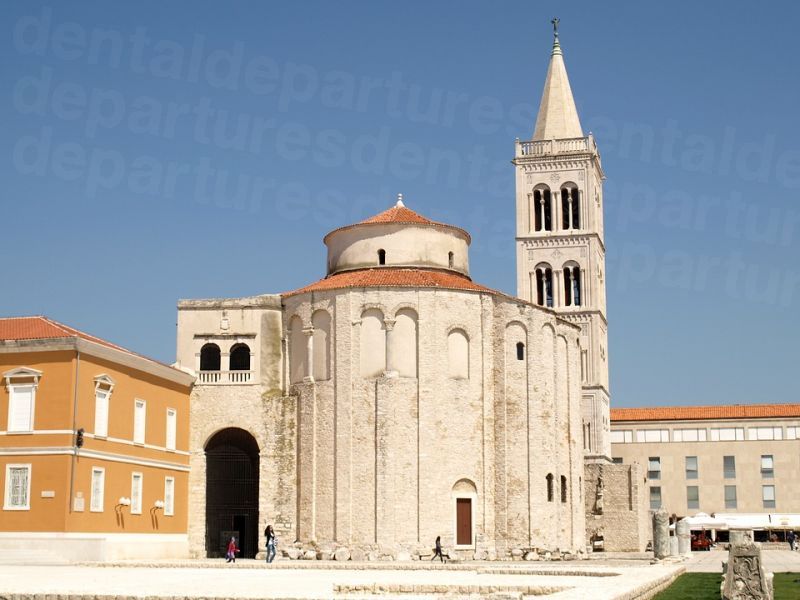 Further Information about Dental Implants in Zadar:
Contact Dental Departures' Customer Care Team for further information about dental implants in Zadar. They can book your appointment, obtain a free, no-obligation quote and help with finance and insurance. Scroll down to find other online booking options.
Or if you're ready to schedule, you can book your appointment online at any time of the day or night, at no charge to you.
Sources:
Nordqvist, Christian. What is Periodontitis? Medical News Today. 18 January 2018. https://www.medicalnewstoday.com/articles/242321.php" target="_blank
Major Bone Grafting (Using Bone from Outside the Mouth) and Dental Implants. Guys & St Thomas' NHS Foundation Trust. Leaflet Number: 2847/VER3. November 2016. https://www.guysandstthomas.nhs.uk/resources/patient-information/dental/major-bone-grafting.pdf" target="_blank
Murphy, Caleb. Smoking And Tooth Implants: How it Affects the Success Rate. Authority Dental. 8 April 2019. https://www.authoritydental.org/smoking-tooth-implants" target="_blank
Burhenne, Mark. Your First Dental Implant Procedure: What to Expect. Ask the Dentist. 17 June 2019. https://askthedentist.com/dental-implants/" target="_blank