Head to Budapest for great value dental care at one of our top clinics in one of the prettiest capital cities in Europe. Budapest is an inspiring place to visit at any time of year. Although often compared to Paris or Prague for its effortless elegance, the prices in Budapest are considerably less expensive across the board—for lodging, dining, shopping, events and more. So, if you want to save big as a dental tourist and enjoy all the fun of a new and exciting city, Budapest is one you should add to your shortlist.
In many ways, Budapest is a surprising city: elegant but with an artsy vibe about it, especially in neighbourhoods like District VII where the Ruin Bars are making the most of empty buildings and transforming them into welcoming, social spaces. The city is not ashamed to wear the past on its sleeve—you may find bullet holes in buildings and other evidence of a war-torn past. The House of Terror, for example, is not a fairground ride but a museum demonstrating the bleakness of life under communist and Nazi regimes, while the Shoes on the Danube memorial to the Jews who were made to remove their shoes before being shot is poignant and moving.
Why Should I Get Dental Implants in Budapest?
Notwithstanding the city's draw as a tourist location, Budapest is also a highly-acclaimed dental tourism destination and has successfully been treating international patients for years. In fact, it could be said that Hungary is one of the pioneers of medical tourism—near neighbours have travelled to Hungary for medical and dental care for decades, and going further back, Hungary's thermal waters have for millennia enticed ancient Greeks and Romans to the country to partake of the medicinal qualities of the water.
Dentists in Hungary are, therefore, accustomed to welcoming international patients, with many excellent clinics throughout the country, particularly in Budapest. The best clinics are ultra-modern and use state-of-the-art equipment and techniques, with technologies like CAD/CAM (computer aided design/computer-aided manufacture), panoramic x-rays and 3D/CT scanning as standard. English is widely spoken and you'll find that implant dentists have had specialist training and are likely to be members of the International Congress of Oral Implantologists (ICOI).
How Do I Find a Reliable Dental Clinic in Budapest?
This is one of the problems that booking through Dental Departures solves. We offer extensive listings of dentists in Budapest, all whom have been background-checked by us before we list them on our website. Our checks include onsite visits, verification of qualifications and collation of patient reviews, and more. You can view all this under each listing, as well as other useful information, like maps and prices, to help you come to your own decision on the best facility for you.
To get you started, here are a few popular clinics in Budapest you may be interested in taking a look at: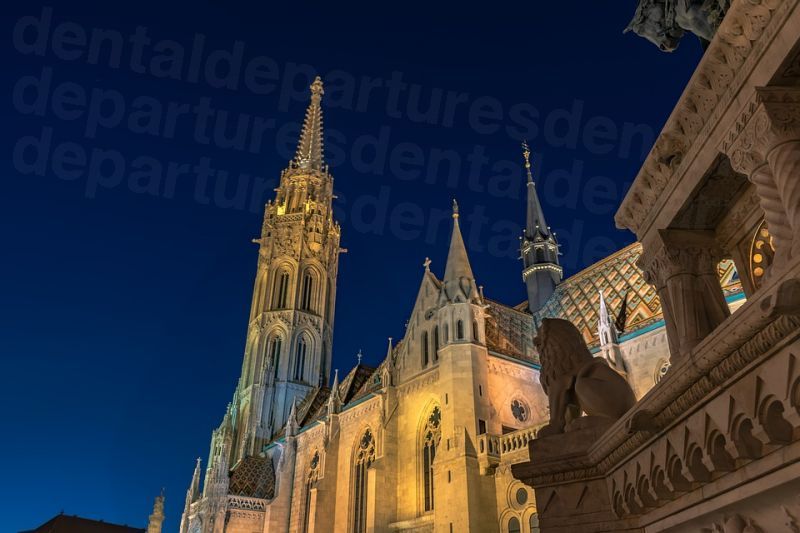 How Long Does the Dental Implants Procedure Take?
Not everybody is suitable for dental implants as patients that have bone loss may require a bone graft procedure before they can have implants inserted. Your implantologist will give you a thorough consultation and examination, as well as taking diagnostic x-rays and scans to determine that you have viable bone to hold the implant.
If so, the treatment can take place. A local anaesthetic, or conscious sedation, will be given and the procedure will involve your dentist making an opening in the gum to access the jaw bone. A hole will be drilled in the bone, the implant inserted and the gum stitched over. The implant is then left to integrate with the bone, which takes at least three months.
You will then need to go back to the dentist for the crown (false tooth) to be attached, which simply involves the dentist opening the gum to expose the implant, and attaching the crown.
What Are the Dental Implants Costs in Budapest?
The prices of dental implants in Budapest compared to your home country are shown in the table below:
| | | | | | | |
| --- | --- | --- | --- | --- | --- | --- |
| | UK £ | EUR € | US $ | CAN $ | AUS $ | NZ $ |
| Dental Implant Prices – at home | 3,000 | 3,600 | 3,900 | 5,200 | 5,100 | 5,500 |
| Dental Implant Prices – Budapest | 800 | 960 | 1,000 | 1,400 | 1,400 | 1,500 |
Further Information
You can ask for a free, no-obligation quote or book an appointment online for dental implants in Budapest. Or, don't hesitate to call our Customer Care Team, via the free phone number or online chat, if you'd like further information.