Get your dental implants in Marbella ; save a little cash while recuperating from your treatment, or take a few days' holiday prior. It may not be for everyone to travel abroad as a dental tourist, but for the many Brits who are 'Marbs' regulars this isn't a bad option at all—and the quality will be just as good as you get at home.
Why Should I Get Dental Implants?
Dental implants are the best replacement for your own teeth. Once placed (and if they are looked after properly) they can last a lifetime. Implants are stable and secure with no chance of slipping or falling out, as dentures can do. Plus, they act, feel and look just like your own teeth. It's little wonder that many people see them as a serious option if they have lost a tooth.
The downside is that implants are more expensive than dentures, and that's why it pays to consider implants abroad, where you can often achieve superior results without breaking the bank.
What is the Procedure for Dental Implants?
The dental implant procedure takes place in two stages. During the first stage, the dental implant is surgically inserted into the jawbone, which generally takes around an hour per implant. This is usually carried out under a local anaesthetic, although conscious sedation is also an option for many patients. Once the implant is placed it will be left to heal and fuse with your jawbone in a process called osseointegration. After a period of four to six months, you will return to the dentist for the final stage of your treatment.
During the final stage, a metal rod (called an abutment) is placed onto the implant. This connects the implant to a false tooth (crown). You will need impressions taken of your mouth so the crown can be made in the lab, and after a few days, once your dentist has received the crown, you will return to have it fitted to the abutment. Although the procedure is more involved, you will be rewarded when you have a new tooth or teeth that looks and feel like your old ones.
What are the Downsides with Dental Implants?
The procedure is not so straightforward as to be completed in one day—usually requiring more than one visit to the dentist over a period of months. If you are planning a one-off trip abroad for your dental implant, then it may be something you should reconsider, or you might opt for an All-on-4 procedure , which often can be completed in one sitting.
If you have advanced gum disease (periodontal disease) then you may have lost a lot of bone around the missing tooth, which means there will be nothing for the implant to attach to. This can be remedied with a bone graft, another surgical procedure that will be required before the implant procedure—and you may be required to wait between six months and a year between each procedure.
Furthermore, dental implants are like your own teeth—they need looking after. They don't need any care that is out-of-the-ordinary, but you will need to see your dentist regularly for check-ups and cleaning. Just like teeth, they are susceptible to plaque build-up that hardens to tartar and requires periodic removal. If not, the same problems that follow gum disease with normal teeth is a possibility, only in the case of implants it is called implantitis rather than periodontitis. However, the outcome is the same as periodontitis: swollen gums, periodontal pockets and bone loss around the implant, which could result in it falling out. If you are a Brit and have an NHS dentist at home then you need to be sure that they will look after your implant with check-ups and regular cleaning, as not all of them do
After you have undergone implant treatment, if you follow the rules of good dental care (regular brushing and flossing; annual cleanings), your implants can last the rest of your life.
Is Marbella a Good Location for Dental Implants?
Yes—from both the perspective of the quality of the dental care in Marbella, as well as it a good location for a holiday.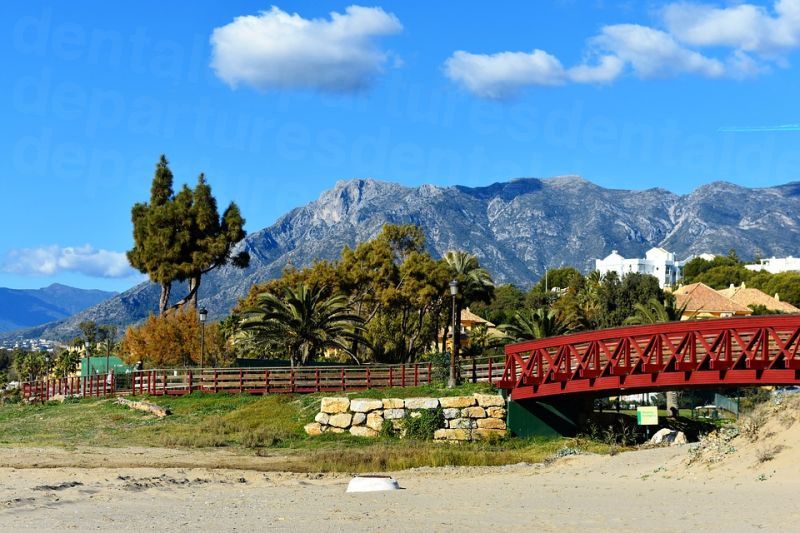 Quality of Dental Care in Marbella
Dentists in Spain work in private practice, which means there is competition for patients with other dentists. It is in their interests to provide good-quality, affordable services or patients can quite easily choose to go elsewhere.
Healthcare facilities in Spain are generally of a good quality. Dental tourism providers tend to have modern clinics equipped with the latest technologies such as 3D/CT scanning and dentists are well-qualified, highly-skilled. Many enjoy international memberships of professional organizations like the International Congress of Oral Implantologists .
If you book through Dental Departures, you are assured of treatment at a reliable facility that has already been background-checked by us. Take a look at the high-quality clinics in Marbella offering dental implants on our listings:
Marbella as a Dental Tourism Destination
While Marbella is easy to reach for many visitors in the region, the British and Irish have an additional advantage of access to low-cost airlines operating within their countries—so flying to Spain is no worse than getting from Manchester to London on the train!
The Costa del Sol is a popular location and it has the tourism infrastructure to make for a relaxing stay. Hotel accommodations to suit every budget, decent restaurants, shops and the local attractions of Sun, Sea and Sand ensure you're not far away from all the amenities.
Furthermore, as a holiday location, Marbella has much to offer. The town itself has the Old Quarter's narrow streets and tree-lined squares to amble around at a leisurely stroll; Puerto Banus Marina is a good place for celeb-spotting and admiring the huge yachts while the miles of beaches are sure to keep most beach bunnies happy.
What is the Cost of a Dental Implant in Marbella?
There's no doubt you will save money on dental implants in Marbella compared to at home:
| | | | | | | |
| --- | --- | --- | --- | --- | --- | --- |
| | UK £ | EUR € | US $ | CAN $ | AUS $ | NZ $ |
| At home – Dental Implant Cost | 3,000 | 3,600 | 3,900 | 5,200 | 5,100 | 5,500 |
| Marbella – Dental Implant Cost | 1,086 | 1,300 | 1,391 | 1,878 | 1,844 | 1,978 |
Plus, if you need a bone graft, you'll save on that too:
| | | | | | | |
| --- | --- | --- | --- | --- | --- | --- |
| | UK £ | EUR € | US $ | CAN $ | AUS $ | NZ $ |
| Bone graft cost – home | 1,171 | 1,398 | 1,500 | 2,025 | 1,988 | 2,133 |
| Bone graft cost – Marbella | 501 | 600 | 642 | 867 | 851 | 913 |
How do I Arrange a Trip for Dental Implants in Marbella?
Find a clinic by searching our listings, and then you can either book an appointment online, or ask for a free, no-obligation quote. Our Customer Care Team are on hand to help if you need any assistance—just call the free phone number or use the online chat and you could soon be on your way to getting your dental implants in Marbella.