Discover affordable dental implants in Palma with Dental Departures. With savings of around 60% in Mallorca's (Majorca) capital city, you'll have plenty left over to take advantage of a holiday in this stunning capital city.
Mallorca is one of Spain's most popular holiday islands—particularly beloved by the British and Irish as well as cruise liners who disgorge thousands of passengers at Palma's port daily. It stands to reason that dental tourism is becoming yet another attraction of this striking city.
Should I Get Dental Implants in Palma?
If you've been after a dental implant but the cost has rather dampened your enthusiasm, then a trip to Palma for the procedure may re-ignite it. The cost is obviously a major reason why you might decide to take your custom to Palma rather than give it to a dentist at home—and even with flights and accommodation costs you are likely to spend less on your trip to Palma that you would on having the procedure at home.
But it's worth noting that you will probably need two trips to Palma to complete the procedure as there are usually two stages to the dental implant treatment. The first visit is when the implants are placed. They are then left to fuse with the jaw bone in a process called osseointegration, which usually takes around three months. After that, you can return to have the false tooth or teeth (crowns) attached to your implants, which completes the procedure. However, Palma is such an amazing city that you probably won't need an excuse to go back—as there will be so much more you've still to see.
The standards of dental care throughout Spain are generally high. Spanish dentists conform to Europe-wide regulations from the European Union—all must be registered with the General Council of the College of Dentistry to practice. Specialists in implantology are likely to be members of international professional organisations, like the International Congress of Oral Implantologists (ICOI ).
Clinic facilities are state-of-the-art, modern and equipped with the latest diagnostic and therapeutic instrumetnation such as CAD/CAM technology for same-day prosthodontics (crowns, veneers etc), 3D/CT scanning and digital x-rays.
Booking through Dental Departures gives you access to quality-checked clinics with English-speaking dentists that provide reliable dental care. We vet the clinics on our site, checking out legal/criminal records and confirming dentist qualifications and professional memberships. We also include verified reviews from former patients (flattering and otherwise!), clinic photographs and prices—all contained in one place to help you reach an informed decision prior to booking an appointment.
You may want to have a closer look at some of our popular clinics for your dental implants in Palma below:
What is the Cost of Dental Implants in Palma?
Compare the prices of implants in Palma to those in your home country:
| | | | | | |
| --- | --- | --- | --- | --- | --- |
| | UK £ | EUR € | US $ | CAN $ | AUS $ |
| Dental Implant Prices – at home | 3,000 | 3,600 | 3,900 | 5,200 | 5,100 |
| Dental Implant Prices – Palma | 1,400 | 1,700 | 1,800 | 2,400 | 2,400 |
Booking through Dental Departures also gives you another advantage—our exclusive online discounts and our best price guarantee, ensuring you will always get the best deals.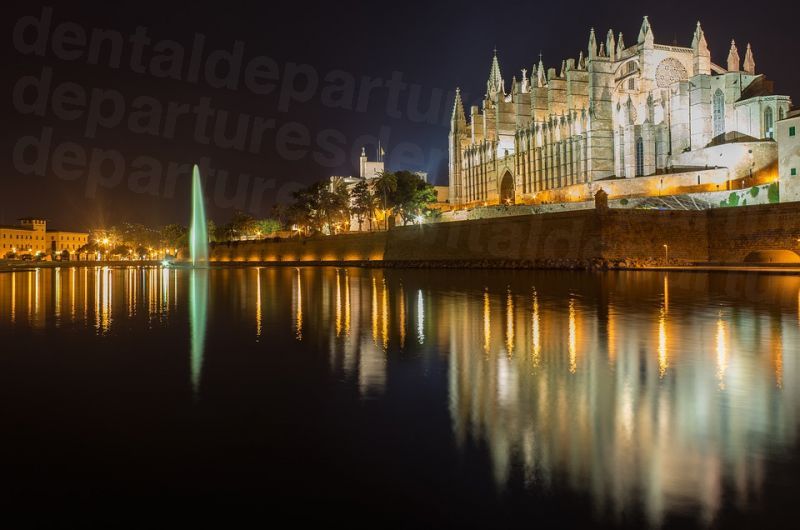 What is the Procedure for a Dental Implant?
The dental implant procedure typically takes two trips if you are a suitable candidate and don't have any bone loss. If you have bone loss in your jaw you won't be able to have a dental implant unless you have a bone graft first. This is a separate procedure, and you will have to wait for around three months after this procedure before you can get the implant placed.
The finished dental implant includes three parts:
· The dental implant itself. This is embedded into the jaw bone and effectively acts like a tooth root. It is placed below the gum line so you won't see it.
· The abutment attaches to the implant and joins the crown (false tooth) to it.
At your first visit the implant is inserted. Your mouth will be numbed with a local anaesthetic (or you may have conscious sedation). A flap is made in the gum so the dentist can access the jaw bone. A small hole is made in the jaw bone and the implant inserted. The gum flap is then stitched back in place and you will need to wait for at least three months for the bone and implant to fuse together (in a process called osseointegration) before you can go back to have the abutment and crown attached.
At your second visit, you will have the abutment and crown attached. After a local anaesthetic, the dentist opens up the gum to expose the implant. The abutment is attached and the gum flap stitched back in place. The abutment can be seen above the gum line and the crown is placed over it, covering it entirely, and completing your dental implant procedure.
Is Palma a Good Option for Dental Tourism?
Palma is a great option for dental tourism. Notwithstanding the high quality dental care in the city, it is also an exciting, lively city that has a pretty Old Town, perfect for wandering around and seeing where the roads take you. Adding to the appeal is a promenade around the harbour and serious shopping as well as museums galore and a stunning Gothic cathedral that dominates the city's skyline. The labyrinthine streets around the Old Arab and Jewish Quarters lead to Medieval mansions, courtyards and the magnificent Arab Baths, and you'll see Modernista architecture around the shopping streets of Playa Mayor, Placa Cort and Placa Mercat. The city is a feast for the eyes and senses and that's before you've experienced its gastronomic delights.
How Do I Arrange an Appointment for Dental Implants in Palma?
You can search for your clinic on our website. Book online, ask for a free quote or speak to our Customer Care Team who will be happy to assist you, or answer any questions you have about dental implants in Palma.