Last fact-checked: 20 February 2020
Head off on holiday to acquire your new dentures at a fraction of the price you'd pay at home. Colombia's City of Eternal Spring is an interesting spot for a vacation so pack your bags and get ready to start planning your money-saving trip for dentures in Medellin. You'll get a good deal on the price of dental work and be able to enjoy all the attractions of this much-improved city that is leaving its chequered past behind.
Is Getting a New Dentures in Medellin a Good Option as a Dental Tourist?
Absolutely. Dental tourism is becoming much more of a choice now for millions across the world. As the price of dental care at home just keeps on rising and rising, it's easy to see the attraction of going abroad, especially when the quality is high and the opportunity to enjoy a break or vacation at the same time is just too good to miss.
It seems that more and more people are struggling to pay for dental care in the United States and Canada, as well as other English-speaking countries; rather than neglecting dental health, or foregoing some other treat, like a holiday, combining the two is an excellent compromise. Medellin fits the bill as a decent vacation destination—and there are plenty of good-quality dental clinics to choose from, too.
What's the Procedure for Getting Dentures in Medellin?
The process may vary depending on whether you are replacing existing dentures or in need entirely new to dentures, particularly if you have had or need any teeth extracting. If you have had teeth extracted, the gum and jawbone will need time to heal before you are given a permanent denture. Thus, a lighter, 'healing' denture, is prescribed immediately after having teeth out. This is a temporary denture (although some people wear it for years) which will need to be worn for at least three months. So, if you are going to Medellin, you may have to factor in a second trip if you want to get a permanent denture after extractions.
Otherwise, if you haven't had any extractions or surgery recently, the procedure will involve only a couple of visits. The first for assessment and diagnostic tests, like x-rays. If the dentist is happy, impressions of your mouth are taken and sent to the lab where your denture is made. Once your dentist receives your denture from the lab (typically after a few days), you go back to have it fitted.
What Else is There to Do in Medellin?
Those traveling here to receive dentures will have to make two separate trips to the dentist while in town. Thankfully, Medellin has plenty in the way of attractions to keep you busy, especially in the way of museums and historical sites. We recommend the Memory House Museum—a thought-provoking exhibition of Colombian wars and armed conflicts; the Castle Museum—a grand home, now open to the public; the Antioquia Museum that features artwork from local artists, including sculptor Fernando Botero; and the Water Museum featuring interactive displays with the space doubling up as a concert venue (trust us, it's much more interesting than it sounds).
Aside from the museums, discover Medellin's green-side with a trip to one of its many city parks, including the Barefoot Park where you can give your feet a workout, the Botanical Gardens with its lake, meandering walkways and iguanas, plus the giant Arvi Park with hiking trails, lake and exhibits. It might take a day to get around here, but there is a handy cable car to make lighter work of it. Hop inside and enjoy the ride up to Santa Elena; it's here where you will find most of the farms that grow the flowers for Medellin's annual festival in August.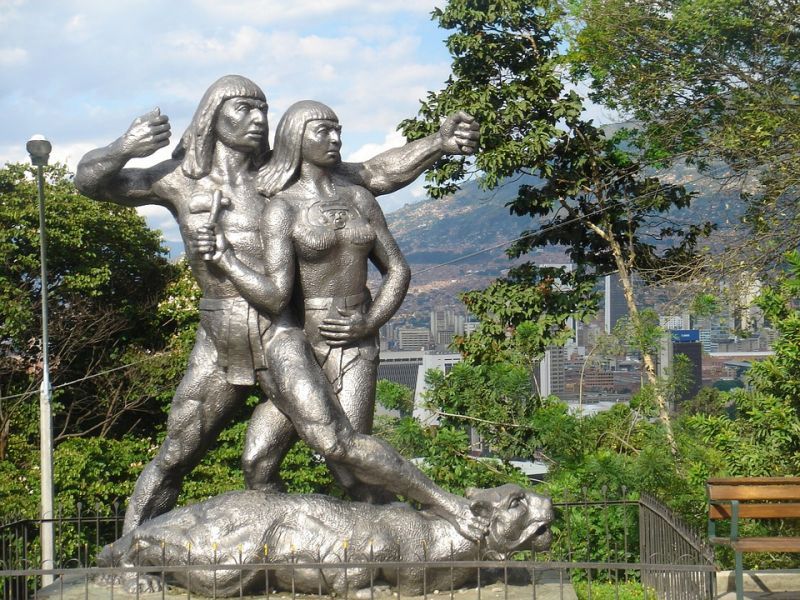 How Much Do Dentures Cost in Medellin Compared to the United States and Canada?
You can save around 60% on the cost of dentures in Medellin as the table below (based on average prices) shows:
| | | | | | |
| --- | --- | --- | --- | --- | --- |
| | US $ | CAN $ | UK £ | EUR € | AUS $ |
| Full Dentures Price at home | 1,800 | 2,300 | 1,300 | 1,600 | 2,500 |
| Full Dentures Price in Medellin | 455 | 600 | 350 | 400 | 600 |
What About the Quality? Can I rely on the Dentists in Medellin?
One of the big positives about globalization is that standards throughout the world are becoming ever more alike, particularly when it comes to medical training, materials available and dissemination of new techniques. Global companies distribute materials to the four corners of the world, and so the same materials and brands your dentist at home uses are available at a dental clinic in Medellin. As a result, misapprehensions that lower treatment costs in Medellin equate to inferior quality are quickly becoming a thing of the past.
Of course, there are always precautions you should take and it's never advisable to book an appointment without doing some research first. We understand this process may seem challenging when assessing a clinic abroad, especially given that you don't have the benefit of recommendations from family, friends or neighbors.
This is where Dental Departures can help. We've already taken the hard work out of finding a reliable facility as we've carried out all of the necessary background checks ourselves. We only list clinics that we are satisfied with after we've conducted legal/criminal checks, qualification and licensing verifications and onsite visits.
You can head straight to our Medellin listings page now to see dentist qualifications and professional memberships, real patient reviews, clinic photos, maps and prices. Or, take a look at some of our popular clinics in Medellin where you can find affordable dentures:
How Do I Get Started?
Speak to Dental Departures' Customer Care Team if you'd like more information about dentures in Medellin, to book an appointment or get a free quote. You can also inquire about medical complications insurance, medical financing or hotel booking.
Sources:
Balsing, Olivia. I saved thousands of dollars by having surgery abroad. New York Post. 31 July 2018.
https://nypost.com/2018/07/31/i-saved-thousands-of-dollars-by-having-surgery-abroad/" target="_blank.
Vincent, Jessica. What You Should Know about Colombia's Spectacular Flower Festival. Culture Trip. 30 May 2018.
https://theculturetrip.com/south-america/colombia/articles/what-you-should-know-about-colombias-spectacular-flower-festival/" target="_blank.
Lee, David. The Ultimate List of Things to Do in Medellin. Nomadic Matt. 29 November 2018.
https://www.nomadicmatt.com/travel-blogs/ultimate-list-medellin/" target="_blank.
Parker, Sid. Removable, Full Dentures. Dear Doctor. Website accessed 9 January 2019. https://www.deardoctor.com/articles/removable-full-dentures/index.php" target="_blank.