Last fact-checked: 22 February 2020
Interested in having new dentures made and fitted for around a third of the price charged at home? Get a quote from one of Dental Departures' verified dentists in Bogota and start planning your dental vacation to Colombia, a country that's come back from the brink and is now one the Travel Industry's 'must-see' destinations.
Why Choose Bogota?
Bogota is seeing lots of exciting changes. After nearly three decades, Bogota's social and political unrest is largely in the past. Boutique hotels, upmarket eateries, craft breweries and other entrepreneurial ventures are now springing up across the city. The Colombian capital has interesting neighborhoods, too—each with their own identities and best explored on foot. Check out colonial La Candelaria for a spot of lunch, the art exhibits and greenery at Parque 93, the bohemian hotspot that's Downtown, fine dining at Chapinero-Zona G and much, much more.
Take in some of the tours—there's the Art Tour of Bogota, The Graffiti Walking Tour, The Food Tour, The Cycle Tour and the Monserrate Mountain Tour. If you manage to get around all of them, maybe you'll have some energy left to explore hiking trails, camping or abseiling in the countryside just outside Bogota.
What Dentures Will I Need?
Dentures are detachable replacements for missing teeth. There are two kinds of dentures: complete and partial. Complete dentures are used when all of the upper and lower teeth are missing while partial dentures are used when some natural teeth remain.
Patients also have two options in terms of how and when their dentures are fitted, i.e. conventional or immediate dentures. Immediate dentures are processed in advance and can be worn immediately after you have had teeth extracted. Essentially, these are ready-to-wear teeth, and that's their main advantage. However, during the healing period after extraction, the bones and gums shrink, so your denture will require some adjustments. On the other hand, conventional dentures are ready for placement after 8 to 12 weeks or after the bones and gums are healed.
What Is the Process of Getting Dentures in Bogota?
If you are replacing your dentures and don't need to have any teeth removed, then you can get your new dentures in one visit. If you need more teeth taken out then you will only be given 'immediate' or 'temporary' dentures after the extractions, which is lighter on your gums than permanent dentures and gives teeth time to heel. You will then return to get your permanent denture in three months' time (although many people wear temporary dentures for much longer).
Two separate trips to Bogota may be problematic for some people; an easy workaround is to have your extractions done at home at least three months before you arrive in Bogota.
The process for creating dentures usually involves preparing a series of impressions of your jaw. Your dentist will take measurements and check how your upper and lower jaws relate to one another. Models will be made and the dentist will spend time evaluating the shape, color, and fit of the dentures. The final model and impressions will be forwarded to the laboratory for processing. Once the dentures are ready, they are fitted and placed in your mouth.
Your dentist will give you instructions on how to take care of your dentures. Generally, the better care you take, the longer the appliance will last. Here are some quick tips:
● Maintain proper oral hygiene by brushing and flossing
● Visit your dentist back home for regular checkups, teeth cleaning and denture inspections
● To adjust to your new denture, start with soft food and chew slowly; after some time you'll get more used to it
● Remove every night for both complete and partial
Will My Dental Care in Bogota Be Reliable?
Dental tourism in Colombia is a growing industry, and more tourists are combining dental work here with a vacation. The best clinics offer superb services at lower prices than back home, with many patients traveling specifically to Colombia to undergo major and otherwise unaffordable procedures.
Facilities that cater to international patients tend to be contemporary, equipped with state-of-the-art technologies and staffed by well-qualified, English-speaking dentists.
However, we always advise that you should do your own research into the clinics you intend to use. We know it's not always easy to find accurate, trustworthy information, which is why Dental Departures has already carried out our own background checks. These include legal/criminal records and onsite visits; verification of dentist qualifications; confirmation of professional memberships and collation of patient reviews.
Along with clinic photos, prices and maps you should have the information at your disposal to make an informed choice.
Some of our most popular clinics in Bogota you may want to take a look at include: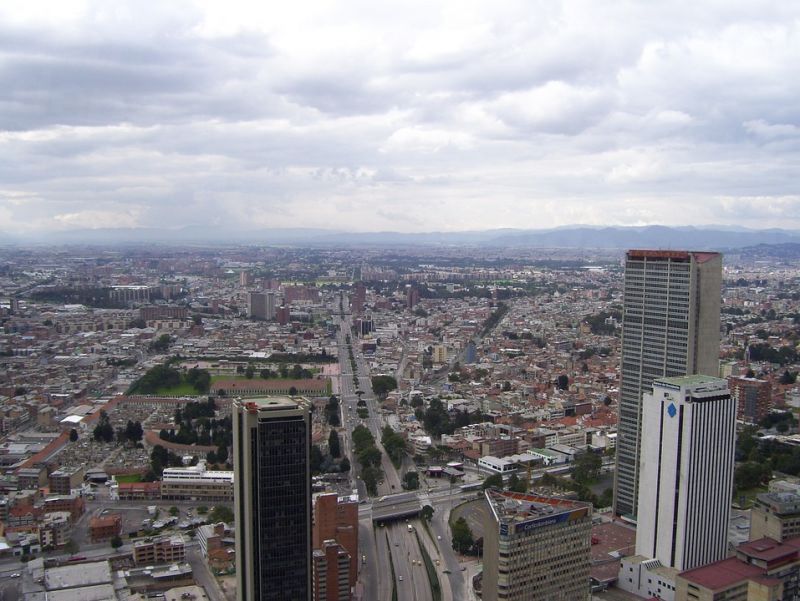 How Much Do Dentures Cost in Bogota Compared to the United States and Canada?
You can save around 60% on the cost of dentures in Bogota:
| | | | | | |
| --- | --- | --- | --- | --- | --- |
| | US $ | CAN $ | UK £ | EUR € | AUS $ |
| Full Dentures Prices at home | 1,800 | 2,300 | 1,300 | 1,600 | 2,500 |
| Full Dentures Prices in Bogota | 500 | 652 | 377 | 450 | 640 |
Booking Dentures Abroad with Dental Departures
Get in touch with Dental Departures' Customer Care Team for further information about dentures in Bogota. We guarantee the best prices so you'll always enjoy the best deals online when you book with us.
Sources:
Ping Chan, Szu. Colombia: From Failed State to Latin American Powerhouse. The Telegraph. 28 February 2015.
https://www.telegraph.co.uk/finance/globalbusiness/11441732/Colombia-from-failed-state-to-Latin-American-powerhouse.html" target="_blank
Roja, Keilma. 5 Places to Visit Near Bogota. Day Tours 4 U. 4 May 2017. https://www.daytours4u.com/en/travel-guide/1/5-places-to-visit-near-bogota/" target="_blank
Zaino, Lori. 9 Reasons Bogota Should be on Your Travel Bucket List. The Points Guy. 14 October 2017.
https://thepointsguy.com/2017/10/reasons-to-visit-bogota-colombia/" target="_blank
Full Dentures, Partial Dentures, Denture Care—Learn More. Colgate. Website Accessed 19 January 2019.
https://www.colgate.com/en-us/oral-health/cosmetic-dentistry/dentures/full-dentures-partial-dentures-denture-care-learn-more" target="_blank
Dental Health & Dentures. WebMD. Website Accessed: 25 February 2019.
https://www.webmd.com/oral-health/dental-health-dentures#1" target="_blank
Dentures: Temporary & Permanent, Costs, Pros & Cons. OralB. Website Accessed: 25 February 2019.
https://oralb.com/en-us/oral-health/life-stages/adults/dentures-temporary-permanent-costs-pros-cons#PermanentDentures" target="_blank
Denture Care Instructions and Tips. OralB. Website Accessed: 25 February 2019.
https://oralb.com/en-us/oral-health/life-stages/adults/denture-care-instructions-tips" target="_blank