Last fact-checked: 4 April 2020
Save more than 60% on new dentures in Split, Croatia. Why pay the high prices at home when you can combine a trip for new dentures with a holiday in this gorgeous part of the world on the sunny Adriatic Sea?
What Do Dentures Cost in Split Compared to the UK & Ireland?
The table below shows the savings you can make in Split on the cost of your new dentures:
| | | | | | |
| --- | --- | --- | --- | --- | --- |
| | UK £ | EUR € | US $ | AUS $ | NZ $ |
| Full Dentures Prices - at home | 1,400 | 1,600 | 1,800 | 2,400 | 2,500 |
| Full Dentures Prices – Split | 500 | 586 | 663 | 940 | 973 |
Note: the prices above are approximate. Please check our current prices for your selected clinic for estimated costs of treatment.
Is Split A Good Location for Dental Tourism?
In terms of good dental facilities and as a holiday location, Split is one to consider adding to your shortlist. Croatia is making a name for itself as a healthcare destination and the government is actively funding and promoting this growing industry. With costs in other countries rising, Croatia is popular with international visitors for dental care, cosmetic surgery and fertility treatments—not just because of the low prices but also the high quality of healthcare throughout the country..
Croatia is one of the current must-see countries to visit. It is well-served by direct international flights from around the world, especially from Europe. Brits can hop a direct flight from a range of locations throughout the UK and Eire and be in Split in a little over two hours.
Dental clinics offer modern surroundings, the latest technologies and highly-skilled dentists who can speak English.
Split is an unforgettable holiday location. The Old City is in a UNESCO World Heritage Site. The Dioclesian's Palace dates back to the Roman era and is remarkable well-preserved. Its meandering streets house a myriad of chi-chi shops, art galleries, restaurants and bars where you can lose endless amounts of time.
The Palace overlooks the turquoise Adriatic Sea, with a lovely seafront promenade where you can watch the ferries come and go, sit under a palm tree or stop for some light refreshments at any number of places while taking a leisurely stroll.
As for the nearby islands, it's easy to catch a ferry or catamaran from the shore and do a little island hopping. You certainly won't be stuck for things to do when you're not at the dentist.
Will I Receive Good-Quality Dentures in Split?
While there are many excellent dental facilities in Split, it is always wise to conduct your own due diligence. This is easier said than done, we know, which is why we have carried it out for you.
Our clinics have all been pre-screened so you can be sure you'll be choosing a reliable facility. We confirm dentist qualifications and professional memberships, as well as publish real patient reviews. You can see details under each clinic listing, along with clinic photos, prices and location maps.
Take a look at three of our top clinics in Split where you can go for your new dentures:
● Dentech Dental Centar Radovic
● Implant Dental Center Ruzevic
What Is the Procedure for Dentures? How Long Will I Need to Stay in Split?
Whether you need partial dentures (if you have some missing teeth), or full dentures (if you have no teeth), you will need to plan around one week's stay in Split.
However, if you are anticipating having to have more of your teeth being removed, you should be aware that you will not be able to wear a permanent denture for at least three months after your extractions. This is because the gum and other tissues need time to heal, and so a lighter 'healing' denture will be fitted instead. Gums have a tendency to shrink as they heal, another reason not to have a permanent denture fitted (as otherwise your new denture won't fit properly).
The procedure is reasonably straightforward. You will have a consultation, diagnostic tests and examination with the dentist, who will also take impressions of your mouth. These are sent to a laboratory where your new dentures are made-to-measure. After a few days, once your dentist has received your dentures, you will return to the office to have them fitted.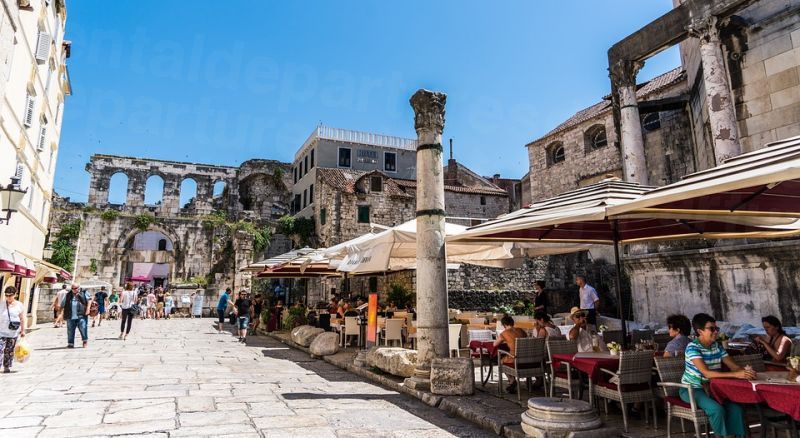 Booking an Appointment for Dentures in Split
Talk to Dental Departures' Customer Care Team for further information about dentures in Split, ask for a free quote or find out about other services we offer, including hotel bookings, finance and insurance. We also have a number of fast, convenient online booking options displayed below.
Sources:
5 Reasons Why Healthcare is The Next Big Thing in Croatian Tourism. TimeOut. 12 February 2018 https://www.timeout.com/croatia/things-to-do/5-reasons-why-healthcare-is-the-next-big-thing-in-croatian-tourism" target="_blank
Historical Complex of Split with the Palace of Diocletian. UNESCO. Website accessed 14 June 2019 https://whc.unesco.org/en/list/97" target="_blank
Full Dentures, Partial Dentures, Denture Care—Learn More. Colgate. Website Accessed 7 February 2019 https://www.colgate.com/en-us/oral-health/cosmetic-dentistry/dentures/full-dentures-partial-dentures-denture-care-learn-more" target="_blank
Parker, Sid. Removable Full Dentures. Dear Doctor. Website Accessed 7 February 2019. https://www.deardoctor.com/articles/removable-full-dentures/page3.php" target="_blank