Treat yourself to new dentures in Budapest for around a third of the price you would expect to pay at home.
If you are in the market for new dentures—whether you've never had them before, or you are changing your old, loose-fitting dentures for something that fits and looks better, you'll get excellent quality in Budapest, as well as being able to enjoy all the sights of one of the world's most beautiful cities.
Why Choose Budapest?
Hungary's capital, Budapest, is one of Central Europe's most popular locations for tourists, and you'll find plenty to see and do while waiting for your dentures to be prepared.
Overlooking the city is Buda Castle, which contains several museums, including the Hungarian National Gallery. The walk up to the castle through the Castle District takes you through narrow, winding streets, tree-lined squares and hidden neighbourhoods that provide welcoming refreshment stops and interesting shops. If the walk seems a little arduous, you can hop the funicular railway, perhaps using that to go uphill and taking a leisurely stroll down.
Underneath the city are hundreds of caves, formed by thermal waters rising up from deep inside the earth. Some of the caves have narrow and crawling passages—not for the claustrophobic.
The city is made for walking, and it's always the best way of seeing the sights. The banks along the Danube have some interesting attractions, such as the poignant Shoes on the Danube memorial. You can get some great views of the city and its beautiful buildings, such as the neo-Gothic Hungarian Parliament. You can take a cruise down the Danube if you prefer to see the city from the water.
On the east side of the Danube is the Pest, with lots of attractions, including the Basilica, the Central Market and museums, such as the House of Terror (not what you might think). Both sides of the city are great for exploring, and, of course, no visit to Budapest is complete without having a dip in one of the many spas you can find dotted all over town.
What is the Procedure for Dentures? How Long will it Take?
At your first visit to the dental clinic, the dentist will take a thorough history and examination of your mouth. X-rays or other scans may be taken. Impressions will be made of your mouth to send to the laboratory where your made-to-measure denture will be created and you will be asked to return in a few days to have the dentures fitted.
If you haven't had dentures before, it may be worth taking old photos where you are smiling, so that your dentist can help you choose a set that is as natural-looking as your own teeth.
It should take around 5-7 days for you to get your new dentures.
How Much Do Dentures Cost in Budapest Compared to the UK and Ireland?
You can around 60% on your dentures in Budapest:
| | | | | | | |
| --- | --- | --- | --- | --- | --- | --- |
| | UK £ | EUR € | US $ | CAN $ | AUS $ | NZ $ |
| Full Dentures Prices at home | 1,171 | 1,398 | 1,500 | 2,026 | 1,988 | 2,560 |
| Full Dentures Prices in Budapest | 377 | 450 | 483 | 652 | 640 | 687 |
What Type of Dentures Will I Need?
· If you have just had extractions you'll likely require a lighter denture to allow your gums to heal. These are known as immediate, healing or temporary dentures.
· If you have several gaps in your teeth you'll need partial dentures
· If you have no teeth in one, or both, of your jaws you'll need a full denture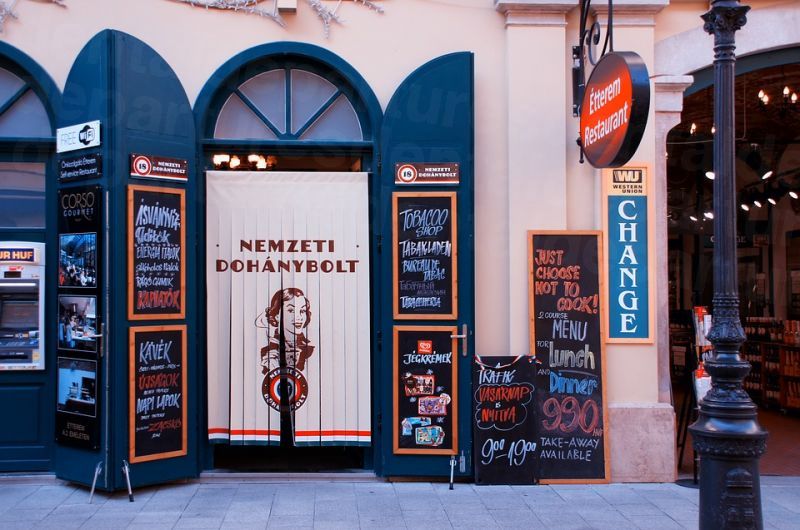 How Can I be Certain of Finding a Good Dentist in Budapest?
We understand why you may have misgivings about going abroad for your dental treatment, and it is always wise to understand that some facilities (no matter where you are in the world) are unreliable. This is why Dental Departures has carried out our own quality checks on all the verified facilities that have been listed on our website. Our checks include onsite visits, confirming dentist qualifications and verifying professional memberships. We also include clinic photos, patient reviews, maps and prices on our site, so you have the information in one place to decide which clinic best suits your needs.
Some of our popular clinics in Budapest you might want to take a look at for your new dentures:
Further Information
You can book an appointment online or ask for a free quote for dentures in Budapest. But, if you've any questions, or would like to know more about dental tourism, don't hesitate to get in touch with our Customer Care Team.