Last fact -checked: 2 April 2020
Book a holiday to Bali and treat yourself to new dentures in Ubud. If you're looking for a way to make huge savings, then combining your dental care with a trip abroad is the way to go. Below, we explain how you can save over two-thirds on the prices compared to home, which is more than enough to pay for a holiday-of-a-lifetime to Bali.
How Much Do Dentures Cost in Ubud?
Compare the dentures prices Ubud dental clinics charge, on average, compared to the clinics at home:
| | | | | | |
| --- | --- | --- | --- | --- | --- |
| | AUS $ | NZ $ | UK £ | EUR € | US $ |
| Full Acrylic Dentures Prices - at home | 2,400 | 2,500 | 1,400 | 1,600 | 1,800 |
| Full Dentures Prices – Ubud | 675 | 705 | 369 | 424 | 481 |
Is Getting a New Denture in Ubud a Good Option as a Dental Tourist?
It certainly is. Aside from the cost, who doesn't need an excuse to see another part of the world and enjoy a holiday? You will need to pay several visits to the clinic while you are there, but you'll have plenty of time to see the sights, explore elsewhere on Bali and just take some time out to relax in between trips to the dentist.
Ubud is located in the Uplands of Bali, in the cooler mountains. It's in the centre of the island so it's a good place to base yourself if you want to explore other areas or head out to one of the beaches. For a cultural experience, Ubud is the island's epicenter, with hidden temples to discover in the forests around the town.
The Goa Gajah 'Elephant Cave' is one of the area's most popular attractions and dates back to the 11th century. The Ubud Monkey Forest is also nearby, a sanctuary for Macaque monkeys. Take a leisurely stroll under the shade of the forest canopy and stumble upon temples, like the 14 th century Pura Beji, an ancient bathing temple. The stunning Tegallalang Rice Terraces jutting out across the valleys, and traditional villages where you can buy handicrafts like wood carvings, jewelry and textiles are also a feature of this part of Bali.
The temperatures in Bali are fairly similar all year round, with daytime averages of around 20C (80F). Even if you go during the rainy season (December to March), you can expect sunny days with downpours during the late afternoon or early evening. Our clinics are open throughout the year, so when you go is really up to you.
Can I Trust the Quality of the Care in Bali?
Dental tourism in Bali is both popular and safe. Dental clinics treating international patients offer good-quality services on a par with anything you'd receive at home. The clinics are modern and contemporary, equipped with state-of-the-art technologies and the same materials that your dentist or dental laboratory at home uses are all available in Bali.
You can be certain that internationally recognised procedures and protocols on hygiene and safety are adhered to.
As far as the standards of hygiene and safety are concerned, as with most other trustworthy medical providers throughout the world, Indonesian dental clinics adhere to internationally-recognized protocols, like those of the International Organisation for Standardisation (ISO).
That said, if you are choosing a dentist overseas, it is always best to do some of your own research so you can be confident that you are booking in with a trustworthy clinic. We know this isn't always easy to do when you are overseas… and this is why we at Dental Departures can come to the rescue.
All the dental providers we list on our website have already been pre-screened with a number of background checks that we initiate before we partner with them. Our checks include confirmations of dentist qualifications and any professional memberships; onsite visits and collecting and publishing patient reviews. Our listings also include clinic photos, prices, location maps and other information to help you make an informed choice.
Check out some of the popular facilities in Ubud where you can get top-quality dentures:
● Bali Dental & Implants Centre
How Much Do Dentures Cost in Ubud?
See the table below showing a comparison of the dentures cost in Ubud against prices in your home country:
| | | | | | |
| --- | --- | --- | --- | --- | --- |
| | AUS $ | NZ $ | UK £ | EUR € | US $ |
| Full Acrylic Dentures Prices - at home | 2,400 | 2,500 | 1,400 | 1,600 | 1,800 |
| Full Dentures Prices – Ubud | 675 | 705 | 369 | 424 | 481 |
What Is the Procedure for Dentures? How Long Will I Need to Stay in Ubud?
It usually takes less than a week to get your new dentures in Ubud, but if you have recently had extractions, you will receive a lighter, healing denture rather than your permanent one. So, if you aren't planning to return to Ubud to receive your permanent dentures, our advice is to arrange to have your extractions at least three months before you travel to Bali. This is because your gums will need time to heal, and as they do so they tend to shrink. So, if you get new permanent dentures at that point, it is likely that they won't fit several months down the line.
Whether you need full dentures (for those with no teeth) or partial dentures (with just some missing teeth) the procedure is the same.
You will receive a thorough consultation and examination from the dentist at your first appointment. X-rays, scans or other diagnostic tests are taken and impressions of your mouth, which are sent to the laboratory where your denture is manufactured. Once the dentist receives your dentures from the lab (normally after a few days but sometimes same-day with new available CAD/CAM technologies), you can return to have them fitted. Any minor adjustments are made by the dentist there-and-then. After that, you can get on with the business of enjoying your holiday.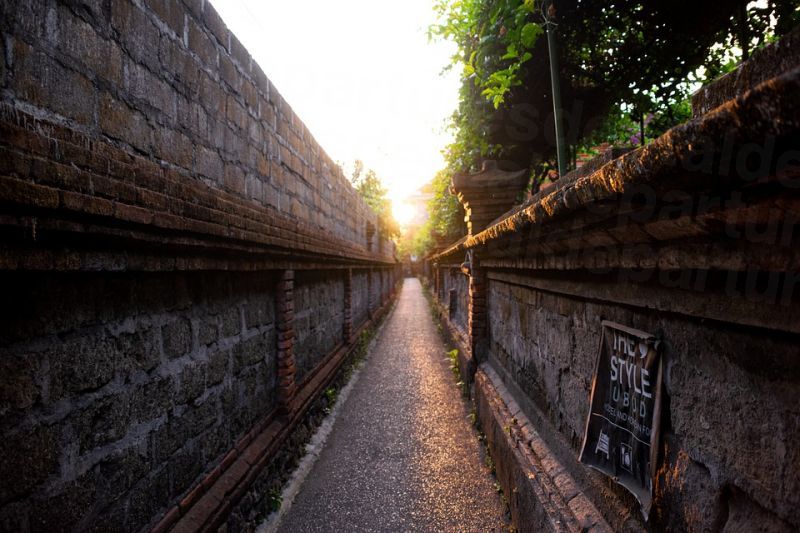 Booking an Appointment for Dentures in Ubud, Bali
Dental Departures' Customer Care Team is on hand to help you with your trip to Ubud for dentures. If you want a free quote, or arrange an appointment—just ask. You can also find out about additional services, including medical complications insurance, hotel bookings or financing packages so all you need to do is arrange your flights. Know which clinic you want to visit already? Then simply book directly on that clinic's page through the Dental Departures' site. There is no charge to you for our services..
Sources :
Bali Guide–Indonesia. Bali. Website accessed 2 February 2019. https://www.bali.com/" target="_blank
Is Healthcare Overseas Safe? Patients Beyond Borders. Website accessed 7 February 2019. https://patientsbeyondborders.com/healthcare-overseas-safe" target="_blank
International Standards Organization. Website accessed: 7 February 2019. https://www.iso.org/about-us.html" target="_blank
Parker, Sid. Removable Full Dentures. Dear Doctor. Website Accessed: 7 February 2019 https://www.deardoctor.com/articles/removable-full-dentures/page3.php" target="_blank
Full Dentures, Partial Dentures, Denture Care—Learn More. Colgate. Website Accessed: 7 February 2019 https://www.colgate.com/en-us/oral-health/cosmetic-dentistry/dentures/full-dentures-partial-dentures-denture-care-learn-more" target="_blank