If you're searching for low-cost, high-quality dentures Spain is a good option. There's nothing like being able to relax and enjoy a holiday knowing that you've saved yourself a fortune into the bargain – and with Dental Departures you will always get the best prices available – guaranteed!
Is Getting a New Denture in Spain a Good Option for Dental Tourists?
Dental tourists will find that most dental procedures are relatively good options to have abroad if saving money is the main priority. Certain groups, like retirees, have to find ever-more ingenious ways of eking out their pensions to make them go further. Thus, if getting new dentures while on holiday saves money it seems the most logical thing to do.
The process takes a number of visits to the dentist, including assessment, measuring up and taking impressions of your mouth which are sent to the lab where your dentures will be milled. It's usually several days before your dentist receives your dentures back from the lab. So, in the meantime, you can relax and enjoy your holiday in fabulous, sunny Spain.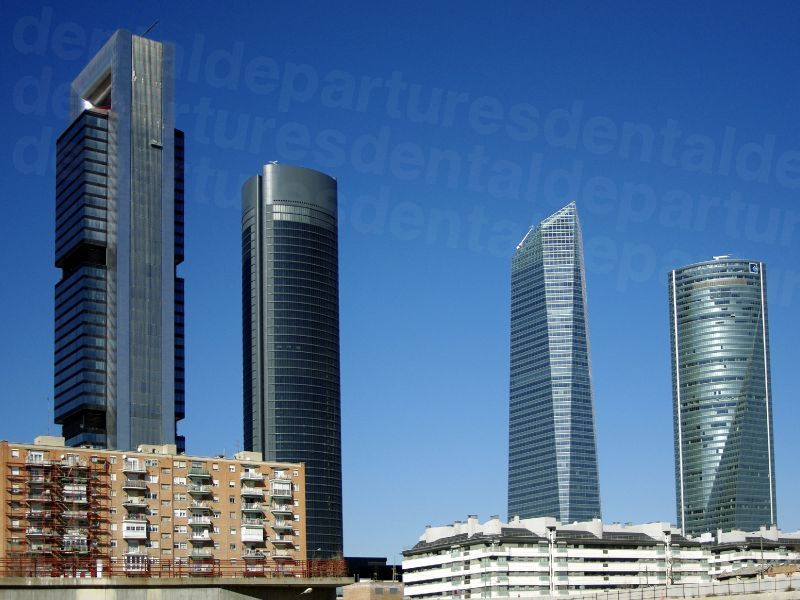 Where in Spain can I get new dentures?
Like other countries offering dental tourism, dental clinics in Spain who offer services to international patients tend to be located in popular tourist resorts. So, you've no need to worry that you will have to venture out into the sticks in order to get your low-cost dentures.
The Spanish Costas, located on the Mediterranean Coast are particularly popular with dental tourists, which comes as no surprise given that it is the most favoured part of the country that British and Irish visitors tend to go to for their holidays.
Here are some of the locations in Spain where we have quality-checked clinics that you might want to consider for your dental holiday:
1: Barcelona – Nart Dental Clinic
Barcelona is unique with awe-inspiring architecture and an identity all of its own. Thanks to the Modernista movement at the beginning of last century that chiefly references the architecture of Antoni Gaudi, the city's distinctive style is kitch, creative, whimsical, dynamic, colourful, rich, mind-boggling, beautiful and utterly compelling.
Gaudi's work has a warmth that many other styles of architecture do not, which is one of the reasons Barcelona is so beloved. Of course, the city is not just a collection of buildings, but if they are the bones of the city then its heart must be its culture. And culturally, Barcelona has it all going on. Urban beaches, first-rate nightlife, amazing shopping and a foodies paradise.
2: Murcia – Velez and Lozano Dental Office
If you want to get off-the-beaten-track a little then Murcia is a good option. The Capital City of the Province of Murcia was originally built by the Moors and for a taste of authentic Spain is worth the trip. Lovely architecture, a stunning cathedral, boutique shopping and some of the best tapas in the make the half-hour drive inland from the Costa Calida coast worth the effort.
3: Malaga – Crooke & Laguna Malaga
The City of Malaga is not necessarily on everyone's list of places to visit. Known for its high-rise buildings and over-development, the city has recently begun to smarten itself up a bit. As a constantly-evolving city it definitely has some plus-points and is worth exploring in its own right. The historic centre has plenty of buildings from centuries past. Moorish architecture, the Alcazaba and the Gibralfaro, can be seen on the hilltops and there is a huge Renaissance cathedral, known as La Manquita (one-armed lady) as one of its towers wasn't built. Largely pedestrianised, the city is perfect for leisurely strolls and for making the most of the open-air bars, restaurants and cafes, of which there are many. Take advantage as he food in the area is mouthwatering. Seafood is plentiful and there is always fresh produce – and the local wine is not too bad at all either.
What about the quality? Can I rely on Spanish dentists?
Yes, of course. Dentists in Spain operate privately. It is in their interests to deliver good-quality care, otherwise, patients have a choice of going elsewhere. This is something of a luxury for many UK patients. NHS dentists are in such short supply that once registered with one it is difficult to go anywhere without having to go on a waiting list, which may leave you in a dental wilderness for several years – unless you pay to be seen privately, where the costs are pretty steep.
One benefit of globalization is standardization, which means that dentist training, health & safety, dental materials and techniques are all reasonably similar, following internationally-recognized standards and protocols. Nevertheless, it is always a good idea to research any prospective dentist abroad and make absolutely certain you are putting your trust in a reliable provider.
Dental Departures helps with this process as all the providers we have listed on our site have been thoroughly vetted by us. We check legal and criminal records, as well as confirm dentist qualifications and professional memberships. Details are included in our listings, as are real patient reviews, maps, clinic photos and prices. The whole process makes choosing a dentist as simple as possible, giving you all the information you need at your fingertips in one place. In fact, we provide other services and do our best to give you a 'one stop shop' to make your dental trip as stress-free as possible.Finance, insurance and accommodation are some of the other things we can help with, and we often have exclusive online deals to save you even more money.
How much do dentures cost in Spain?
One things for sure, dentures prices in Spain are less than half the price you'll pay at home, whether you wear a full or partial denture – and if you usually get your dentures in London then your potential savings are likely to be even greater.
| | | | | | | |
| --- | --- | --- | --- | --- | --- | --- |
| | UK £ | EUR € | US $ | CAN $ | AUS $ | NZ $ |
| Full Dentures Prices at home | 1,171 | 1,398 | 1,500 | 2,026 | 1,988 | 2,560 |
| Full Dentures Prices in Spain | 544 | 650 | 697 | 941 | 924 | 991 |
If you'd like further information about getting your dentures in Spain get in touch with our Customer Care Team. They are always happy to assist you and to answer any questions you have related to getting your dental work abroad, booking an appointment or getting you free quotes.