Last fact-checked: 2 April 2020
Visit a dentist while you're on holiday to maintain dental health and save money. Dental fillings in Split, Croatia cost a fraction of the price at home, so the short time away from your holiday will be well worth it knowing you're taking care of your dental health as well as saving money.
Sure—we know that if you're going on holiday you don't really want to be thinking about going to the dentist. But there are many people that do. Private dental care is so expensive across Europe, and with public national health services unable to cope with demand, thousands are going without the care they need.
Preventive measures, such as regular check-ups with a dentist and treatments like professional teeth cleaning and teeth fillings, are extremely important in maintaining dental health as they provide an early system for identifying problems and treating them.
Why Are Dental Fillings So Important to Dental Health?
As a first-line preventive care dental treatment, dental fillings are a way of preserving teeth that have succumbed to decay. Decay is caused by acid-producing bacteria present in our mouths all the time. The acid they excrete erodes teeth, which is why it is so important to keep your mouth as clean as you can.
Although the most common use of a tooth filling is to fill the resulting cavity in the tooth once the decay is removed, fillings can also be used to repair broken or damaged teeth. They are important in preserving the form and function of your teeth, as well as preventing more serious treatments, such as a root canal.
How Much Do Fillings in Split Cost Compared to the UK and Ireland?
The price of dental fillings in Split is less than a third of the price than at home. Take a look at the table below to compare:
| | | | | | |
| --- | --- | --- | --- | --- | --- |
| | UK £ | EUR € | US $ | AUS $ | NZ $ |
| Dental Fillings Prices at home | 100 | 114 | 130 | 181 | 188 |
| Dental Fillings Prices in Split | 30 | 33 | 37 | 53 | 56 |
What Is the Procedure for a Filling? How Long Will it Take?
A dental filling procedure is typically carried out within minutes, but it may take up to an hour as your dentist will probably want to give your mouth a thorough examination, as well as take some x-rays to help assess the extent of the decay. The dentist will talk you through their findings and the procedure and discuss with you the type of material you would like for the filling. These include:
● Ceramic Fillings. Usually made of porcelain and tooth-coloured, but expensive
● Composite Fillings. Also known as resin fillings, these are a combination of durable materials that are colour-matched to your tooth.
● Metal Fillings. Silver or gold are the most common metals in fillings and are the most durable of all the materials, although their appearance is not to everyone's taste.
● Amalgam. Probably the most common filling material. It is hard-wearing but not aesthetically pleasing to the majority of people. It also contains mercury, which has recently stirred up some safety concerns.
Once the filling material has been agreed upon, a local anaesthetic will be used to numb the area around the tooth being treated. The dentist will begin to remove the decayed matter from the tooth, cleaning the resulting cavity and then applying the filling material. The filling material takes a few minutes to harden, and then your dentist can smooth, shape and polish it to complete the procedure.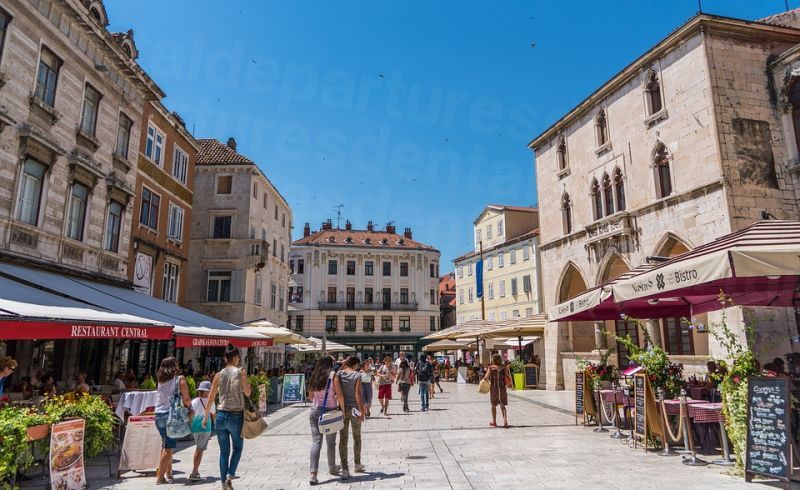 How Do I Find a Reliable Dental Clinic in Split?
You'll find dental clinics in Split are of a high standard, delivering quality clinical care in fully-equipped, modern facilities. Dentists have years of training and are highly-skilled, offering the latest techniques and following well-known hygiene and safety protocols.
Booking your appointment with a dentist in Split through Dental Departures should provide you with the reassurance that you will be seen at a reputable facility. All of the dental providers we partner with have all been pre-screened, which means we review a number of criteria and only list facilities on our website that we're completely happy with.
We carry out legal/criminal checks, verify dentist qualifications, confirm professional memberships and publish real patient reviews. You'll also find clinic photos, location maps and prices on our site so that you really have all the information you need to make a decision that's the right one for you.
Take a look at some of our popular clinics where you can go for your dental fillings in Split:
● Dentech, Dental Centar Radovic
Booking Your Appointment
Contact Dental Departures' Customer Care Team for further information about dental fillings in Split, or any of the other services we provide. You can also book directly online right here at no charge to you, using the options displayed below.
Sources:
Dental Check-Ups. National Health Service. 17 September 2018. https://www.nhs.uk/live-well/healthy-body/dental-check-ups/" target="_blank
Burhenne, Mark. Know Before You Go: Teeth Cleanings. Ask the Dentist. 18 January 2019. https://askthedentist.com/know-before-you-go-teeth-cleanings/" target="_blank
Cavity Fillings: What to Expect, Types & Potential Problems. Crest. Website accessed 10 June 2019.
https://crest.com/en-us/oral-health/conditions/cavities-tooth-decay/cavity-fillings-what-to-expect-types-problems" target="_blank
Bazilchuk, Nancy. Are Mercury Dental Fillings Really That Dangerous? Science Nordic. 22 February 2018.
http://sciencenordic.com/are-mercury-dental-fillings-really-dangerous" target="_blank