Off to Hungary? Discover a world of lower-priced dental care and arrange to get your dental fillings in Budapest . While light dental care may not top of your list of things to do while in Budapest, if you can save around £80 on a tooth-coloured composite filling then why not go for it?
As NHS dentistry continues to collapse , dental tourism is becoming a viable alternative, as those worried about neglecting their dental health find ways of maintaining it without paying through the nose. One way of doing this is by combining dental care with a trip abroad, which for a small amount of time out of your holiday may be the only way you'll be able to get good-quality care that isn't prohibitively expensive.
For families that don't have access to NHS dental care, this may be of particular interest, potentially saving the family purse several hundred pounds, which in these difficult economic times could probably be put to better use elsewhere.
How Much Can I Save on Fillings in Budapest?
UK £

EUR €

US $

CAN $

AUS $

NZ $

Dental Fillings Cost at home

133

158

170

229

225

242

Dental Fillings Cost in

Budapest

50

60

64

86

85

91
Are Dentists in Budapest Reliable?
· Hungary is a member of the European Union, so they follow stringent European-wide regulations on hygiene and safety.
· Hungary has been receiving international patients for centuries—the ancient Greeks and Romans visiting to partake of the thermal spas, which they believed to have medicinal qualities. Hungary is also an established dental tourism centre with Budapest one of the most popular locations.
· Although the clinics in Hungary are generally of high standard, Dental Departures takes the uncertainty out of finding a reputable clinic by running our own background checks on every clinic we partner with. This includes checking legal/criminal records, verifying dentist qualifications and confirming professional memberships. We also publish real patient reviews, clinic photos, prices and maps—so it's easy for you to find all the salient information you need to make an informed decision in one place.
What is the Procedure for Dental Fillings in Budapest? Is It the Same as at Home?
You won't notice any difference in how fillings are performed in Budapest. You'll also find that the same materials your dentist uses at home are available in Budapest. Many more people are now requesting tooth-coloured fillings in either porcelain or composite resin and plastic, as these are much more aesthetically pleasing than the traditional metal filling. There is also controversy over amalgam fillings that consist of mercury, tin, zinc, copper and silver due to the toxic nature of mercury.
The procedure takes only minutes to carry out, although you usually need to wait for the local anaesthetic that the dentist injects into your gum to take effect before the filling treatment commences. Once the gum is numbed, your dentist begins to remove the decay on the tooth. After all the debris has been removed, your tooth is cleaned thoroughly and your filling of choice is applied. The dentist waits a few minutes for the material to harden, then will begin shaping it so that it feels smooth, comfortable and in line with your other teeth.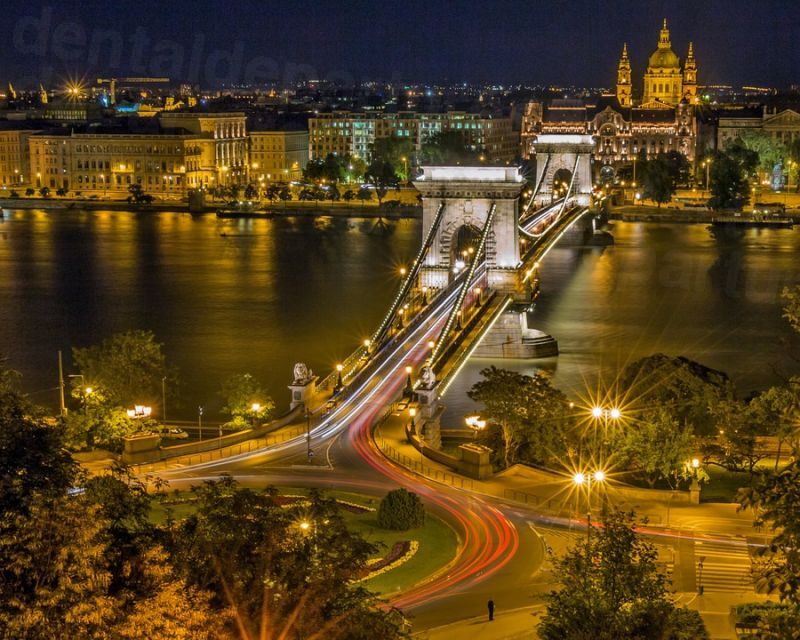 What Is There to Do in Budapest as a Dental Tourist?
The filling treatment won't impact too much on your trip. Except for a few hours after your filling where your mouth is numb and eating may prove difficult, there's no downtime and you can get on with enjoying your holiday.
Like all good cities, you can discover plenty of events and activities throughout the year. The city is vibrant: cultural events, festivals and concerts are part of the fabric of the city. However, the city's architectural and natural attractions are just as much of a draw as the events it offers, particularly to international visitors.
The impressive Buda Castle, on the western side of the Danube, and the winding, narrow streets around Castle Hill are a good place for many to start exploring the city. Terrific views, and watching the world go by from outdoor dining spots are reason enough to make the trek to the top (or there is the funicular railway, if you want to take things easy). Beneath Buda's hills are the natural caves made the thermal waters erupting from deep under the earth. Not for the fainthearted, some have to be negotiated by crawling through.
The thermal waters are a much more relaxing proposition, with spas all over the city, both open air and indoor. Whether summer, spring, winter or fall, you should give at least one of them a try while you're in town.
Over the Danube on the cosmopolitan Pest side of the city, you'll find plenty of interesting places to hang out. From the ornate Franz Liszt Academy of Music (where even if you aren't going to a concert you should take a look inside at the sparkling, crystal chandeliers and stained-glass windows) to the reclaimed Ruin Bars that have sprung up inside old, dilapidated buildings and now offer entertaining social spaces for drinking, chatting and clubbing, the city has so much to offer that you'll be hard-pressed to experience even a fraction of its attractions. Still, not to worry, you can always arrange to go back next year when it's time for you to have your annual dental check up!
Further Information
If you want to arrange an appointment for dental fillings in Budapest, you can book online, or speak to our Customer Care Team. They'll also be happy to discuss dental tourism with you or answer any questions you have about dental care in Budapest.