Last fact-checked: 22 February 2020
Pay only a third of the price for a root canal in Cali, Colombia compared to back home. Make the most of this vibrant Colombian city with the countryside right on your doorstep. Aside from affordable dental care, hiking trails, historical architecture and, of course, the city's famous salsa dancing await all in Cali.
What is a Root Canal? Do I Need One?
A root canal is carried out when the soft pulp in the center of the tooth becomes infected . It requires the removal of the infected material, which includes the nerves from the tooth roots and canals.
There is no alternative to the treatment, so long as you want to keep your tooth. Once the pulp tissue has become infected, root canal treatment is the only option; otherwise, the tooth must be extracted or recurrent infections are likely to occur.
Aside from the often-expensive cost of a root canal, many people seem reluctant to have this treatment as they imagine it to be akin to some sort of medieval torture treatment. This is possibly due to the way root canals are portrayed in Hollywood films—no-one can ever forget Dustin Hoffman's treatment at the hands of a Nazi dentist in the movie Marathon Man.
However, in reality, they are no worse for the patient than a tooth filling. The gum around the infected tooth is numbed, and the patient will not feel anything while the procedure is carried out. The only difference between a filling and root canal (for you as the patient) is that a root canal takes considerably longer.
Is Root Canal Treatment Suitable for Dental Tourists?
A root canal treatment is definitely suitable for dental tourists. The treatment isn't painful and there is no downtime afterward. So, you can get out and about and enjoy your vacation to the full.
What Is the Procedure for a Root Canal?
Although the main procedure is done in one session, you will need to visit the dentist two or three times in total. The exact number may vary depending on whether you have a current infection and whether you will need a crown after the treatment to strengthen the tooth.
Most people usually experience symptoms of pain or swelling before arriving at the dentist, who will then typically confirm that there is an infection and a root canal is needed. A 10-day course of antibiotics will be prescribed to clear the infection up, as the root canal treatment cannot begin until the infection has completely cleared up.
If you are planning to go to Cali for your root canal, then it's worth commencing a course of antibiotics at home before you travel to Cali . This way, your chosen dentist in Cali can commence treatment soon after you've arrived and you will have saved money on accommodations costs in-country.
At your appointment with the dentist in Cali, x-rays will be taken to confirm the infection has cleared up and to confirm how many root canals there are. Potentially, there could be up to six root canals, or there may only be one. Obviously, six will take longer—so you may have to be prepared to spend a good few hours in the dentist's chair.
Local anesthetic is administered before the treatment starts and a rubber dam placed around the tooth to keep it dry. The dentist makes a hole in the top of the tooth to access the pulp chamber and begins the process of removing the infected material from inside the tooth. Once all the debris is removed, the chamber is thoroughly cleansed and a temporary filling put in place.
You will return to the dentist who will replace the temporary filling with a permanent one, providing there is no sign of infection in your tooth. For most people, this will be the end of the treatment. However, if your tooth has had a lot of the structure removed during the root canal treatment, then it may be weakened and require strengthening with a replacement tooth (crown). In this case, impressions of your mouth will need to be taken and sent to a lab where the crown is made. It will be another couple of days before the crown is sent back to your dentist for fitting, or if your clinic has the latest CAD/CAM equipment you can be in and out in a day.
What Are the Prices for Root Canals in Colombia?
For a root canal, including post core and standard crown, the price in Cali is around a third of the price you'd pay at home:
| | | | | | |
| --- | --- | --- | --- | --- | --- |
| Root Canal Cost (inc post core and standard crown) | US $ | CAN $ | UK £ | EUR € | AUS $ |
| Root Canal Cost - home | 2,200 | 3,000 | 1,700 | 1,900 | 3,000 |
| Root Canal Cost - Cali | 650 | 850 | 500 | 570 | 890 |

What About the Quality of Dental Care in Cali? Is it Reliable?
Globalization and cross-border training ensure that standards throughout the world for dentists are very similar. New techniques and technologies are quickly disseminated across the globe and so there's no need to be concerned that the training is somehow inferior. For clinics that treat international patients, it is in their interest to make sure they deliver good quality care. If they don't, patients will soon go elsewhere.
It's always worthwhile to do your research and choose a reliable facility for your dental work, but we know it's not that simple if you are going abroad. This is where Dental Departures comes in. We have carried out our own background checks, assessing the clinics and their facilities, as well as confirming dentist qualifications. Our listings include this data and other information, such as patient reviews, prices and clinic photos to help you decide where to go for your treatment in Cali, Colombia—or dozens of other dental tourism hotspots around the world.
Our clinics in Cali offering root canals include Estetica Dental Avanzada, a modern facility equipped with the latest technologies. It is run by a highly-experienced dentist who is a member of the American Dental Association, and who has trained around the world, including in America, Brazil and Germany.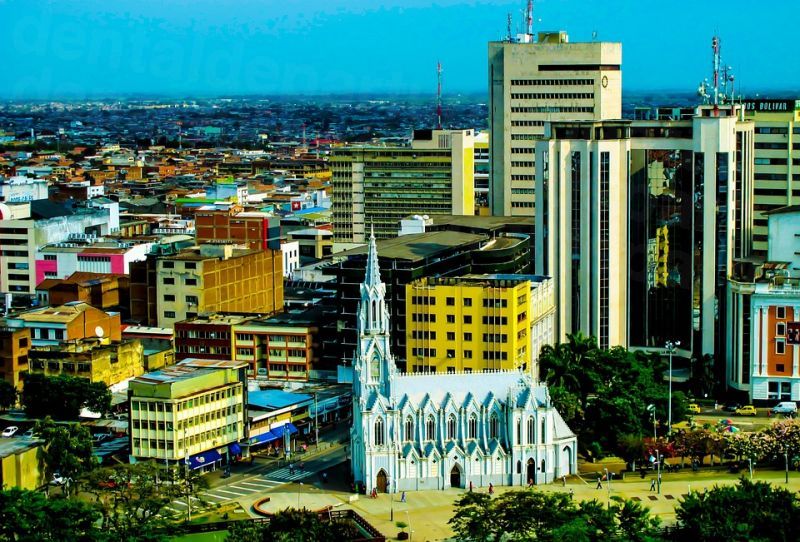 Booking Your Root Canal in Cali
So, you've figured that keeping that infected tooth is a good idea, but you don't want to pay the ever-increasing prices charged at home. For a less expensive root canal in Cali, simply browse our listed clinics and book your appointment online with Dental Departures. If you prefer, our Customer Care Team is more than happy to assist with the booking process, as well as explain our other services, such as dental insurance, hotel bookings or finance.
Sources:
Burhenne, Mark. Understanding the Root Canal. Ask the Dentist. 18 January, 2018. https://askthedentist.com/understanding-the-root-canal/" target="_blank
International Living. Save Thousands As a Medical Tourist in These 5 Countries. Huffington Post. 6 December 2017.
https://www.huffingtonpost.com/internationallivingcom/medical-tourism_b_11573814.html" target="_blank
Stewart, Harry. The Top 10 Things to Do in Cali, Colombia. 7 November 2017. https://theculturetrip.com/south-america/colombia/articles/the-top-10-things-to-see-and-do-in-cali-colombia/" target="_blank
Baker, Michael. Tourism in Cali, Colombia. USA Today. Website accessed: 10 January 2019. https://traveltips.usatoday.com/tourism-cali-colombia-35912.html" target="_blank