Find quality-checked dentists for your root canal in Palma with Dental Departures. With the savings you'll make why not make the most of Mallorca's capital city and combine your dental care with a well-deserved holiday?
Is a Root Canal Treatment Suitable for Dental Tourists?
Pretty much most dental treatments are suitable for dental tourists. The most painful part of a root canal is before you have the treatment when bacteria causes infection deep within the soft tissue of the tooth. The infection has to come out eventually, and typically causes the gum to swell at the base of the tooth. This may be painful, tingly or throbbing and may discharge pus. The sensation is not very pleasant but once you are infection-free and your root canal has been carried out all your problem will be over. Plus, there is no downtime after a root canal—it's no worse than a tooth filling, so once your anaesthetic wears off you can get on with the business of enjoying your holiday.
Do I Need a Root Canal Treatment?
If you want to save your tooth then a root canal is the only option. Infections in the pulp chamber of your tooth are usually caused by tooth decay where the bacteria has penetrated the pulp chamber. Thus, all the infected material has to be removed from the tooth, otherwise you will get recurrent infections—and the only way of ridding the tooth of the infected material is by removing it all, cleansing the inside of the tooth thoroughly, removing all the decay from the tooth and sealing it to prevent bacteria re-entering.
The only other option is to remove the tooth.
What Happens During the Root Canal Procedure?
There are several stages to the procedure, so bear in mind you may need to be in Palma for a couple of weeks, depending on whether infection is present or whether you need a crown to strengthen the tooth after the procedure. If you have seen a dentist in the UK who has said you need a root canal, then you should take the course of antibiotics prescribed and then arrange to travel to Palma to get the treatment when you've finished the antibiotics.
When you see the dentist in Palma at your first appointment, the dentist will take an x-ray to check for signs of infection and also to assess how many tooth roots your tooth has—some only have one, and others three. Also, each root may contain one or two root canals, so potentially your dentist may only have to work on one root canal, or six. Your mouth is then prepared for the procedure. Local anaesthetic is applied to numb the area around the tooth, and a rubber dam placed over the tooth to keep the area dry.
Next, a hole is drilled through the top of the tooth to provide access to the pulp chamber. The dentist then begins the process of removing the infected tissue from the chamber and each separate tooth root. Once that's done, the inside of the tooth is thoroughly cleaned and may be filled with antibiotic medication before the chamber is sealed with a temporary filling. A temporary filling is a precautionary measure to ensure no infection remains before the permanent filling is placed. The permanent filling will be placed several days later, should there be no infection present.
If the structure of your tooth has been compromised substantially because the dentist had to remove a lot of decay, then the tooth may be weak and will need strengthening with a crown. The dentist will take impressions of your mouth to send to the laboratory where your crown will be made. After a few days, when your dentist receives the crown you can go and have it fitted.
However, these days, more clinics are equipped with CAD/CAM (computer-aided design/computer-aided manufacture) whereby the dentist takes images of the inside of your mouth, and these are sent to a computer where your crown can be designed as you sit there. Once finished, the software sends the file to an onsite laboratory where your tooth is milled while you wait, and the dentist can place it there and then.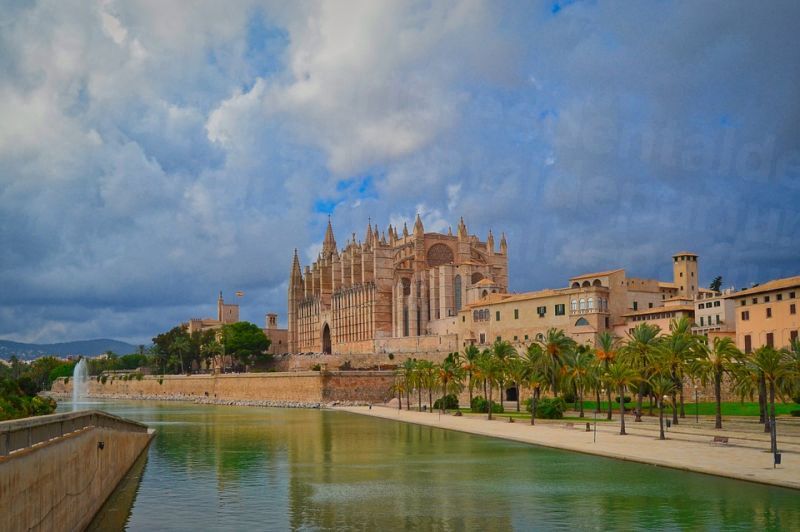 What is the Cost of a Root Canal in Palma?
The cost of a root canal in Palma is around a third of the price you'll pay at home:
| | | | | | |
| --- | --- | --- | --- | --- | --- |
| Root Canal Cost - Molar | UK £ | EUR € | US $ | CAN $ | AUS $ |
| Root Canal Cost - home | 1,054 | 1,258 | 1,350 | 1,822 | 1,790 |
| Root Canal Cost - Palma | 293 | 350 | 375 | 506 | 497 |
Can I Trust the Quality of a Root Canal in Palma?
Root canals are a common treatment, although they do require a skilled dentist to carry them out, so you've no need to worry that the quality of dental care in Palma is inferior to the care at home. As a European Union member state, Spain conforms to European-wide regulations on hygiene and safety. Plus, dentist training in Spain is good and on a par with other European countries. Dentists in Spain are all in private practice, so are in competition with each other. So, it is in all their interests to deliver top-quality services, or else patients will go elsewhere.
It's difficult to know where to start when choosing a dentist abroad, given that you have you probably have no family, friends or neighbours in Palma to ask their advice about good dentists. However, this is how Dental Departures helps. We run a number of background checks, including onsite visits and legal/criminal records. We also corroborate dentist qualifications and professional memberships, publish patient reviews, maps, clinic photographs and prices. All this is freely available to help you make your own informed choice on the dentist that's right for you.
Check out some of our top-quality clinics in Palma:
How Do I Arrange an Appointment for a Root Canal in Palma?
Choose a dentist from our listings and book online, or arrange for a no-obligation quote. You can also speak to our Customer Care Team if you'd like to know more about getting a root canal in Palma, or any other issue about dental tourism—they are always happy to help.