Visit our dentists in Guanacaste who offer the ultimate tropical paradise location for your perfect dental holiday.
Unspoilt shorelines, rugged mountains and verdant jungle wrapped up in long, lazy, summer days with a multitude of things to see and do, if the mood takes you. Visitors flock here for the endless recreational activities, and to explore the exotic and diverse wildlife and geography that typifies the province.
Located in the far northwest of Costa Rica, and bordering Nicaragua, it was once a part of its northern neighbor. Culturally, this region is a little different from the rest of Costa Rica, in part because much of the province has been used for cattle ranching, although it is declining somewhat now as people are eating less beef. Still, the mythical status of the cowboy (sabanero) culture remains – hard-working and free-spirited – which continues to draw international and local visitors alike to the area.
The stunning scenery is part of Guanacaste's appeal, and the beaches do not disappoint. Laid-back and far from the madding crowds, Playa Hermosa is also near several national parks, giving visitors plenty of opportunity for exploring the wildlife of the area. Tamarindo is perhaps the most famous beach here. Its long stretch of white, pristine sand is framed with turquoise waves, which are particularly good for surfing, especially near the mouth of the estuary. The area attracts ecotourists with its varied wildlife, and from November to April Playa Grande beach is host to the leatherback turtles who return here to lay their eggs.
The cowboy vibe is much in evidence throughout the area at ranches, haciendas and rodeos, and anyone with a partiality for the Wild West should head to Liberia, the state Capital. Once a small cowboy town, it is a pretty colonial town with whitewashed buildings, giving it the moniker the 'White City'.
A fun destination, there are ample activities for all ages to enjoy, and it is the perfect antidote to dental treatment.
Where is Guanacaste?
Guanacaste Province is on northwest Costa Rica's Pacific coast and borders Nicaragua.
Why visit a dentist in Guanacaste?
A beautiful part of the world to visit, it is little wonder the amazing scenery, flora and fauna and myriad of activities attracts so many visitors. For North Americans from the United States and Canada it is particularly appealing as the international airport at Liberia brings flights direct to the area, instead of having to fly to San Jose and travel from there.
Standards of dental care in Costa Rica are excellent, and it has been a dental tourism destination for some time now. Dentists are well trained and qualified, and you will find many dentists who treat international patients have trained overseas.
We have dentists in Guanacaste who have trained in the United States, and who are members of the American Dental Association, as well as dentists who are members of other international professional organizations, such as the International Congress of Oral Implantologists.
However, the majority of patients are first attracted to dental care in Guanacaste because of the low prices:
• Average cost of a single dental crown in the US $1,200, At a dentist in Guanacaste only $450
• Average cost of root canal (inc. post/core and crown) US $2,200, At a dentist in Guanacaste around $900
• Average cost of a dental implant in the US $3,900, At a dentist in Guanacaste $1,600
Where to stay?
You will be spoilt for choice on where to stay in Guanacaste. From luxury 5* all inclusive resorts, to boutique hotels to self-catering suites and villas ad prices to suit every budget. Ocean views, in the wilderness or in town – it may be difficult making a decision?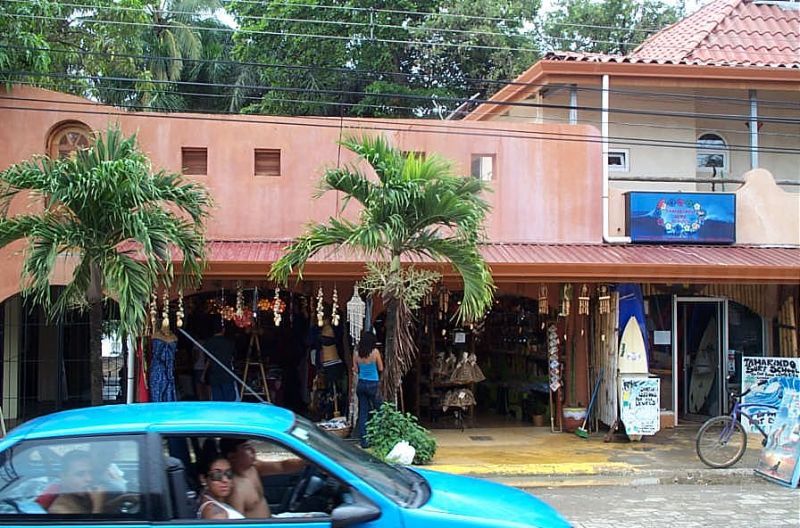 (Image by: Alquiler de Coches)
Is it safe?
There are no US travel advisory warnings for Costa Rica, but just remember that just because you are on holiday, not to leave your common-sense at home. Take care of yourself and your belongings – ocean currents are strong in certain areas and remember to plan any trekking expeditions well – and don't forget that opportunistic thieves operate anywhere so don't leave your possessions unattended at the beach.
Is the quality of care the same as back home?
As long as you book an appointment with a dependable, trustworthy dentist your care should be just as good as it as at home. Although the standards of dental care in Costa Rica are good, you should always do some rudimentary background checks – even if it is just searching online and seeing if you can find any testimonials.
This is an important part of our background checks, alongside criminal and legal record checks, dentist qualifications and professional memberships, and site visits. We publish our findings on our website so that you can see the results for yourself, and we also provide high definition clinic photos and other information you may find useful in order to come to a conclusion about whether a particular dentist or clinic is right for you.
You may be wondering why dentists in Costa Rica cost so much less than your dentist at home if they are providing such good quality services? You may be thinking that the quality of the materials or equipment they use is of inferior quality, but in fact, the same materials, equipment and brands that are available at home are also used by dentists in Costa Rica.
The main reason the prices are significantly lower in Costa Rica is simply because the cost of living is so much less here. So costs such as staff wages, rent, utilities etc are also lower and the savings are passed on to patients.
What happens if something goes wrong? Are there any guarantees or warranties?
Warranties and guarantees are issued by all of our dentists, so you are assured that should there be a problem with your treatment then it will be put right free-of-charge.
Happily, things don't go wrong very often, in part because of the steps we have put in place to ensure our dentists offer services of a good standard. It is important to remember that no matter how good your dentist, things can go wrong with any dental procedure, mainly because our bodies all react and heal to things differently. You can diminish your risk by choosing a reputable dentist with consistent results.
You should also be aware that our dentists warranties only cover the work they do, and not any added travel or accommodation expenses you may sustain as a result of having to return to your dentist. We suggest that for an additional small premium you take out cover for medical complications, and we have got together with a number of insurers who offer this service.
Do I need to speak Spanish?
Most of our dentists speak English very well, so Spanish should not be a necessity. It shouldn't be a problem throughout the rest of Costa Rica either, as many people speak both Spanish and English, particularly so in the tourist areas.
What payment methods are accepted by most dental offices?
US dollars are usually accepted at most places, but our website lists the additional payment methods each clinic accepts. At least one other payment method is usually offered from debit cards, credit cards, bank transfers, traveler checks and personal checks. An additional fee of 3-4% is usually charged for credit card transactions.
Is my US or Canadian Dental Insurance accepted?
Dentists in Guanacaste are unlikely to be part of your insurer's preferred network and so won't be able to bill your insurance company directly. However, if you are covered for out-of-network care then you may be able to reclaim your dentist fees upon your return home. Check with your insurance company if you are unsure and have them send you the appropriate paperwork to bring with you if their response is favorable. One thing is for sure, your insurance money will go a lot further in Costa Rica.
When is the best time to visit one of our dentists?
Save for the usual public holidays, our dentists in Guanacaste are open the whole year round. The weather, too, is good whenever you decide to visit.
Is it handicapped accessible?
Some places are more accessible than others in a wheelchair, but you will always find a friendly, helping hand if you run into difficulties.
Certainly, many of the newer hotels and big resorts are wheelchair-friendly and we can always find a way to get you to one of our dentists who, by the large, have wheelchair-accessible premises.
What is the downside? What should I know about visiting?
Costa Rica is a great place for adventure – whether it's heading out on a trek into the wilderness, or riding the crest of a wave in one of the many surf locations around the country. It's easy to get carried away on holiday, but try and retain a bit of sense – don't embark on a 20K hike if the most you've done in exercise recently is press the remote-control button to turn the TV channel over, and take heed to warnings about riptides and strong ocean currents.
As a dental patient, you should be aware that local anesthetic is the preferred method of pain relief in the country. Most of our dentists will offer sedation dentistry as an additional service, but as the services of an anesthesiologist are required, you will have to book in advance, and it will cost a further $400.
What else is there in Guanacaste?
The beautiful beaches are great for beach bunnies, but out in the countryside there are all sorts of activities for adrenaline junkies, including ATV tours, canopy tours and zip-lining, as well as less perilous activities such as horseriding and hiking. Golfers will also be at home with a number of resorts offering first-class facilities and fantastic ocean views.
Getting back to nature and up close to Costa Rica's wildlife is one of the primary reasons for many visitors to come here. One of the megadiverse countries of the world, you can encounter wildlife on the beaches, in the Ocean and at one of the many national parks in Guanacaste.
Rincon de la Vieja National Park has trails around its mountains and volcanoes, taking in diverse ecosystems, dwarf forests and picturesque waterfalls, and at Santa Rosa National Park visitors can enjoy camping amid the forests and the beaches. The Palo Verde National Park is at the lower end of the Tempisque River, where boat tours can provide fascinating glimpses of all manner of wildlife, including birds, bats, iguanas, crocodiles and monkeys.
For something a little more adventurous, the Corobici River, a few miles north of Canas, is the only river in the area with rapids, Class I and II, if you prefer white-water rafting.
There is so much natural beauty in Guanacaste to appreciate, but the towns and cities also have something to offer. The cobblestone streets of Las Juntas is still used for gold mining and is located around 500 ft above sea level. It's a good stop-off on the way to the Monteverde Biological Reserve or Santa Elena. There is also the Abangares Mines Eco-Museum which is a popular attraction, and, because of Guanacaste's close proximity to Nicaragua, many people take advantage of the organized day trips across the border for some sightseeing, lunch and a spot of shopping.
Getting there – flying in:
Daniel Oduber Quiros International Airport (LIR) is located in Liberia, the state capital.
Distance from Guanacaste's state capital (Liberia) to airport and other places of interest:
• Daniel Oduber Quiros International Airport, Liberia: 8 miles (13 kms), 17 mins
• Canas: 30 miles (48 kms), 52 mins
• Tamarindo: 47 miles (77 kms), 1 hr 20 mins
• Puntarenas: 83 miles (218 kms), 2 hrs 18 mins
• San Jose: 139 miles (229 kms), 3 hrs 23 mins
• Catarina, Nicaragua: 111 miles (179 kms), 2 hrs 30 mins
How do I book an appointment?
Call our toll-free number and speak with one of our Customer Care Team or book your dental appointment online. We also have an online chat facility in operation practically 24/7. Our prices are the best you'll find – guaranteed – so book your dental appointment in Guanacaste with Dental Departures for the best prices, and quality-checked dentists.
(Main Image by: Dog4aday)