Down in the mouth about the state of your teeth? Head to one of our dentists in Puebla to transform your smile and your dental health. This culturally rich and diverse state is one of Mexico's most fascinating with more than enough to see and do while you are getting your teeth fixed.
The state capital, Puebla, was declared a World Heritage Site by UNESCO in 1987. Nestled in central Mexico, under the commanding views of Popocatepetl and Iztaccihuatl volcanoes, Puebla is one of Mexico's oldest cities – its strategic location and pleasant climate making it one of Colonial Mexico's most important.
Merchandise from ships arriving from the Far East would first make their route to Mexico City through Puebla, and characteristics from these other worlds would be reflected in pottery, vases, tiles and even in clothing – Puebla's traditional dress is said to emanate from the legend of China Polana, an Indian princess who arrived as a slave and who designed for herself a dress embroidered with sequins.
One of Puebla's undoubted qualities is its delicious food. Said to be the world's capital of mole, chalupas and chiles en nogada, it could well be the capital of desserts with a long list of delectable offerings that will bring your dentist to tears.
Outside of the Puebla metropolitan area there is still plenty to see throughout the state, with (currently) three Magic Towns, several national parks and wilderness areas, historic archaeological sites and rural community workshops where you can see and purchase hand-crafted paper, glass, silverware, pottery and furniture.
For dental patients looking for an alternative to a beach destination with culture, history and things to see and do Puebla is an excellent choice. Its highland climate means it rarely gets truly hot, and night-time temperatures require additional clothing throughout the year so for sight-seeing it is also more comfortable.
To find out more about dental care in Puebla, read on.
Where is Puebla?
Puebla is in East-Central Mexico, around 1 hr 40 mins drive southeast of Mexico City. It borders Veracruz to the north, Hidalgo, Tlaxcala, Morelos and Mexico to the west and Guerrero and Oaxaca to the south.
Why visit a dentist in Puebla?
The state promotes twelve tourist routes which covers historical buildings up to modern attractions and so there is something to appeal to everyone. Historically, Puebla is fascinating, but it also offers the everyday modern conveniences you would expect, an important point that shouldn't be overlooked, especially for dental patients. Sometimes you may not feel like doing tourist things and to have everything you need on your doorstep is essential.
If you are up to it though, Puebla is a treasure-trove to explore - from the state capital with its fine and impressive Colonial architecture, to Mother Nature's natural wonders, such as the cacti of Zapotitlan, ancient fossils, waterfalls, caverns, springs, lakes and mountains, Puebla has it all.
Puebla's towns and cities may have the feel of the Colonial past about them, but medical and dental services are 21st century, and you'll will certainly get more bang for your bucks here than at home.
• Average cost of a single dental crown in the US $1,200, in Puebla around $400
• Average cost of full set of dentures in the US $1,800, in Puebla around $470
• Average cost of dental implant and crown in the US $3,900, in Nayarit $1,660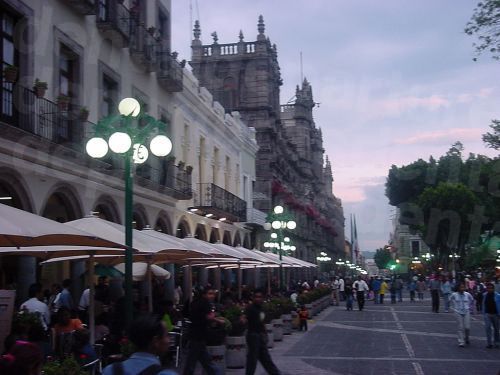 (Image by: Felipe Alfonso Felipe Vasquez)
Where to stay?
There's a great range of accommodation right across the state of Puebla at inexpensive prices. Hotels in Puebla Centro start at around US$20 a night for a double room, while you can get 4* for less than $40. It's a similar story in other areas of interest around Puebla, such as the colorful Chignahuapan or the spring town of Tehuacán.
Is it safe?
Yes. The whole state of Puebla has no US advisory warnings against travel.
Is the quality of care the same as back home?
Dental care in Mexico is just as good as the care you receive back home, as long as you do a little bit of a homework and find a reliable dentist.
Booking through Dental Departures ensures you will find a trustworthy dentist, as we have already performed legal and criminal records checks on our dentists so we know they are safe and dependable. Furthermore, we also list our dentists' qualifications on our website, as well as international organization memberships, so you can judge for yourself whether you think a dentist is suitable.
Along with real patient reviews, high resolution photos and virtual clinic tours we give you as much of a 'look before you book' experience as we can – and if you have any questions you can always speak to one of our friendly and knowledgeable customer care team.
The standards of care, hygiene, materials and technology used by our dentists is definitely on a par with what you would get at home (and in a lot of cases it is much better – especially the customer care).
What happens if something goes wrong? Does my dental care have guarantees or warranties?
Our dentists all offer warranties and guarantees on all of their work, and the materials used, which is not something that is offered as standard by your dentist at home.
Fortunately, things go wrong very rarely, but if they do, at Dental Departures we are committed to getting it put right – and we are perfectly happy to speak to your dentist on your behalf, if you would rather we did so.
Your treatment will be put right free of charge, but you will have to make your own arrangements for accommodation and travel costs. If this is something that worries you then it may be worth taking out insurance to guard against this eventuality, and you will find some insurance providers on our website who offer this type of insurance for a reasonable cost.
Do I need to speak Spanish?
English is spoken widely, if not well, throughout Puebla, but you will find many people willing to practice their English-speaking skills. However, a few words of Spanish always goes down well, if you have some phrases up your sleeve.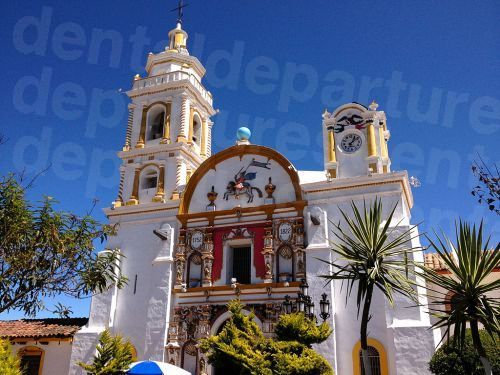 (Image by: Carlos Rafael Sanchez Hidalgo)
What payment methods are accepted by most dental offices?
US dollars are accepted by most dental offices in Puebla. Check out each individual clinic listing on our site to find out their accepted payment methods, such as debit cards, traveler checks, personal checks and bank transfers. If credit cards are accepted they usually incur a small processing fee of between 3 and 4%.
Is my US or Canadian Dental Insurance accepted?
It isn't likely that your dentist in Puebla can bill your insurance company direct. However, if your provider allows for 'out-of-network' expenses then you may be able to reclaim them once you have returned home. Your insurance money pot will certainly go a lot further in Mexico than it will at home. Make sure you get your insurance company to send you the appropriate paperwork to bring with you for your dentist in Puebla to complete.
When is the best time to visit one of our dentists?
Puebla rarely gets unbearably hot and if you are not a heat fiend then the cooler temperatures here may be much more to your liking than some of the hot desert temperatures you will find elsewhere in Mexico.
The dry season is from November to April, and the rainy season from May to October, although most rainfall is in summer and early fall.
Our dentists are open the year round and will be happy to see you whenever you decide to visit.
Is the region handicapped accessible?
Some parts are more wheelchair-friendly than others and so we can't say with certainty that you won't find it easy to navigate everywhere. That said, the historic center of Puebla has wide European style plazas and there are accessible shops, restaurants and other facilities which are easy to negotiate. Similarly, you will find modern hotels reasonably wheelchair-friendly.
If you are at all worried about accessibility please get in touch with us. We will always be able to find a way to get you to see one of our dentists – and many of them do arrange airport or hotel pick-ups as a free service.
What is the downside? What should I know about visiting?
The standard method of pain relief by dentists throughout Mexico is local anesthetic, so if you require sedation dentistry most of our dentists will be able to accommodate this but you will need to arrange it in advance. Please be aware that an additional charge of between $400-$600 will be payable as an anesthesiologist will need to be in attendance.
Dental patients should also be aware that Valium and other prescription anxiety medication is available provided it is booked in advance.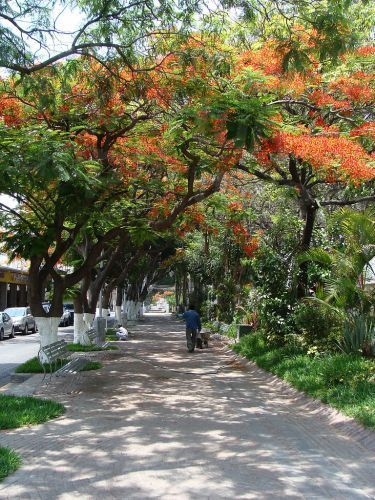 (Image by: kcronos12)
What else is there in Puebla?
As well as the State Capital, Puebla, being on the UNESCO World Heritage Sites list, there are a number of other interesting towns in the area.
La Sierra Norte region, north of the capital is home to three Magic Towns (Pueblos Magicos) – those deemed as having unique natural beauty or cultural or historical relevance – which are all located relatively near to each other in the lush mountains.
Cuetzalan is in the midst of natural sceneries boasting rivers, lakes, mountains, cascading waterfalls and grottos which forms an ethereal backdrop of green mountains cloaked in white mist. The town's locals are one of the few that speak the indigenous Nahuatl language, and at the market on Sunday morning you will find regional crafts, clothing and artistries for sale, as well as locally grown coffee, wine and other culinary treats.
Pahuatlan is one of the few places in Mexico where you will find healers (curanderos). Their ancient spiritualism is called upon to heal spirits and other magical practices and the local witch doctors and shamans often use a traditional parchment that is produced a short drive away up in the mountains. The influence of the various people that have inhabited the town, including the Aztecs and the Spanish, have produced a cuisine that is a fusion of flavours that is not replicated in dishes elsewhere. Onion taquitos, peanut tamales and chicales (ants) are some of Pahuatlan's delicacies.
Zacatlan is one of Mexico's foremost apple producers – and what they can't do with apples is not worth knowing. You can taste dozens of ciders, alcohol, salsas and jams at the four family-owned companies here, who welcome you in, keen to tell you of their traditions and processes.
Other towns, like colorful Chignahuapan, are worth visiting. The vibrantly painted buildings are reminiscent of a box of crayons, and as well as being renowned for its thermal waters, Chignahuapan is Mexico's main producer of Christmas baubles, with more than 200 workshops in the area creating these colorful ornaments all year round.
Flying in?
Puebla's international airport, called Hermanos Serdan International Airport (PBC), is the nearest at around half an hour's drive away.
Distance to State Capital from airports and metropolitan areas:
Hermanos Serdan International Airport: 21 miles (35 km) 35 mins
Cuetzalan: 108 miles (173 km) 2 hrs 30 mins
Pahuatlan: 124 miles (200 km) 2 hrs 45 mins
Zacatlan: 76 miles (123 km) 2 hrs
Apizaco: 31 miles (51 km) 1 hr
Cuernavaca: 95 miles (154 km) 2 hrs
Mexico City: 80 miles (130 km) 1 hr 45 mins
How do I book?
You can book an appointment with one of our Puebla dentists online, by e-mail or via our toll-free phone number. Our services are free to use and you can check out real patient reviews, clinic photos and dentist qualifications on our website. Our Customer Care team are available practically 24/7 so get in touch if you have any questions or need any assistance as we're only too happy to help.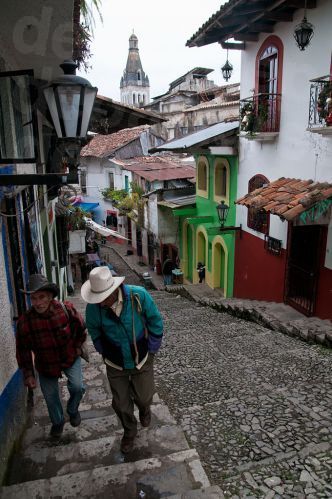 (Image by: Enneas de Troya)
MAIN IMAGE BY: Jflamenco)