Last fact-checked: 17 February 2021
Book an appointment with Dental Departures at a top-rated dentist in Dubai, and look forward to excellent quality dental services you can rely on.
Find out everything you need to know about dental tourism in Dubai, including an overview of the city, which treatments are available, price comparisons, recommended clinics and advice for when you're there with this Dental Departures destination guide.
Dubai—In Brief
Dubai is the most populous city in the United Arab Emirates (UAE). Records on the area of Dubai before the 18th century are rare, although there is evidence that nomadic cattle herders lived in the area, and recent excavations have unearthed a 6th-century caravan station. It was once a major trading centre, with routes supported by pearl diving and fishing to Pakistan, India and China.
Modern-day Dubai began to form after the discovery of oil in the region in 1966; before then, the "city" was comprised of a mere handful of buildings with only one major road running through. It established itself as an autonomous stated after the first shipment of oil in 1969, and in conjunction with six other emirates formed the UAE in 1973. Along with Abu Dhabi, Dubai holds the majority control in the UAE, with the power of veto over matters of national importance, whereas the other emirates only have a vote.
The city has developed rapidly, and is now looked upon as the Hong Kong of the Middle East. It no longer relies on oil for its wealth and has thriving financial and tourist industries, attracting both business and leisure travellers.
Renowned for its contemporary architecture, luxury hotels, expansive shopping and a vibrant nightlife, Dubai's skyscraper-filled skyline is punctuated by the Burj Khalifa, which has been the world's tallest building since 2008.
At its foot is the Dubai Fountain, the world's largest performing fountain, with choreographed water jets, lights and music. This is at the centre of Downtown Dubai with the huge Dubai Mall offering global fashion brands. Adjacent is the chic neighbourhood of Emaar Boulevard where you'll find restaurants, cafes, hotels and other leisure attractions.
Although many visitors are drawn to the luxurious, contemporary side of Dubai, there are still historic old buildings and villages to give you a flavour of the region's traditional way-of-life. The emirate is a great location for a break, with plenty to see and do while you're in town—as well as top-quality dentists you can rely on, whether you want everyday dental care or a complex procedure.
Why Choose Dubai for Dental Care?
A relative newcomer to dental tourism, Dubai's modern and progressive approach has made it an attractive destination for foreign visitors. While dental tourists are typically looking to save money, this isn't normally the only consideration for international patients who choose Dubai, where quality and luxury are just as important.
That said, significant savings on dental procedures can be made here compared to Western countries (as shown in the table further down).
From professional teeth cleaning and dental fillings to cosmetic dentistry and full mouth rehabilitation, there is no shortage of expertise in Dubai to help you and your family achieve the ultimate in dental health, as well as a beautiful smile you can be proud of.
How Much Are Popular Dental Treatments in Dubai?
The table below shows the cost of popular dental treatments in Dubai, compared to at home:
| | | | | | |
| --- | --- | --- | --- | --- | --- |
| | UK Price (£) | UAE Price (£) | Eire Price (€) | UAE Price (€) | Savings |
| All-on-4®treatment concept | 16,000 | 6,500 | 19,000 | 7,500 | 60% |
| Crowns | 1,200 | 600 | 1,500 | 700 | 50% |
| Fillings | 157 | 90 | 190 | 104 | 42% |
| Implants | 3,000 | 700 | 3,600 | 815 | 76% |
| Veneers | 1,000 | 400 | 1,180 | 465 | 60% |
| Dentures | 1,400 | 700 | 1,700 | 820 | 50% |
| Root Canal | 1,000 | 400 | 1,250 | 450 | 60% |
| Whitening | 400 | 300 | 450 | 349 | 25% |
(Note: the prices above are approximate. Please check our current prices for your selected clinic for estimated costs of treatment).
Where to Stay in Dubai?
Dubai is a big city, and unlike other densely populated cities in, say Europe, where the distances between neighbourhoods allow you to walk, this isn't the case in Dubai (plus, walking in +30°C heat is never particularly fun).
The differences between districts in Dubai means you should do your research on where you want to stay. If you want to be near the Marina and beach, i.e., the most popular spots, do bear in mind that if you are staying in the Old City, it is 18 miles (30 km) away, which can take nearly two hours on the metro!
Some of the most popular areas to stay in Dubai include the Marina & Jumeirah Beach, Downtown and the Palm. In these areas, you'll find plenty of luxurious hotels in which to stay with pools, restaurants, bars and more.
Will I be Safe in Dubai?
Dubai is known to be very safe with a low risk of violent crime or crimes targeted at tourists. It is safe to use public transport and to wander around the city during the day and night. Pickpocketing, as in any city, is a risk, but uncommon.
It is worth familiarising yourself with local customs and laws, as public displays of affection, like hugging a member of the opposite sex, can get you in trouble. As a Muslim country, there are relatively strict dress codes, and what might be acceptable elsewhere could well be illegal here—so do be careful. For foreign nationals, there is no need to completely cover up; just be respectful and avoid sleeveless shirts, skimpy dresses, mini-skirts, and short-shorts.
Other safety issues are more to do with your own health and well-being. The sun is very hot here, so do make sure you have adequate sun protection for your skin—and take care if you are swimming in the sea as the currents can be strong.
Is the Quality of Dental Care in Dubai Comparable to Back Home?
Dubai has invested heavily to make the city an attractive destination for overseas visitors. It has a good infrastructure with fantastic services and amenities. Dental and medical tourism has been growing steadily, thanks to the expertise of Dubai's medical staff, luxurious facilities and state-of-the-art technologies, such as computer-aided design/computer-aided manufacture (CAD/CAM).
Many of the city's healthcare professionals have undertaken some of their training overseas, in the United States or Europe. Dubai is a popular location for foreign nationals to work because it is safe, offers a good standard of living, an attractive working environment and often a tax-free income. It is a competitive environment, which means only the best staff are recruited.
Why Book with Dental Departures?
Dental Departures understands how important it is to make sure your treatment is carried out without a hitch. This is why we recommend you only choose medical facilities with a good reputation, which is where we can help. We have years of experience working with medical providers around the world, and only partner with those we trust.
All the facilities listed on our website have been subjected to our background checks. These include onsite visits, investigating legal/criminal records, confirming doctor qualifications and verifying professional memberships. Our listings also include clinic photos, prices, location maps and more to help you make your own fully informed choice of the best clinic for your needs.
Our top-rated clinics in Dubai offering a vast range of dental service to international patients include:
What Happens if Something Goes Wrong? Is My Dental Care Guaranteed in Dubai?
We are all individuals and our bodies react in different ways, thus, no medical or dental procedure can be completely guaranteed, no matter who is carrying it out. However, one of the mitigating factors in obtaining a positive result is to choose a dentist who is reliable and trustworthy.
While all of our dentists are pre-screened, they also offer guarantees and warranties. So, in the highly unlikely event you do experience any issue, the work you have carried out with them is covered. Fortunately, this is an unusual occurrence for our patients, who can return to their dentist in Dubai to have the problem remedied free-of-charge.
If you have had extensive or expensive dental work, you may want to consider medical complications insurance, which will cover any additional travel and accommodation expenses if you have already returned home and need to go back to Dubai to rectify any problems.
What Language Do the Dentists in Dubai Speak?
Arabic is generally spoken in Dubai, although many people speak English, as well as other languages. You shouldn't have any problems communicating with your dentist in Dubai.
What Payment Methods are Accepted in Dubai's Dental Clinics?
The currency across the United Arab Emirates is the Dirham, which you can use to pay in cash at any of our clinics. Most facilities offer a range of payment options, including bank transfers, Visa and Mastercard debit/credit cards and traveller cheques. Check out each individual listing on our site for specific payment information.
When is the Best Time to Visit Dubai?
You can visit one of our dental clinics all year round, but most people visit Dubai in the winter because the temperatures are a little cooler, averaging around 22C (70F) between November and April, rather than 35C (95F) in July and August.
What Else Is There in Dubai?
From dining out to theme parks and shopping to skydiving, there are endless leisure attractions and activities to take advantage of in Dubai.
Rooftop bars and top-class dining options give you ample opportunity to gaze at magnificent views of the city, as well as enjoying world-class cuisine from around the globe. Districts, such as Creekside offer dining and shopping on the waterfront, with souks lining both sides of Dubai Creek where you can shop for fabric, jewelry and precious stones.
The Global Village is another place for shoppers and other attractions. It is part funfair, part market and has over 100 themed kiosks with food from around the world, as well as stalls, shows and performances held on a large stage on the weekends.
Theme parks in Dubai include Aquaventure Waterpark where you can feed stingrays, swim with dolphins and hurtle down the Leap of Faith glass tunnel, taking you through shark-infested waters.
Another option is Motiongate, which features attractions and rides themed on movies, or the IMG World of Adventure, which is the biggest indoor theme park in the world and has high-velocity rides, including the Velociraptor roller coaster and the Predator vertical drop.
Head to Kite Beach to relax in the sun, or take part in beach activities, such as volleyball and water sports. There's also an inflatable assault course on the sea, if you have the energy. La Mer is a sprawling new development at Jumeirah Beach where you can shop, dine, drink, enjoy a movie or frolic in a waterpark.
Away from the skyscrapers and new developments, just 25 minutes from the city centre are the bougainvillea-clad, narrow-laned streets of Bastakiya, the 'Old Dubai', which is now an up-and-coming artistic quarter, and a great spot to wander around exploring galleries. You can also take tours to explore traditional desert camps to see how life was in Dubai, before the oil boom.
Dubai offers visitors a huge array of options for leisure, so you won't be stuck for things to do in between your visits to the dentist.
Getting to Dubai
Flights take around seven hours from major cities around the UK and Eire. It is also a popular location for package deals and short-breaks so do check online travel agents for some good deals.
Getting Around Dubai
Car hire is available, but Dubai's traffic during rush hour is notoriously bad, so most people opt to get around the city via the tram and metro, or in a taxi.
Dubai Visa Requirements
British, Irish, American, Canadian, Australia and New Zealanders can obtain a tourist visa for the UAE on arrival for stays up to 30 days.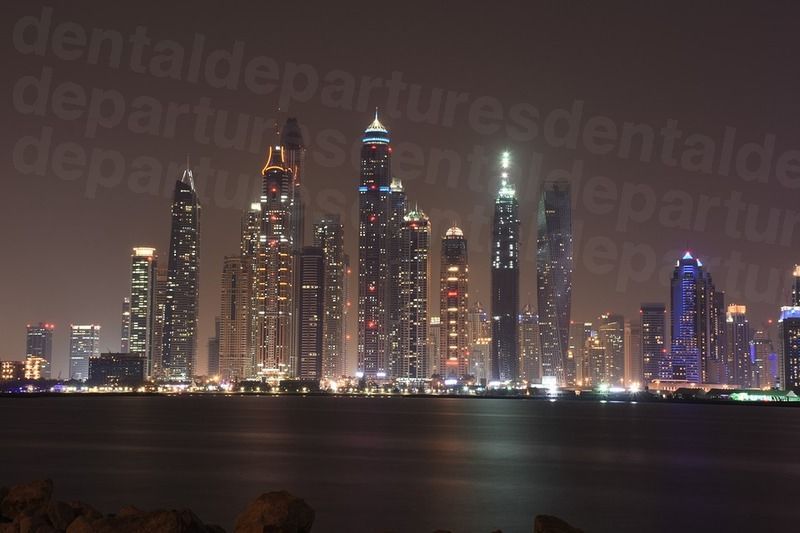 Distance from Downtown Dubai to Other Tourist Destinations:
● Bastakiya, 5 miles (9 km)
● Jumeirah Beach, 5 miles (9 km)
● Kite Beach, 7 miles (12 km)
● Dubai Creek, 8 miles (13 km)
● Dubai International Airport, 11 miles (18 km)
● Global Village, 16 miles (27 miles)
● Abu Dhabi, 86 miles (139 km)
How Do I Book My Dental Appointment in Dubai?
Choose your Dubai dentist with Dental Departures. Connect with our Customer Care Team for a free quote or ask about finance, hotel bookings or insurance.
You can book your appointment online, any time of the day or night, at no charge to you.
Sources:
Dental Check-Ups. NHS. 17 September 2018. https://www.nhs.uk/live-well/healthy-body/dental-check-ups/
Burhenne, Mark. Does a Teeth Cleaning Hurt? What Should You Expect? Ask the Dentist. 30 August 2019. https://askthedentist.com/know-before-you-go-teeth-cleanings/
Higuera, Valencia. Tooth Cavities. Healthline. 15 November 2017. https://www.healthline.com/health/dental-oral-health-cavities
Cosmetic Treatment. Oral Health Foundation. Website accessed: 17 February 2021. https://www.dentalhealth.org/cosmetic-treatment
Plush, Hazel. 15 Extraordinary Things You Can Do in the United Arab Emirates. 20 June 2018. https://www.wanderlust.co.uk/content/things-to-do-uae/
Getting Around United Arab Emirates. Website accessed: 17 February 2021. https://www.worldtravelguide.net/guides/middle-east/united-arab-emirates/getting-around/
UAE Visa Information. Emirates. Website accessed: 17 February 2021. https://www.emirates.com/english/before-you-fly/visa-passport-information/uae-visas/