Last fact-checked: 15 March 2020
For a dramatically improved smile at unbelievably low prices, dental tourism is really the only way to go. As well as attracting regular visitors, Colombia is one of the rising stars in the world at the moment for both medical and dental tourism. Below, we guide you through the process of having dental veneers in Medellin, Colombia.
Veneers are an extremely effective and simple dental procedure that will give your smile a new lease of life. For example, if your teeth are damaged with chips or cracks, discolored or misshapen, then a veneer can be attached to the front of the offending tooth, thus hiding the ugly sight behind.
If you look after them, they should last for 15 years or more before they need replacing. For those considering this as an option, it's worth doing some research on veneers beforehand to see if they suit your particular circumstances. You're probably aware that many celebrities have transformed their teeth with veneers —which will give you an idea of what can be achieved with this simple cosmetic dentistry treatment.
What is the Procedure for Dental Veneers?
The procedure for dental veneers is relatively straightforward, typically requiring two trips to the dentist—the first for an examination, consultation and treatment plan, and the second to have the veneers applied.
1: Examination, Consultation, and Treatment Plan
You will need to explain to your dentist what you are trying to achieve. For example, perhaps you have a tooth that is stained, or maybe you feel your smile is ruined because your teeth are crooked. The dentist will perform a complete oral examination to see whether your dental health is generally good as you can't cover decaying teeth with veneers, and also to check that the veneers are suitable for your particular problem. X-rays may be taken.
Next, the tooth or teeth receiving the veneers are prepared. This involves shaving a sliver of enamel from the front surface of the tooth. This is so the veneer will fit flush against your other teeth. Impressions are then made of your mouth, which are sent to a laboratory where your veneers are made to measure.
2: Fitting of Veneers
Once your dentist has received the veneers from the laboratory, it's time to go back to have them fitted. The dentist first checks the veneer(s) for fit and color by placing them on the teeth. They may need trimming slightly and so this process may be repeated several times until your dentist is satisfied. After that, the tooth will be cleaned and the front roughened a little to make for a strong bone. A special adhesive is placed on the tooth, which is activated by a light beam that causes the chemicals in the cement to hardens onto the tooth. Finally, the dentist will do a quick cleanup to remove any adhesive.
What Are Same-Day Veneers?
Same-Day Veneers are offered by some dental clinics that have CAD/CAM (computer-aided design/computer-aided manufacture). Essentially, this digital technology is able to produce images of your mouth that can be viewed on a computer. New software innovations allow the dentist or technician to design and edit your veneers on the screen in front of you. Once you are both happy, the files are sent to an onsite laboratory, where a machine will mill your veneers while you wait. This way, your veneers can be attached on the same day by your dentist.
Why Is Medellin a Good Place to Get Veneers as a Dental Tourist?
Dentists in Colombia are well-trained and have excellent skills that are comparable to your dentist at home.
The clinics you'll find listed with Dental Departures have all been background checked by us. These include onsite visits and searches on criminal/legal records. We also confirm professional memberships and dentist qualifications, as well as collate real patient reviews which are published on our site along with maps, prices and clinic photos.
There is no easy way to assess credibility, but by looking at a number of quality-indicators, like we do, you can get a good idea as to whether everything stacks up.
Clinics in Medellin you may want to take a further look at for your veneers:
Dental tourism is certainly on the up to Colombia, particularly as more people start to look for cheaper alternatives to the high prices at home. Columbia provides the opportunity to combine dental care with a vacation without having to endure a long-haul flight if you're based in the US.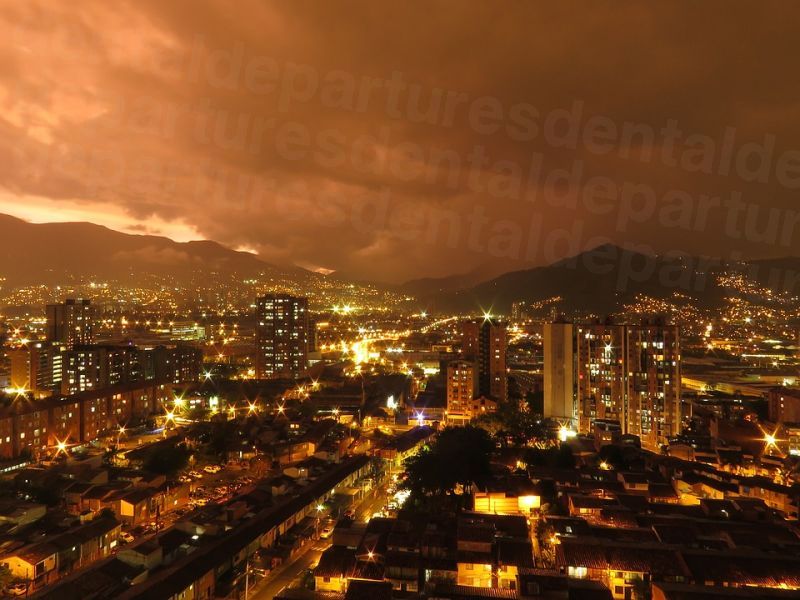 What is the Price of Dental Veneers in Medellin?
You can save a huge amount on the cost of just one veneer in Medellin. In fact, you can get four veneers in Medellin for less than the price of one at home—which is great news if you are looking to improve your smile with a row of veneers. Furthermore, booking with Dental Departures guarantees you the best prices available anywhere online.
| | | | | | |
| --- | --- | --- | --- | --- | --- |
| | US $ | CAN $ | UK £ | EUR € | AUS $ |
| Dental Veneers at home - Cost | 1,871 | 2,525 | 1,461 | 1,745 | 2,480 |
| Dental Veneers in Medellin - Cost | 420 | 556 | 326 | 368 | 585 |
What Is There to See and Do in Medellin?
The city is very much one of Colombia's modern-day success stories, with the travel media constantly praising its innovation, green credentials and hip and happening neighborhoods. If green spaces are your thing, there are umpteen parks across town, including the Barefoot Park, Plaza Botero, the Botanical Gardens and Parque Arvi—one of the region's largest nature reserves.
For more of an adrenaline rush, hire a mountain bike or ATV and take to the hills, or try paragliding over the countryside surrounding Medellin. For something more sedate there's also incredible views from the cable cars that crisscross the city—which also make it easy to get around. Like any other city worth its salt, you'll find great restaurants, bars and nightlife, as well as hotels to suit all preferences and budgets.
Medellin might be lacking in big landmarks but it's definitely an enjoyable, exciting city that should be on your travel shortlist.
How Do I Book Veneers in Medellin?
That's easy: just contact Dental Departures' Customer Care Team to book an appointment at any clinic listed on our site. They can also provide more information about veneers in Medellin and provide a free, no-obligation quote. Or you can schedule your appointment online directly on our site any time of the day or night, at no charge to you.
Sources:
Dental Health and Veneers. Web MD. Website accessed: 10 January 2019.
https://www.webmd.com/oral-health/guide/veneers#1" target="_blank
Cardellino, Carly. Important! 23 Things You Need to Know Before Getting Veneers. Cosmopolitan. 4 December 2018.
https://www.cosmopolitan.com/style-beauty/beauty/a13051650/what-are-veneers/" target="_blank
Hughes, Lauren. The Most Amazing Celebrity Teeth Transformations. Woman Magazine. 20 September 2017.
https://www.womanmagazine.co.uk/celebrity/celebrity-teeth-before-and-after-teeth-transformation-veneers-before-and-after-65743" target="_blank