Last fact-checked: 5 April 2020
Improve your smile for less with dental veneers in Split, Croatia. If you're longing for that Hollywood Smile but have never been able to afford it at home, you may be surprised to learn that you can save 80% on the cost of veneers in this fabulous holiday destination.
If ever you needed a good excuse to go on a money-saving holiday, this is it!
How Much Do Dental Veneers Cost in Split?
Compare the price of dental veneers in Split with your home country in the table below:
| | | | | | |
| --- | --- | --- | --- | --- | --- |
| | UK £ | EUR € | AUS $ | NZ $ | US $ |
| Dental Veneers Prices at home | 1,461 | 1,745 | 2,480 | 2,583 | 1,871 |
| Dental Veneers Prices in Split | 290 | 323 | 520 | 547 | 362 |
Note: the prices above are approximate. Please check our current prices for your selected clinic for estimated costs of treatment.
How Will Dental Veneers Help My Smile?
Dental veneers are purely a cosmetic dentistry treatment and can help transform your smile by disguising unsightly teeth. A veneer is essentially a thin slice of hard-wearing material attached to the front of the offending tooth (or teeth). They look just like your own teeth (only better, of course!) and can be used to correct:
● Gaps between teeth
● Crooked teeth
● Misshapen teeth
● Chipped, cracked or damaged teeth
● Discoloured teeth
Another problem that dental veneers can help with is with crooked or mishapened teeth. Although treatment doesn't actually straighten the teeth like orthodontic (braces) would, a row of veneers can improve the look from the front, making your smile appear straight and even. This is a popular treatment for many people who don't want to undergo the time, expense or embarrassment of having to wear braces for several years to straighten their teeth.
It is particularly beloved of celebrities, and you'll find plenty of examples online of celebs (like Tom Cruise) whose veneers really have improved their smile beyond recognition.
Am I a Suitable Candidate for Dental Veneers?
First and foremost, suitable candidates must have good oral health. This means both teeth and gums should be in tip-top condition; otherwise, you will be letting yourself in for a whole world of problems which will result in your veneers failing and your dental health deteriorating. Veneers adhere to your tooth enamel, so you will need to have sufficient layers of it because the top layer will be removed to accommodate the veneer so it is flush with your other teeth.
If you grind or clench your teeth, habitually crunch ice or even chew your nails these could all be potential problems if you have veneers leading to chips, fractures or your veneers falling off.
You must be fastidious when it comes to your dental hygiene regime, and this means keeping your teeth and mouth clean and healthy. With the appropriate care, your veneers can last for years.
What Is the Procedure for Dental Veneers?
The dental veneers procedure will usually take two or three visits to the dentist and entails:
1: Consultation, Examination and Treatment Planning. The dentist will first examine your mouth to assess your dental health and discuss your goals as well as the pros and cons of dental veneers. If you are both happy it's the right treatment for you, the next step is to prepare the teeth that will be receiving the veneers.
2: Teeth Preparation. The dentist will remove a tiny sliver of enamel from the front of the tooth (or teeth) where veneers are to be placed. Impressions will then be made of your teeth and sent to an external laboratory where veneers are made-to-measure to fit onto your teeth.
3: Veneers Placement. Once your dentist receives your new veneers from the lab, it's time to go back to have them fitted. They will check each veneer against the appropriate tooth for colour and fit. Your dentist will do any minor trimming (if required) before attaching the veneers. Next, the teeth are cleaned, polished and the surface roughed up a little to create a good surface for the veneers to bond to. A special light-activated adhesive is applied and the veneers put in place. Finally, the light is applied which hardens the adhesive, firmly fixing the veneers to the teeth.
Can I Trust the Quality of Veneers in Split?
Generally, the dental clinics in Split provide excellent quality services, and international patients are no exception. Up-to-date technologies, such as 3D/CT scanning, digital x-rays and CAD/CAM technology are widely available and the best Croatian dentists have qualifications on a par with your dentist at home.
However, it is always worth doing some research to ensure you go to a reputable clinic. As this isn't always easy to do for a clinic overseas, we have already carried out our own research. Thus, you'll find that every clinic listed on our website has been pre-screened so that dentist qualifications, professional memberships and patient reviews have been verified. We also do onsite visits and examine legal/criminal records. If there's something we don't like, we simply do not list that facility on our site. Our listings also include other useful information such as clinic photos, prices, location maps and more, to make it easy for you to choose your ideal facility.
Check out our popular clinics in Split for your dental veneers:
● Dentech, Dental Centar Radovic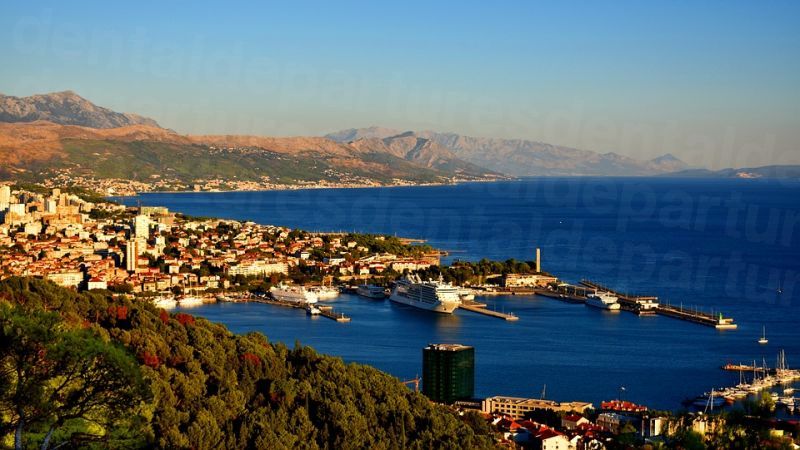 Booking Your Appointment in Split
Get in touch with Dental Departures' Customer Care Team to obtain a free quote, book an appointment or find out more about dental veneers in Split. We also offer a number of online booking options displayed below. You can schedule your appointment online at any time of the day or night, at no charge to you. We look forward to hearing from you soon!
Sources:
Auger, Steve. How Do Veneers Work? Colgate Oral Care Center. Website accessed: 19 June 2019. https://www.colgate.com/en-us/oral-health/cosmetic-dentistry/veneers/how-do-veneers-work-0515" target="_blank
Hughes, Lauren. The Most Amazing Celebrity Teeth Transformations. Woman Magazine. 20 September 2017. https://www.womanmagazine.co.uk/celebrity/celebrity-teeth-before-and-after-teeth-transformation-veneers-before-and-after-65743" target="_blank
Dental Health and Veneers. Web MD. Website accessed 16 February 2019. https://www.webmd.com/oral-health/guide/veneers#1" target="_blank
Cardellino, Carly. Important! 23 Things You Need to Know Before Getting Veneers. Cosmopolitan. 4 December 2018. https://www.cosmopolitan.com/style-beauty/beauty/a13051650/what-are-veneers/Cosmopolitan" target="_blank