Last fact-checked: 7 March 2020
Off on holiday to Bali? Bring back your brilliant smile with teeth whitening in Ubud. Book in with Dental Departures for guaranteed best prices and quality-checked clinics.
Why Is Teeth Whitening a Good Treatment for Dental Tourists?
● It's quick. We know you don't want to waste a moment of your holiday. Laser teeth whitening treatment at a dentist's office in Ubud will be over in less than a couple of hours, allowing you to resume your holiday in Bali the same day.
● It's highly effective. If you want a noticeable difference to your smile, this is the treatment to have. It can whiten your teeth by up to 14 shades, giving you a dazzling smile that will take years off your age. Yes— whiter teeth do make you look more youthful.
● There is very little downtime after the treatment. Although some people do experience increased tooth sensitivity for a day or two after.
● You'll save a few hundred bucks in Ubud compared to the dental clinics at home (as we look at below)
How Much Does Laser Teeth Whitening Cost in Ubud?
Compare the prices for teeth whitening in Ubud to the cost at home:
| | | | | | |
| --- | --- | --- | --- | --- | --- |
| | AUS $ | NZ $ | UK £ | EUR € | US $ |
| Laser Teeth whitening price – home | 667 | 695 | 387 | 462 | 496 |
| Laser Teeth whitening price – Ubud | 370 | 385 | 200 | 230 | 263 |
Is Laser Teeth Whitening Suitable for Everyone?
Laser teeth whitening is a safe treatment for most people, but if you don't have good dental health then you could be creating more unwanted problems. Gum disease and tooth decay are important to look out for here; the bleaching agents used in the treatment may cause irritation, increased sensitivity and even pain for patients with preexisting problems like these.
We tend to think of teeth whitening as a purely cosmetic procedure that is entirely safe, but this is not the case. It is a medical procedure, and all medical procedures come with a degree of risk. It's also worth noting that excessive use of over-the-counter whitening products can also cause damage to the enamel of the teeth; thus it's always best to consult a dentist for your teeth whitening.
Teeth whitening works on external stains caused by cigarettes, red wine, tea and coffee. It will not work on dental restorations, such as crowns, bridges or dentures, or if you have staining on your teeth due to antibiotics.
What About Other Teeth Whitening Treatments?
Other teeth whitening treatments are available from dental clinics in Ubud in the form of an at-home whitening kit. The results aren't as dramatic as laser teeth whitening but the at-home kits will whiten your teeth by several shades and the results are likely to be more effective than over-the-counter remedies.
What About the Quality Teeth Whitening in Ubud?
Dental tourism in Ubud is popular, particularly for treatments like teeth whitening. Clinics that cater to international visitors tend to have internationally-trained dentists who have a good command of the English language. It is in their interest to provide good-quality to ensure that international clients keep coming back. Thus, clinics offer contemporary facilities and the latest technologies, internationally-renowned brands and materials are all in use. Laser teeth whitening systems that your dentist at home uses, including BriteSmile® and Zoom!® are available in Bali.
That said, it is always worth your while doing your own research when choosing a dentist (and that goes for at home as well as abroad). We get that it is a little more difficult overseas given that you don't have access to recommendations from family, friends or neighbours. However, Dental Departures helps out on this issue.
All of the dental providers listed with us have all been pre-screened. We do our own verifications and background checks, as well as onsite visits. Our listings include details of dentist qualifications; their professional memberships; clinic photos, location maps and prices—all designed to help you make an informed decision about your choice of dentist.
Take a look at our popular clinics in Ubud for teeth whitening:
● Maitri Medical
● Puri Medical Dental Clinic (Ubud)
What Is the Procedure for Teeth Whitening in Ubud?
Laser Teeth Whitening: If you are going for laser teeth whitening, the procedure will take a couple of hours. A shade chart is used to assess the current shade of your teeth and the treatment begins by the dentist cleaning your teeth to remove any stains and tartar. Next, the soft tissues in your mouth will be protected by a rubber dam which is placed around the teeth so that the bleaching gel does not come into contact with your gums or tongue. You will also be given protective eyewear to shield your eyes from the laser.
The bleaching gel is applied to your teeth and the laser beam directed at your teeth to activate the whitening agents in the gel. At this point, depending on what system your dentist is using, the procedure may differ. Some systems require only one application of gel and laser, with the gel being left on the teeth for 45 minutes. Others require several applications, for example, the gel may be left on for 15 minutes before being removed and new gel reapplied twice more. Expect no difference in terms of the outcome—the system used is purely down to your dentist's preference.
After the final application, your teeth will be thoroughly cleaned by the dentist. Once completed, the shade chart will be used to show how many shades lighter your teeth have become.
At-Home Whitening Kits: If you want an at-home whitening kit, you will need to visit the dentist twice. During the first visit, impressions are taken of your mouth. These are sent to a laboratory where trays that fit over your teeth are custom-made. These trays hold the whitening gel and are designed to be worn overnight, typically for a period of two weeks, or until the required degree of whiteness is achieved. You will need to go back to pick them up—and the gel—from your dentist, who will check they fit and demonstrate how to use them. You can obtain more bleaching gel from your dentist at home if you want to enhance the degree of whitening from time-to-time.
The Bottom Line
Ubud is a relaxed, chilled-out environment for a holiday with plenty of cultural sights to see, as well as amazing scenery. It is also the ideal environment for health, wellness and alternative therapies. From yoga to spas and traditional healing methods it's all about looking and feeling good from the inside and out.
Teeth whitening is one of the easiest cosmetic procedures available that can really transform your overall look, so prep your smile up and give yourself a real boost.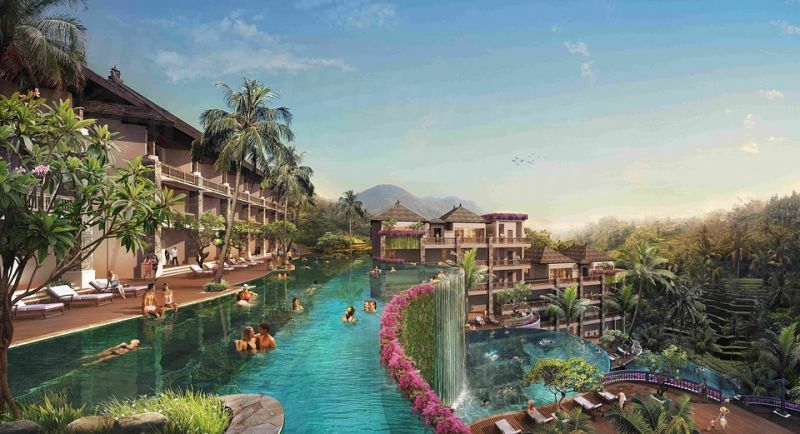 Book Teeth Whitening with Dental Departures
To find out more, or to book an appointment for your teeth whitening in Ubud, contact Dental Departures' Customer Care Team who are available around the clock to assist you. Or you can schedule your appointment online with us today. There is never a charge to you for our services. You can also find other booking options below.
Sources:
Amos, Heather. Teeth Whitening Can Cause Permanent Damage: UBC Prof. University of British Columbia. 6 January 2016 https://news.ubc.ca/2016/01/06/teeth-whitening-can-cause-permanent-damage-ubc-prof/" target="_blank .
Fletcher, Becky. Teeth whitening: the Facts. Netdoctor. 7 November 2018. https://www.netdoctor.co.uk/beauty/dental/a29127/teeth-whitening-dentist-recommendation/" target="_blank
Burhenne, Mark. Do Tetracycline Antibiotics Stain Your Teeth? Ask the Dentist. 18 January 2019. https://askthedentist.com/do-tetracycline-antibiotics-stain-your-teeth-yellow/" target="_blank
Elward, Terry. A Bali Breather: Your Guide to a Healthy Ubud Getaway. Forbes Travel Guide. 9 October 2018. https://stories.forbestravelguide.com/a-bali-breather-your-guide-to-a-healthy-ubud-getaway" target="_blank
Jones, Annabel. The teeth-tweakments that will make you look instantly younger. The Telegraph. 3 December 2016. https://www.telegraph.co.uk/beauty/face/teeth-tweakments-will-make-look-instantly-younger /
Waldron, Ryder DDS. Considering Laser Dentistry Certification? Here's What You Should Know. Colgate Talks. 4 February 2019. https://www.colgatetalks.com/laser-dentistry-certification/" target="_blank