If you're looking to rejuvenate your smile you don't need to pay a king's ransom for teeth whitening in Marbella . If you are heading out for a holiday, then take a few hours out to visit one of our quality-checked dental clinics and accentuate your tan with a dazzling smile!
Marbella may be the resort of the rich and famous but there are still bargains to be had on dental care—and why pay more when you don't need to? Teeth whitening is one of the most effective beauty treatments around, as your smile is one of the first things people notice about you. So do something about those yellowing teeth, look years younger and get that smile back!
While you can find plenty of so-called off-the-shelf teeth whitening products on the market, most do not achieve the results you get at the dentist. Dental clinics offer laser teeth whitening, which provides the most noticeable difference to the colour of your teeth. Clinics can also provide you at-home whitening kits that you apply at night.
While at-home kits are not as effective as laser teeth whitening, they whiten better and last longer than over-the-counter products. In fact, many people opt to use at-home whitening kits after they've had laser teeth whitening. If you're going to the dentist for laser teeth whitening you may want to get the at-home kit too. The gel can be purchased from any dentist, you can top-up with more after you have returned home.
What is the Cost of Teeth Whitening in Marbella?
Most teeth whitening treatments in Marbella are around 50% cheaper than at home. Take a look at the laser teeth whitening prices in the table below:
| | | | | | | |
| --- | --- | --- | --- | --- | --- | --- |
| | UK £ | EUR € | US $ | CAN $ | AUS $ | NZ $ |
| Laser Teeth whitening cost – home | 387 | 462 | 496 | 669 | 667 | 705 |
| Laser Teeth whitening cost – Marbella | 209 | 250 | 268 | 362 | 355 | 381 |
You can get the laser teeth whitening treatment and the at-home kit for less than the price of just laser teeth whitening at home.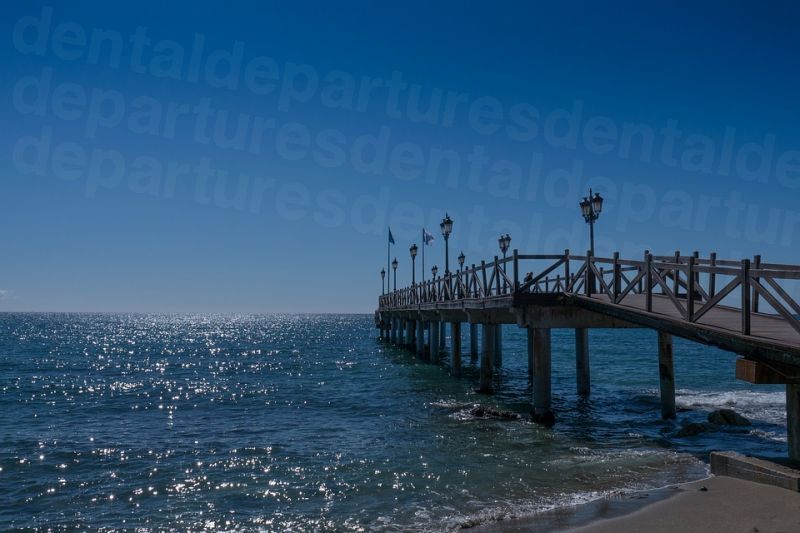 Is Laser Teeth Whitening a Good Treatment for Dental Tourists?
Many dental treatments can easily be carried out on the road, but if you are on holiday, you may not want to spend lots of your precious time at the dentist. This is why laser teeth whitening is a good treatment. The procedure only takes a couple of hours. For that time in the chair, you gain a bright, white smile that really does enhance your looks in a big way.
Furthermore, you will experience little downtime with laser teeth whitening. You won't be in pain or suffering with a tender mouth afterwards, although some people report teeth sensitivity after the treatment, which soon settles down.
Am I Suitable for Teeth Whitening?
Your dentist will let you know if you are a candidate. If you have dental health problems, like cavities, gum recession or gum disease then it's unlikely that laser teeth whitening will work for you. The treatment may cause further damage, and you may experience gum sensitivity. Thus, you will need to get any problems treated before you undergo cosmetic dentistry treatments.
Also, laser teeth whitening does not remove all stains. If you have antibiotic staining from tetracycline, for example, then the only solution is veneers.
What About the At-Home Whitening Treatments?
If you have underlying dental health problems, the bleaching agents in the gel are likely to irritate your gums. If you do have good oral health then the at-home whitening kits are an option. They will require a couple of trips to the dentist, who will create custom-made trays that fit over the teeth to hold the whitening gel. On your first visit, the dentist will take impressions of your mouth and send them to the lab, where the trays are made. After a few days, you can return to the dentist to pick them up and to learn how to use them. You are usually given enough gel for 14 nights.
What about the Quality of Teeth Whitening in Marbella? Are the Clinics Reliable?
Dental clinics in Marbella cater to a wealthy, cosmopolitan clientele and their services tend to be high-quality (rich people travel too for dental care!). Dentists in Spain are all in private practice, so their services must be of a decent standard or patients can opt to go elsewhere.
Dentists use a variety of teeth whitening systems; in terms of laser teeth whitening, the equipment each dentist uses is a matter of choice. The same renowned brands you see at home, like BriteSmile® and Zoom!® are available in Marbella.
That said, it's always wise to do a little fact-finding to find a reliable dentist. We make it easy as we have already carried out our own research on all the verified clinics listed on our website. Legal/criminal records, onsite visits and confirmation of dentist qualifications are some of our checks, and we also publish patient reviews, prices and clinic photos. There's no clear-cut way of finding a reliable dentist, so the more information you have to base your decision on, the better you'll feel about our choice.
Here are some of the clinics in Marbella where you can go for teeth whitening:
What is the Best Way to Arrange My Appointment in Marbella?
Check out our listings and choose a clinic. You can either book an appointment online or get a free quote. Our Customer Care Team is available via the online chat or the free phone number if you'd like to talk things through about any aspect of teeth whitening in Marbella.