Last fact-checked: 29 May 2019
Look great, feel confident and transform your smile back to its former glory with teeth whitening in Patong Beach, Phuket. The perfect way to enhance first impressions–or to show off that tan–Dental Departures makes finding a clinic easy, with savings of around 70% on the prices you would expect to pay at home.
What is laser Teeth Whitening?
Using an LED light, which activates the bleaching agent contained in the gel applied to your teeth, laser teeth whitening can make your teeth up to 14 shades whiter.
How Long Does it Take?
There are numerous laser teeth whitening systems in use, including Zoom!® and Brite Smile®. They all take around two hours and are equally as effective for providing noticeable results. However, application methods may vary slightly; for example, some require two 15-minute applications while others may require one single application that left on the teeth for up to 45 minutes.
What Does the Procedure Entail?
Your dentist will first clean your teeth thoroughly before removing any stains. Your mouth will then be prepared for the application of the gel. This gel should not come into contact with the soft tissue in the mouth and so your dentist will ensure that your tongue and cheeks are covered.
Once the gel is applied, the laser is directed to activate the gel. Depending on what system your dentist uses, the application of the gel may be repeated a further two times. Once finished, all traces of gel are removed and your teeth cleaned again. You will see a dramatic difference to the shade of your teeth.
Why Have Laser Teeth Whitening in Patong Beach?
Nearly everybody who visits Thailand treats themselves on holiday to a spa treatment or massage here, so why not book yourself in for a couple of hours of laser teeth whitening–the quickest, painless and most effective way of improving your smile?
Find and book your teeth whitening in Patong Beach, Phuket's most popular area, with Dental Departures for access to quality-checked dentists. Read our real patient reviews, compare prices, view clinic photos and take virtual tours; we provide you with the information so you can make a decision on which dentist is best for you.
Just like all our listed dentists in Thailand, dentists in Patong Beach are well-qualified professionals who ply their trade in modern clinics equipped with high-tech dental equipment. You can be sure you will receive the same quality materials your dentist at home uses, so there really is no need to worry that you'll somehow receive inferior treatment just because you're in a far-flung land.
In fact, Thailand has now become world-renowned for its quality both as one of the leading destinations for international health and dental care. You can see for yourself what previous patients are saying about these recommended clinics in Patong Beach (in the south of Thailand on the famous resort island of Phuket), all which offer teeth whitening services:
● Sea Smile Dental Clinic (Phuket)
What About Professional Home Whitening Kits?
Home whitening kits do not provide the same dramatic results as laser whitening, although they will certainly lighten it a few shades. Many people decide to maintain their laser-whitened smile with the professional home whitening kits, rather than settle for less powerful yet often still expensive over-the-counter kits.
The kits are easy to use but your dentist will need to take impressions of your teeth to send to the lab for custom trays to be made. You will then need to go back and pick them up, so it could take a few days in total.
The trays are used in conjunction with a gel your dentist will give you. The trays containing the gel will be applied to your teeth, usually at overnight, until the required degree of whiteness is achieved.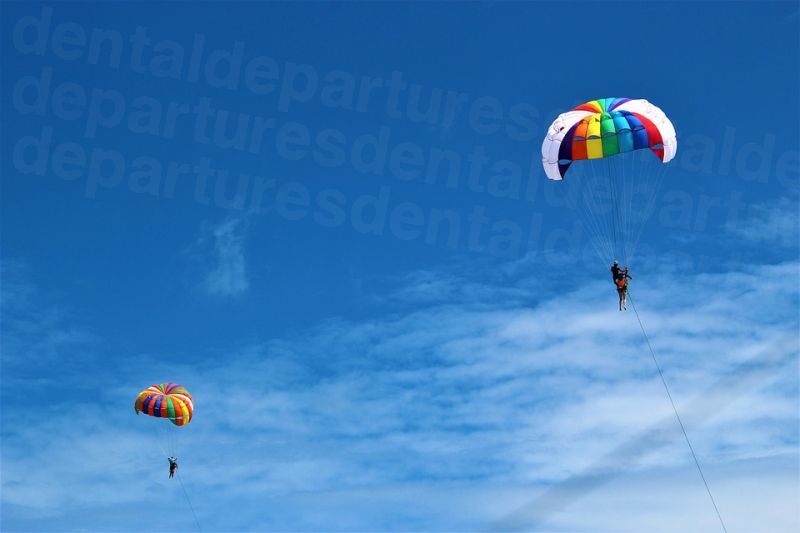 How Much Can I Save on Teeth Whitening in Patong Beach?
Laser teeth whitening in Australia costs around AUD $588; in Patong Beach, the cost is around AUD $230. You can discover similar savings at any of the clinics listed above or our full list of Patong (Phuket) clinics here.
Can I Book Online?
Yes. With Dental Departures, you can book directly through our site, call toll-free or send us an email to make an appointment. Check out our website for all the information you need and get in touch with if you need to ask us anything about laser teeth whitening in Patong Beach–we're available 24/7.
Sources:
Rounsaville, Donna M. Laser Teeth Whitening An Option For You? Colgate. Website accessed: 12 March 2019. https://www.colgate.com/en-us/oral-health/cosmetic-dentistry/teeth-whitening/is-laser-teeth-whitening-an-option-for-you-0914" target="_blank
Laser Teeth Whitening: How Does It Work? Dental.net. Website accessed: 12 March 2019. https://www.dental.net/cosmetic-dentistry/laser-teeth-whitening/" target="_blank
Finley, Sarah. 8 best teeth-whitening kits. Independent. 30 November 2018. https://www.independent.co.uk/extras/indybest/fashion-beauty/beauty/best-teeth-whitening-kits-9963010.html" target="_blank